Fukushima issues stamp sets as host town of Vietnam's Olympic delegation
The Fukushima Post under the Japan Post on July 21 issued two sets of stamps as Fukushima is the host town of the Vietnamese delegation during the Tokyo 2020 Olympics.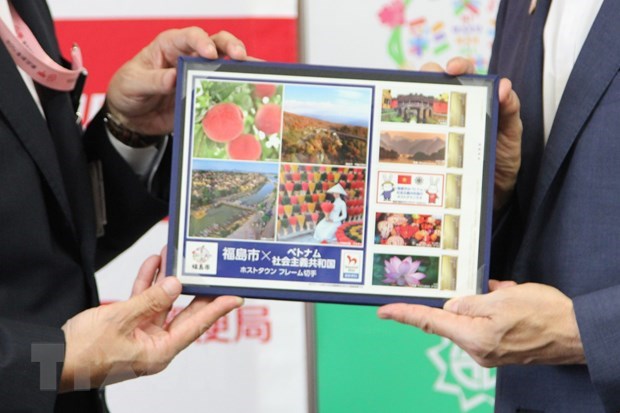 Sets of stamps issued by Fukushima Post (Photo: VNA)
These stamp sets were designed and issued by the Fukushima Post in collaboration with the city's administration. Each set includes five stamps featuring the flags of Vietnam and Fukushima as well as famous landscapes and typical flowers and fruits such as Cau Pagoda - built by Japan in the early 17th century in Vietnam's Hoi An ancient city, lotus - the national flower of Vietnam, and peach - a famous fruit of Fukushima prefecture.
Priced at 920 JPY (8.37 USD) per set, these stamp sets will be sold at 90 post offices in Fukushima prefecture, two post offices in Tokyo and on the Internet.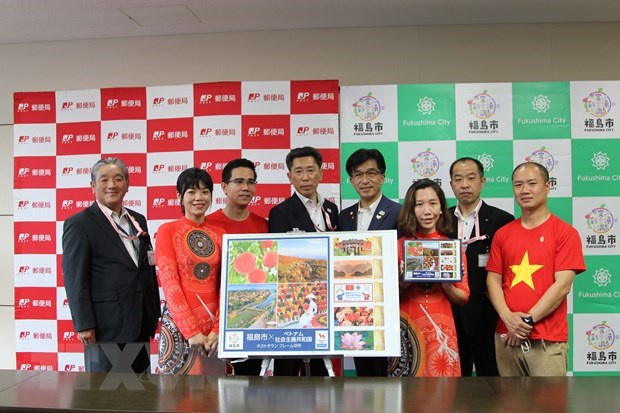 Sets of stamps issued by Fukushima Post (Photo: VNA)
Speaking at the ceremony to introduce the commemorative stamp sets, Fukushima Mayor Kohata Hiroshi said that as the host town of Vietnam, Fukushima has carefully prepared to welcome Vietnamese athletes before the Tokyo 2020 Olympics and Paralympics.
The Fukushima Post's Director Otosaka Satoru stated that the issuance of the stamp sets shows the city's encouragement for the Vietnamese sport delegation and aims to promote the image of the city./.
VNA