High-tech dragon fruit contributes to raising production value
From the program of high-tech application agriculture associated with the restructuring of the agricultural sector, farmers apply new science and technology to dragon fruit tree production with increasing economic efficiency.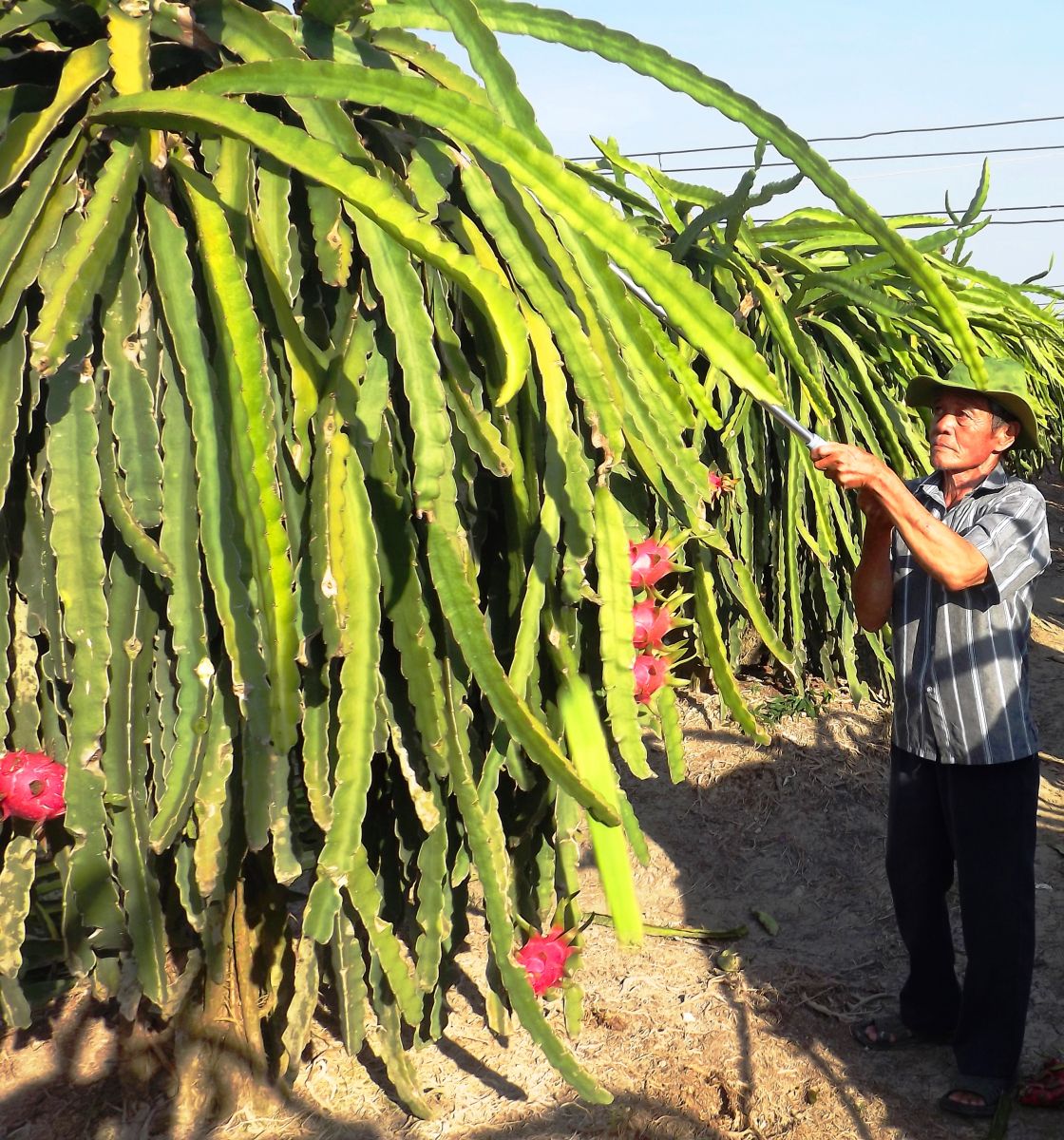 Dragon fruits contribute to the economic development of Chau Thanh district
Improving production value
In the past 4 years, the province has applied and implemented the project of 2,000 hectares of dragon fruits in Chau Thanh district, Long An province with more than 3,400 households participating, reaching over 100 percent of the plan; at the same time, it built many models of linking production and consumption of dragon fruits in the VietGAP direction. Thereby, many farmers saw the meaning and effectiveness of the production program in the VietGAP direction, so they voluntarily registered to participate and strictly comply with the VietGAP requirements to be assessed for certification of standards.
According to Deputy Director of the Department of Agriculture and Rural Development - Nguyen Chi Thien, dragon fruit production under VietGAP standards contributes to raising the value of dragon fruits and export requirements. In particular, farmers no longer use fresh chicken manure to fertilize; use plant protection drugs more appropriately in disease management; familiarize themselves with the production diary. Farmers save 80 percent of labor, save electricity, irrigation water, fertilizer and plant protection drugs when applying the model of saving irrigation, an average profit increases from 2.5 to 5 million VND per hectare.
Mr. Nguyen Van Trung, living in Hoa Phu commune, one of the households who have made pilot dragon fruit production in applying high technology shared: "I plant dragon fruits on trussing to help branches spread evenly, less sickness, higher productivity compared to the traditional way. Thanks to applying high technology in production, dragon fruits can be exported at high prices to the US, Europe and difficult markets.
"The application of technical advances to dragon fruit production has initially changed the traditional production practices of farmers. Their income has been increased thanks to product quality in line with current practical requirements, the world's development trend", Mr. Trung added.
Mr. Nguyen Chi Thien said: "The implementation of the Project to build a 2,000 hectares of dragon fruit production area applying high technology by 2020 in Chau Thanh district contributes to the development of concentrated dragon fruit production area, creating favorable conditions for raising capital, technology and product consumption links for farmers; At the same time, this raises the export value of dragon fruits, develops the brand of dragon fruit products of the province, expands consumption markets and international integration".
Contributing to new-style rural construction
From the development of agricultural economy, in which the main fruit is dragon fruit has contributed significantly to the implementation of the new-style rural construction of Chau Thanh district. At present, the whole district has more than 80 percent of the agricultural area specialized in dragon fruit trees, raising the district's average income per capita from 22 million VND per year (in 2012) to nearly 60 million VND per year (in 2019) and reducing the proportion of poor households from 4.66 percent (in 2012) to less than 1 percent (in 2019). In May 2020, the district was recognized as the first new-style rural district of the province. This is the initial result in improving the life quality for farmers.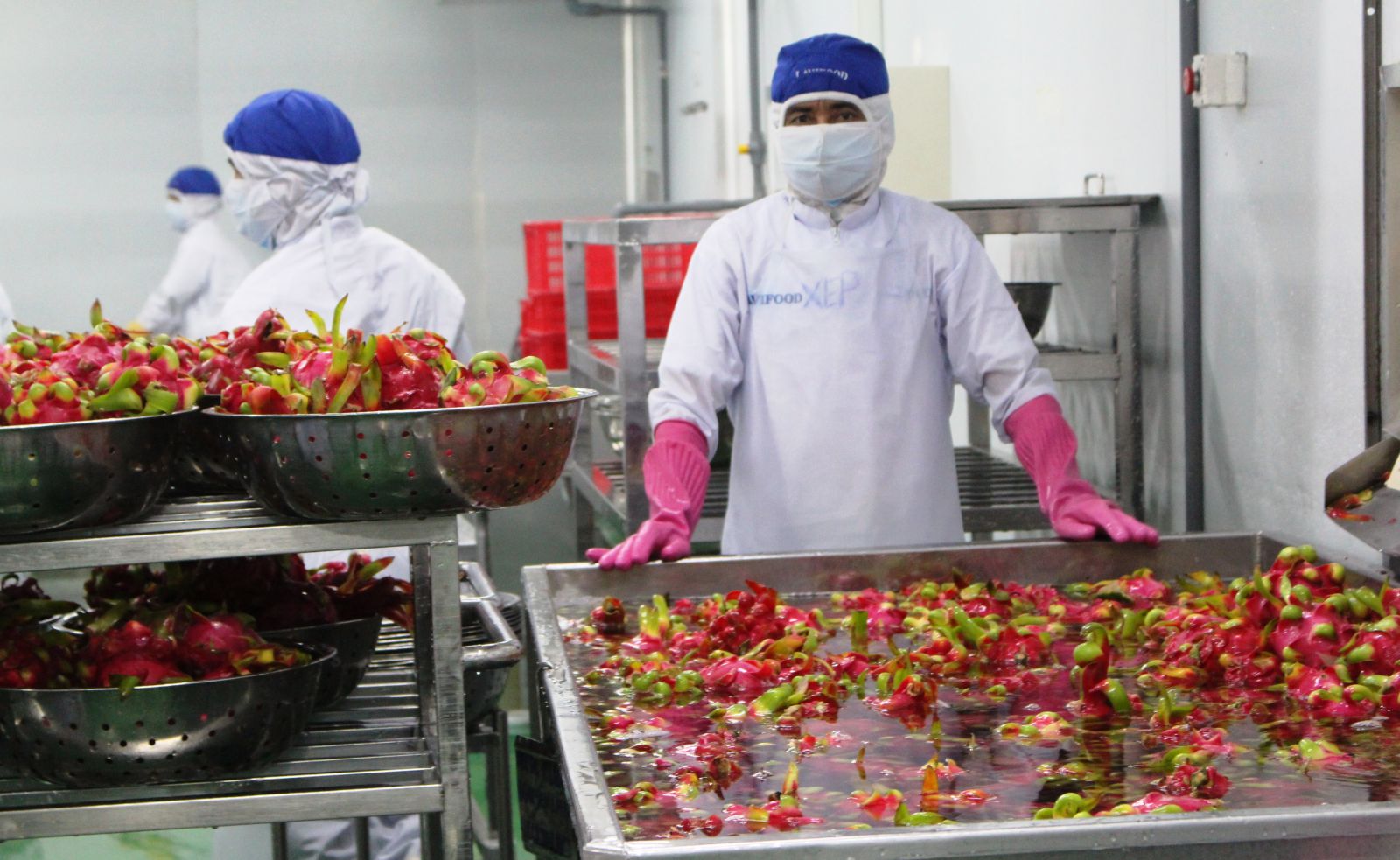 Dragon fruit is produced in the high-tech direction to meet export requirements
Chairman of Chau Thanh District People's Committee - Nguyen Van Thinh said: "In order to be recognized as a new-style rural standard, the district constantly strives, focuses on developing local economy and improving people's lives. From 2011 to the present, in new-style rural construction, the district mobilized from many sources over 1,700 billion VND to implement the criteria, focusing on building electrical systems, roads, schools, stations to serve production and life".
"In the coming time, the district will continue to promote economic development and focus on investing the cultural and social fields, in order to maintain, keep and improve the quality of new-style rural district. By 2025, the district strives to build a model of new new-style rural standards, all communes in the area will reach advanced new-style rural communes"- Mr. Nguyen Van Thinh informed further.
Producing dragon fruits under VietGAP standards contributes to raising the value of dragon fruit products and export requirements. The whole district now has more than 9,890 hectares of dragon fruit with a area-planting code and 120 facilities packing export fruit that were issued warehouse-packing code./.
By Staff – Translated by Duc Tam
Source: http://baolongan.vn/thanh-long-cong-nghe-cao-gop-phan-nang-gia-tri-san-xuat-a99030.html