Japanese businesses expect RCEP to boost trade and investment
Japanese business leaders welcomed the signing of the Regional Comprehensive Economic Partnership (RCEP) agreement signed by Japan and 14 other partners on November 15, expecting a boost in trade and investment in the region and strengthening of supply chains.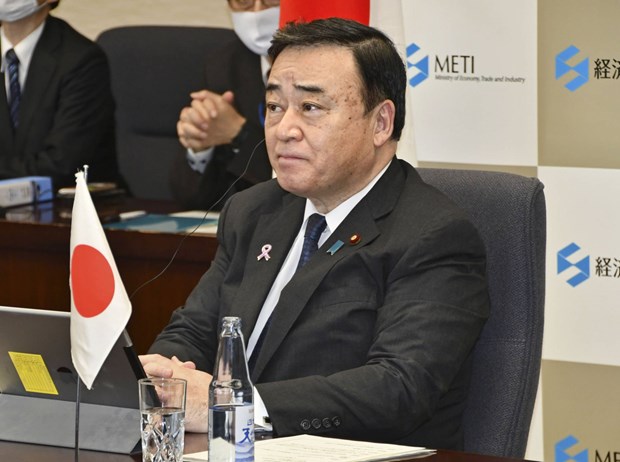 Japanese Industry Minister Hiroshi Kajiyama attends an online meeting of ministers from RCEP member countries (Photo: Kyodo News)
Hiroaki Nakanishi, Chairman of the Japan Business Federation (Keidanren), said the signing is extremely significant toward realizing a free and open international economic order at a time when some countries are becoming inward-looking due to the COVID-19 pandemic.
Meanwhile, Akio Mimura, Chairman of the Japan Chamber of Commerce and Industry (JCCI), said in a statement that due to the rules and lowering of tariffs, supply chains established by Japanese companies in Asia will become more broad, effective and resilient.
The RCEP, covering some 46 percent of Japan's total trade, will be the country's first trade deal with both China, its largest trading partner, and the Republic of Korea (RoK), its third largest.
According to Japan's Kyodo News, Japan will eliminate 61 percent of tariffs on agricultural product imports from ASEAN nations, Australia and New Zealand, 56 percent for China, and 49 percent for the RoK, while maintaining tariffs on five product categories -- rice, wheat, dairy products, sugar, and beef and pork - to protect domestic farmers.
Meanwhile, the other 14 countries will cut tariffs on 92 percent of Japanese industrial exports including automobile parts and steel products./.
VNA