Long An exploits its investment potential
With its good position as the gate of the Mekong delta, Long An province has exploited its great potential to attract more investment.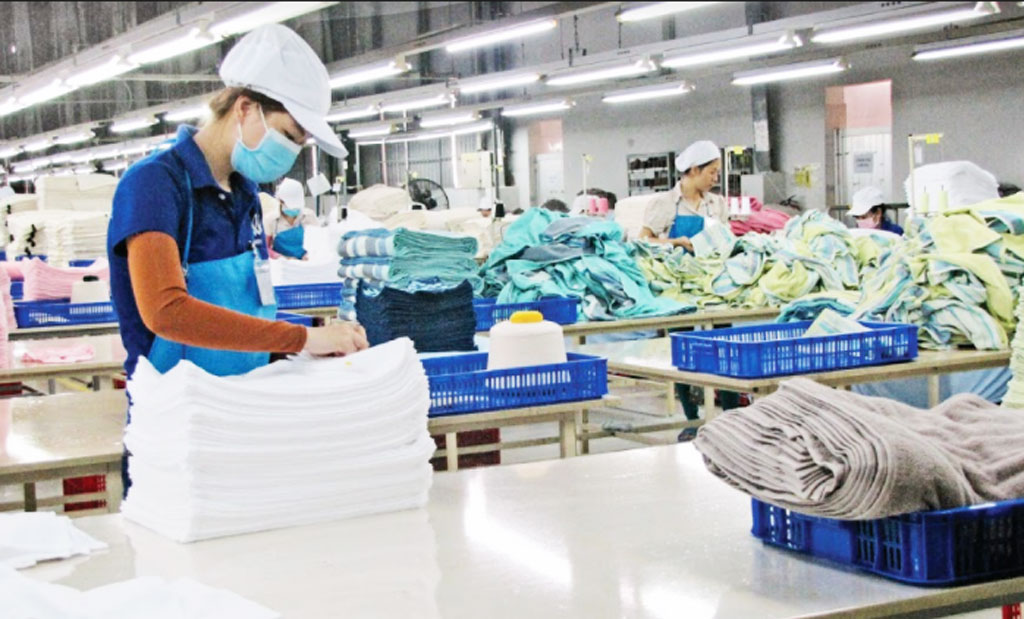 Over 9,500 enterprises are fully operational in Long An
In addition, the province has also a special position connecting with other provinces and having four major highways including the National Highway No.1, 50, 62 and N2), the Ho Chi Minh City – Trung Luong expressway across, the expressway Ben Luc – Long Thanh project connecting Long An Province in the Mekong Delta with southern Dong Nai Province and HCMC as the middle of progress.
Moreover, the province's Vam Co Dong and Vam Co Tay river - Soai Rap river confluence with the international port Long An can accommodate ships up to 30,000 - 50,000 DWT (deadweight tonnage).
Once put into operation, Long An port will be one of giant sea port in the south Vietnam helping not only to reduce overload for its counterparts in HCMC but also to cut down transport expense for enterprises in the Mekong delta. Furthermore, the province has an international border gate, one national border gate and three subsidiary border gates.
Twenty-eight industrial parks locate in the area of 10,000 hectare; 16 of them have been operated while 36 industrial groups cover an area of 3,000 hectare with the operation of 17 industrial groups.
Plus, Long An has profuse manpower, political stability while the government always takes heeds to ease procedures for investors in order to facilitate investors. For years, the provincial Party Committee and administration have taken heeds to improve its business environment with the aim to enhance management and build an administrative service to have a transparent and attracting investment.
Accordingly, investment environment has changed better thanks to the party committee and government's strong determination.
Firstly, the province has boosted administrative reform by opening one center in the province and other three centers in districts Can Giuoc, Duc Hoa, Can Duoc and Kien Tuong Town.
Secondly, more meetings between state-run agencies and enterprises have been organized to increase information between two sides; the government has helped enterprises to solve barriers. Meetings is also to open opportunity to connect enterprise managers and province leaders.
In 2017, five meetings were organized between province leaders and enterprises from Japan, South Korea, Taiwan (China) and local enterprises in districts Duc Hoa, Duc Hue, Ben Luc, Can Duoc, Can Giuoc, Thu Thua, and Tan An Town.
Thanks to its enormous efforts, Long An province made progress in improving the business environment which greatly contributed to achieve targets of economic growth especially to encourage foreign investment.
Regarding to local investment, the province issued investment certificates to 187 projects with total investment capital of VND17,841 billion; of which 23 project registered to increase their capital of VND3,581 billion while new investment was VND21,422 billion. So far, the province has 1,445 investment projects of locals with total registered capital of VND165,675 billion.
Meantime, the province also issued investment certificates for 84 new projects with registered capital of $151.2 million last year and 72 of them increased its capital of $196.8 million. Till now, the province received an estimated $5,500 million in 874 foreign direct investment (FDI) projects; of which, 537 projects came into operation with total capital of $3,341 million.
At present, over 9,500 enterprises are fully operational in Long An with registered capital of VND224,742 billion.
With such above advantages, Long An province is able to attract more investment projects in agriculture-forestry-fishery; industry-construction; and commerce-service-tourism. In order to exploit and develop the province's advantage and orient the future growth, the province authorities have called for investment in the fields such as supporting industry, agricultural product processing industry with adoption of hi-technology, satellite town and port logistics.
The province will focus on building infrastructure to have more industrial parks and groups. It will have preferential policies to invest in the support industry including mechanical engineering, computer electronics, electronic components, and assembling electronic components to pave the way for attracting investment and sustainable industry.
In the field of agriculture, the province will build more models of high tech agriculture application as well as re-structuring the sector for a sustainable development; besides, it will have more policies for agriculture sector with the aim to have more investment projects.
The province authorities is taking heeds to build the road No. 830 connecting industrial parks and groups of industrial parks with Long An port as well as cooperate with Ho Chi Minh City to build roads linking the city and Long An as a measure to make a push of commercial services.
In the next time, Long An will carry out administrative reform in order to facilitate residents and investors and create healthy and transparent investment environment for all key components of the economy.
The province authorities will continue boosting infrastructure investment in the field of traffic, irrigation, electricity and water supply, information and communications synchronously and modernly aiming to create incentives and opportunities for socioeconomic growth. Of which, it will focus on building major roads connecting industrial parks, groups of industrial parks and port, airports and metropolis cities especially Ho Chi Minh City.
It will plan to call for investment in industrial parks and groups of parks especially making investment appeal of giant corporations. Also, the province will invite investors to build infrastructure, especially constructing markets, supermarkets, commercial center and economic zones in border crossings.
Last but not least, it will review project progress to solve difficulties so as to facilitate investment. On the other hand, it will adopt measures to remove hiccups along the way to boost export of major agricultural produce especially finding more new markets.
With its potentials and appropriate orientation in the context of integration with Asian region and the world, Long An province in the Mekong delta will be an attractive place for local and international investors./.
Translated by Uyen Phuong