Long An: Nearly 5,300 health care workers vaccinated against seasonal flu
From November 2 to 15, the Long An Department of Health care organized the seasonal flu vaccination 2020 for health workers across the province (the latest day for vaccination is on November 16).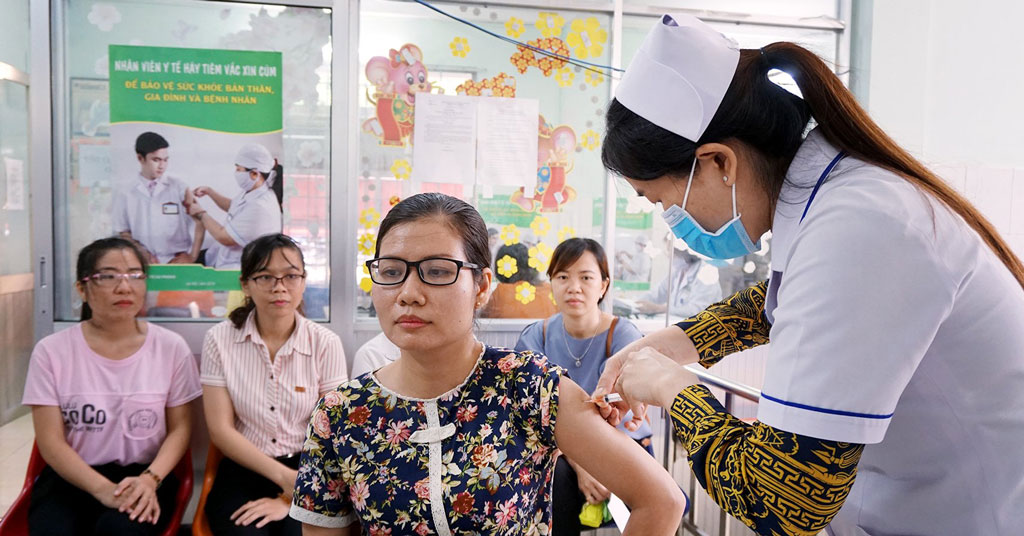 Health care workers get a seasonal flu injection
Accordingly, seasonal flu is an acute respiratory infection caused by a viral infection with symptoms such as runny nose, sore throat and cough. The disease can occur under various degrees such as pandemics, epidemics, local minor epidemics and outbreaks. Common seasonal flu viruses are influenza A/H1N1, influenza A/H3N2 and influenza B.
Every year, around 20-30 percent of children and 5-10 percent of adults get sick with the flu worldwide; On average, the pandemic flu causes diseases to about 500-800 million people per year, of which about 5 million cases of severe flu and 250,000 to 500,000 deaths.
Vietnam is one of the hot spots in the region for influenza, including seasonal flu. Every year, the country records 1.6 to 1.8 million cases of flu syndrome.
In particular, the group of health care workers is one of the groups at highest risk of influenza due to regular contact with patients with influenza and is also one of the links related to the transmission of influenza virus to the groups of patients are cared for and treated by them.
Therefore, health care workers including cadres, civil servants, public employees, and workers working in public health facilities operating in the field of prevention and treatment will be vaccinated. This year, the whole province had 5,289 health care workers from 207 public health facilities to be vaccinated./.
By Pham Ngan – Translated by Duc Tam
Source: https://baolongan.vn/long-an-gan-5-300-nhan-vien-y-te-duoc-tiem-vac-xin-cum-mua-a105231.html