Mekong Delta district to grow only high-quality rice
Authorities in Tien Giang province's Go Cong Tay district are encouraging farmers to grow only high-quality rice varieties and want to export all of it.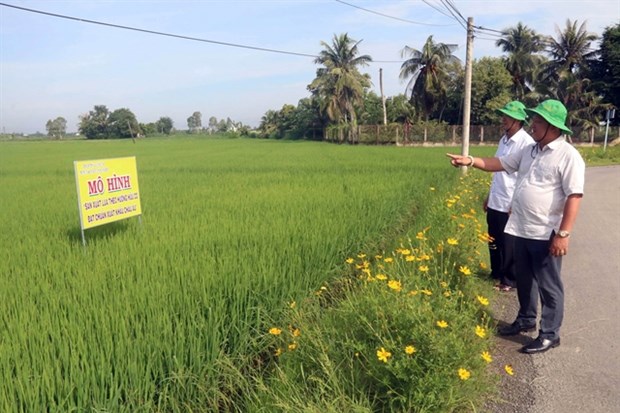 A field with the VD 20 rice variety meant for exports in Tien Giang province's Go Cong Tay district. (Photo: VNA)
Ngo Van Dung, head of the district's Bureau of Agriculture and Rural Development, said the varieties include VD 20, ST 24 and OM 5451, and are mostly fragrant varieties that fetch high prices since they are much in demand.
The district, a major agricultural producer in Tien Giang, has 8,800ha of land on which farmers grow two to three rice crops a year.
It has developed 4,500ha for VD 20 in Thanh Nhut, Long Vinh, Dong Thanh, Vinh Huu, and Binh Phu communes. Go Cong Tay district is the province's largest producer of the variety, which is fragrant and soft when cooked.
It has called on companies within the province and elsewhere to sign agreements with farmers and rice co-operatives to grow VD 20 on large-scale rice fields.
Under the model, farmers pool their lands and grow the same rice variety, use the same farming techniques and have the same crop schedule to increase production efficiency through economies of scale.
The HK Trade Company Ltd. in the province's Mỹ Tho City has signed contracts with farmers in Dong Thanh Commune to grow 100ha of organic VD 20 for export to the EU.
It supplies farming inputs and teaches farmers modern techniques to grow the grain and buys their entire output at 200 VND a kilogramme higher than the market price.
Cao Hong Tiet, who has a contract with it, said he and other farmers are instructed to use techniques like the "one must and five reductions" and the "three reductions and three increases."
The latter refers to reducing the use of seedlings, fertilisers and plant-protection chemicals to achieve increases in productivity, quality and efficiency.
Farmers with a contract use machines for the entire cultivation processes.
Chau Minh Hai, director of HK, said the company plans to expand contracts to 200ha next year to export to the EU.
Mai Duc Tan, director of the Go Cong Tay Agriculture Services Centre, said the district has instructed farmers to use advanced farming techniques and organic standards to grow rice.
It has instructed them to grow flowers around rice fields to attract natural predators of brown plant hoppers, the main rice pest, he said.
The district has 3,000 – 3,500ha of rice grown with contracts with companies every year.
In the ongoing 2020 – 21 winter-spring crop its farmers are planting 8,800ha of rice, including 1,000ha under contracts./.
VNA