Minister talks climate change response in Mekong Delta
Climate change response in the Mekong Delta, a region vulnerable to this global phenomenon, continued to be one of the issues that legislators grilled Minister of Natural Resources and Environment Tran Hong Ha about on November 1.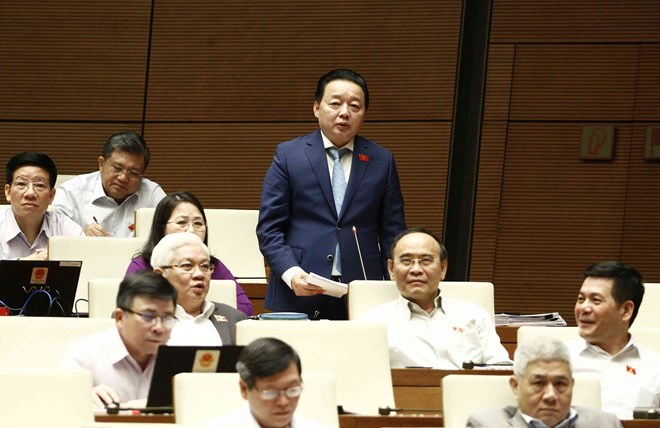 Minister of Natural Resources and Environment Tran Hong Ha fields legislators' questions on November 1 (Photo: VNA)
At the question-and-answer session, part of the ongoing sixth session of the 14th parliament, Ha said the Party and State have paid much attention to climate change response in the Mekong Delta.
Relevant resolutions on this problem have been issued, including the Government's Resolution 120/NQ-CP 2017 on developing the Mekong Delta adaptive to climate change. Prime Minister Nguyen Xuan Phuc has ordered a plan of action to be built to realise this resolution, and an estimated budget of about 12 trillion VND (516 million USD) for the plan has been submitted to the PM, he noted.
Ministries, sectors and localities have proposed very concrete tasks based on integrated approaches to climate change in the region, the minister said.
Aside from the plan of action, Vietnam is also implementing a World Bank-supported project that focuses on piloting livelihood models, completing relevant database and developing an integrated data centre for the Mekong Delta.
The Government has spent more than 1.5 trillion VND (64.5 million USD) on addressing river bank and beach erosion, Ha said, noting that he expects the National Assembly will approve the funding for climate change response activities in the time ahead.
The Mekong Delta, encompassing 12 provinces and one centrally-run city, covers about 4 million ha of land, equivalent to 13 percent of Vietnam's total area. It is the biggest aquaculture and rice production hub of Vietnam./.
VNA