Mekong Delta region warned about serious flooding
Localities in the Mekong Delta and some ministries have been urged to stay active to respond to and mitigate impact of flooding as the Mekong River is now in full spate and the water level still keeps rising.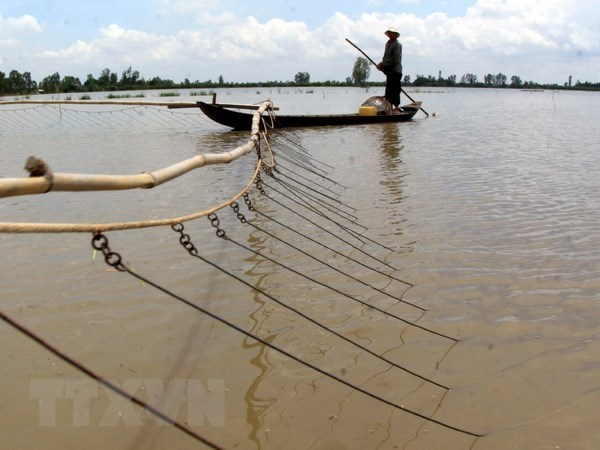 A resident fish in the flooding in Tam Vinh district, the Mekong Delta province of Vinh Long (Photo: VNA)
According to the National Centre for Hydro-meteorological Forecasting, the water level in the upstream Mekong River is increasing, reaching 3.26 metres on the Tien River, a main tributary of the Mekong River, as measured at the Tan Chau monitoring station in An Giang province. It was at 2.59 metres on the Hau River, another tributary, as measured at the Chau Doc station in An Giang.
The highest level is predicted to rise to 3.35 metres on the Tien River in Tan Chau and 2.9 metres on the Hau River in Chau Doc on August 10. The respective levels may hit 3.8 metres and 3.2 metres on August 15.
The forecasting centre warned about possible flooding in low-lying and riverside provinces, including An Giang, Dong Thap and Long An.
Flooding has come sooner than in many years and is likely to become complicated in the time ahead, it noted.
Facing that fact, the central steering committee for natural disaster prevention and control and the national committee for disaster response, search and rescue on August 8 sent a note on disaster response and mitigation to the provinces of An Giang, Dong Thap, Hau Giang and Long An, and Can Tho city, along several ministries, the Vietnam News Agency, the Vietnam Television and the Voice of Vietnam.
They were asked to keep a close watch on rain and flood developments; update all-level authorities, residents and owners of facilities, especially in low-lying and riverside areas, on relevant information to make preparations; and evacuate residents in areas prone to flooding and landslides.
The localities were also urged to take synchronous solutions to prevent child drowning, ensure safety for dyke systems and crops, while actively changing crop structure to minimise flood impact and capitalising on flooding to boost aquaculture./.
VNA