PM underlines tasks for environment sector in 2019
Prime Minister Nguyen Xuan Phuc on January 8 pointed out several shortcomings of the environment sector when attending the Ministry of Natural Resources and Environment's conference to carry out the National Assembly and Government's resolutions on socio-economic development in 2019.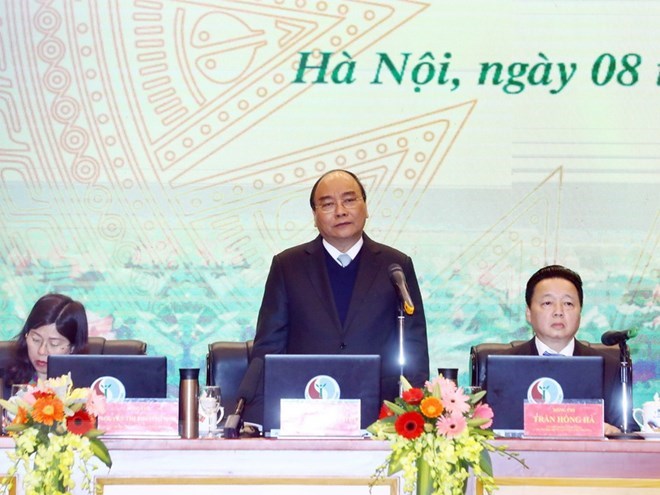 Prime Minister Nguyen Xuan Phuc speaks at the conference (Source: VNA)
PM Phuc said that there remain some urgent matters that need to be addressed as soon as possible, including "dead" rivers, a decrease in underground water level due to indiscriminate exploitation, and illegal sand mining.
Personnel work is extremely important to the sector, he stressed, requiring the ministry to compliment officials who work well, and criticise those who don't.
Speaking of the science and technology system of the ministry, he affirmed that this is a condition for the sector's further development.
He asked the ministry to continue applying the world's science and technology advances in reducing losses caused by climate change, and minimising plastic wastes.
Addressing the event, Minister of Natural Resources and Environment Tran Hong Ha stated that the sector achieved its basic targets set for 2018, such as solving bottlenecks related to institutions to take advantage of natural resources for socio-economic development, and increasing budget collection.
The goal on the rate of industrial zones having concentrated wastewater treatment systems assigned by the National Assembly was fulfilled, while projects at risk of causing environmental pollution was controlled strictly.
Indicators measuring people's confidence and administrative reform increased, and information technology was applied in management and public services, thus helping better serve people and enterprises, the minister said.
In three years implementing the 2016-2021 socio-economic development plan, the sector used over 50,000 hectares of unused land for socio-economic development purposes, withdrew and repealed over 1,500 projects with a combined area of nearly 30,000 hectares, and increased the efficiency of use of 2 million hectares of land owned by agricultural and forest companies, he added.
However, he also emphasised several weaknesses to be tackled, including rising demand for natural resources which requires appropriate use, land-related complaints, environmental pollution, and unpredictable climate change./.
VNA