Quang Vinh Honey: 3-star OCOP product of Thanh Hoa district
With quality honey products, over the past time, Quang Vinh honey establishment (Quarter 1, Thanh Hoa townlet, Thanh Hoa district, Long An province) has been known and trusted by many customers. Recently, the establishment was honored to be recognized by the Provincial People's Committee with 2 products of longan flower honey and Melaleuca flower honey as OCOP products (one commune, one product) of the province.
Owner of Quang Vinh honey establishment - Bui Minh Quang said: "Realizing the advantage of Thanh Hoa land has a large area of melaleuca, rich flora, very suitable for beekeeping, after discussing with my family, I decided to invest in beekeeping. During the peak season, Quang Vinh establishment has more than 1,000 boxes of bees and employs more than 10 workers. It is known that the establishment will carry out beekeeping every year according to each flower season. During the longan season, his family's bees are raised in Cai Lay district, Tien Giang province so that bees can eat longan flowers in this area. After the longan season ended, the bees were brought to Thanh Hoa district to eat melaleuca nectar. Therefore, the establishment's natural honey products always have good quality.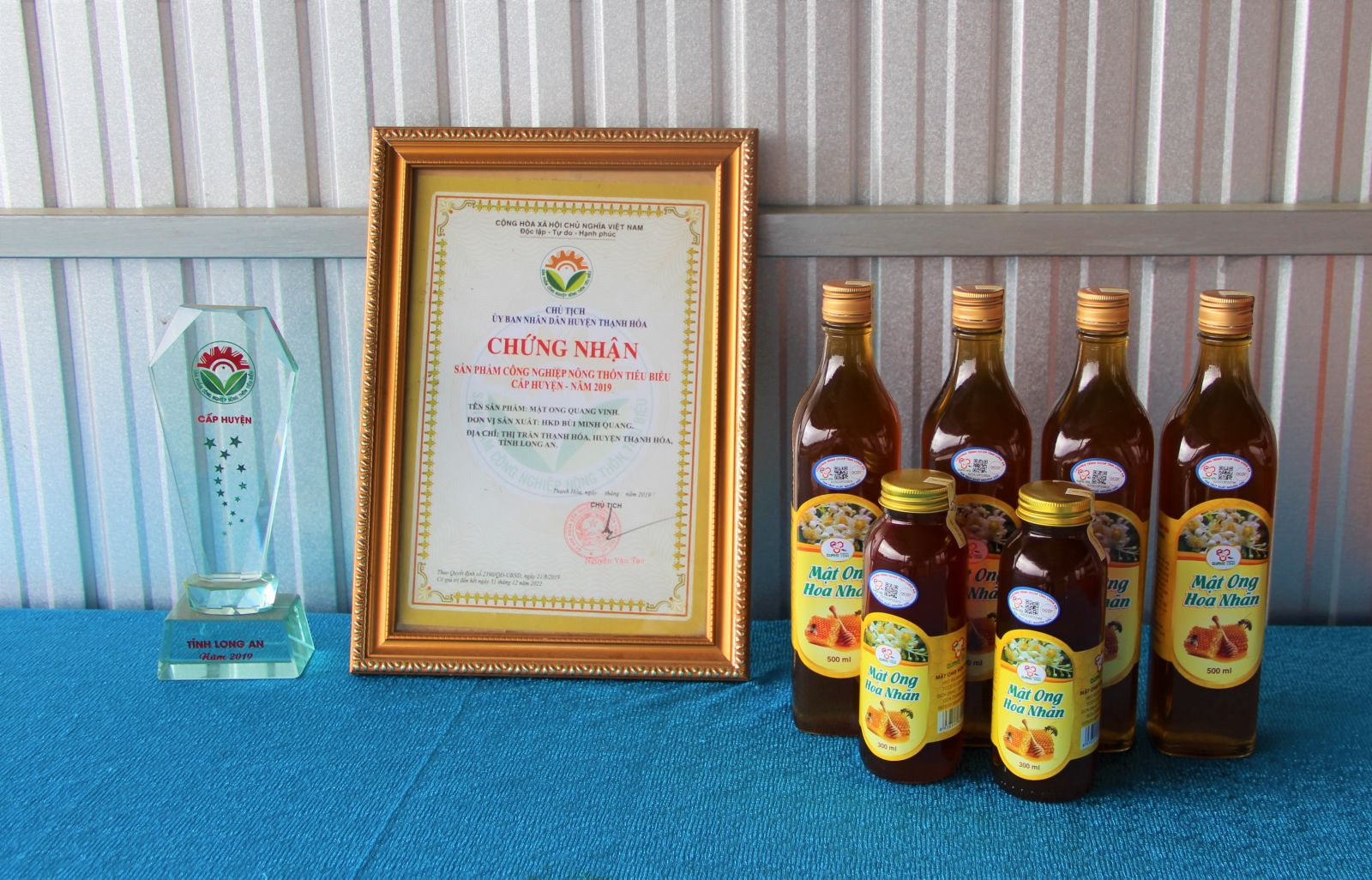 Quang Vinh honey products are always trusted by customers
Quang added that the establishment is supported by the provincial Sub-Department of Irrigation and Rural Development with 50 percent of the cost of equipping hydrolysis machines in 2020. The machine is worth nearly 200 million VND, with a capacity of 2 tons per day and night, 10-20 percent loss, depending on the type of honey. The machine works efficiently, has automatic setting mode, works 24 hours per day. The product after being smoked hydrolyzed has a high viscosity, honey is not fermented, not concentrated when refrigerated. Since being equipped with a hydrolytic suction machine, Quang Vinh's honey has become more and more popular with customers, friends and beekeepers from many places inside and outside the province also come to the establishment to process honey.
Honey products of the establishment have many effects. They help to improve health, increase brain activity, increase resistance to diseases, beautify skin, increase metabolism, reduce aging process, etc. Besides, the establishment's honey products can also be used to process foods such as yogurt, cakes, candies, etc. Therefore, many people inside and outside Thanh Hoa district have chosen Quang Vinh honey products used in his family. Ms. Pham Thu Ha (Long Thanh commune, Thu Thua district) said: "Products from natural honey of Quang Vinh establishment are very secure. I always believe in using this product for my family and also often buy it as a gift for relatives far away."
Ms. Doan Thi Le, living in Tan An city, also believes in honey products of Quang Vinh establishment. Ms. Le shared: "I work in Moc Hoa, so I often pass by Quang Vinh honey establishment. Through research, I know the product has a clear origin, so I chose the establishment's honey product for my family to use. My husband and 2 sons also love the products of this establishment".
With the quality of products, Quang Vinh honey base is more and more known by customers./.
By Minh Tue – Translated by Duc Tam
Source: https://baolongan.vn/mat-ong-quang-vinh-san-pham-ocop-3-sao-cua-huyen-thanh-hoa-a114221.html