Rare primates turn up in Thanh Hoa nature reserve
Five rare primate species were discovered in the Pu Hu Nature Reserve in the central province of Thanh Hoa.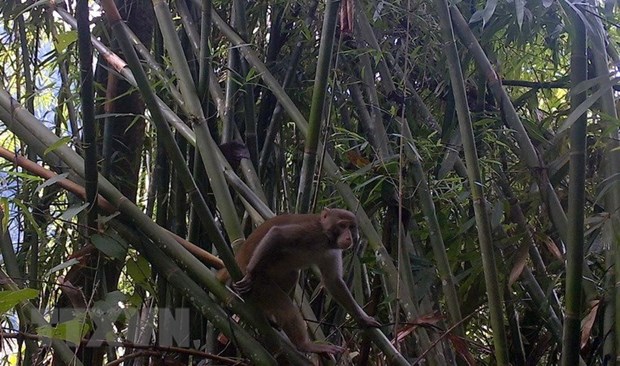 Assam macaque found in Pu Hu Nature Reserve, Thanh Hoa (Photo: VNA)
The discovery of the primates, which belong to one order and two families, was the result of a scientific project on evaluating and preserving primates in the region from 2019-2021.
Hunting and illegal deforestation have adversely impacted primate numbers in recent times. The project aims to preserve biodiversity and enhance animal protection by curbing illegal hunting.
Vietnam's primates are mainly found in Ha Giang, Tuyen Quang and Thanh Hoa provinces, with many species listed in the Red Book of Vietnam.
Nguyen Phuong Dong, Director of the Management Board of the Pu Hu Nature Reserve, said that during the three-year project implementation, the management board conducted 10 investigations and six observations on primates in Pu Hu forests.
Thirty-three conferences on the topic were organised, 11 clubs on primate preservation were set up at schools, and 2,650 locals signed up commitments to protect primates, he stated.
Among the five primate species detected, the money family has four, namely Stump-Tailed macaque, Rhesus monkey, Assam macaque, and Gray langur; and the Loris family has one: the Pygmy Slow Loris. In addition, 41 individuals of five species were observed.
The Pu Hu Nature Reserve is home to many rare animals, with up to 30 listed in the Red Books of Vietnam and of the International Union for Conservation of Nature, including Tibetan bears, Malayan bears, Gayals and Delacour's langur./.
VNA