Tan Tru District boosts sustainable hi-tech agricultural farming
In the Mekong delta province of Long An's trend of agricultural restructuring, Tan Tru District has focused on developing sustainable agriculture with adoption of hi-tech in production.
As per the Resolution adopted by Tan Tru District's tenth Party Congress for the period 2015-2020, it was written a breakthrough program that focuses on developing sustainable agriculture with the aim to improve value added and building new countryside as per the government's rural plan.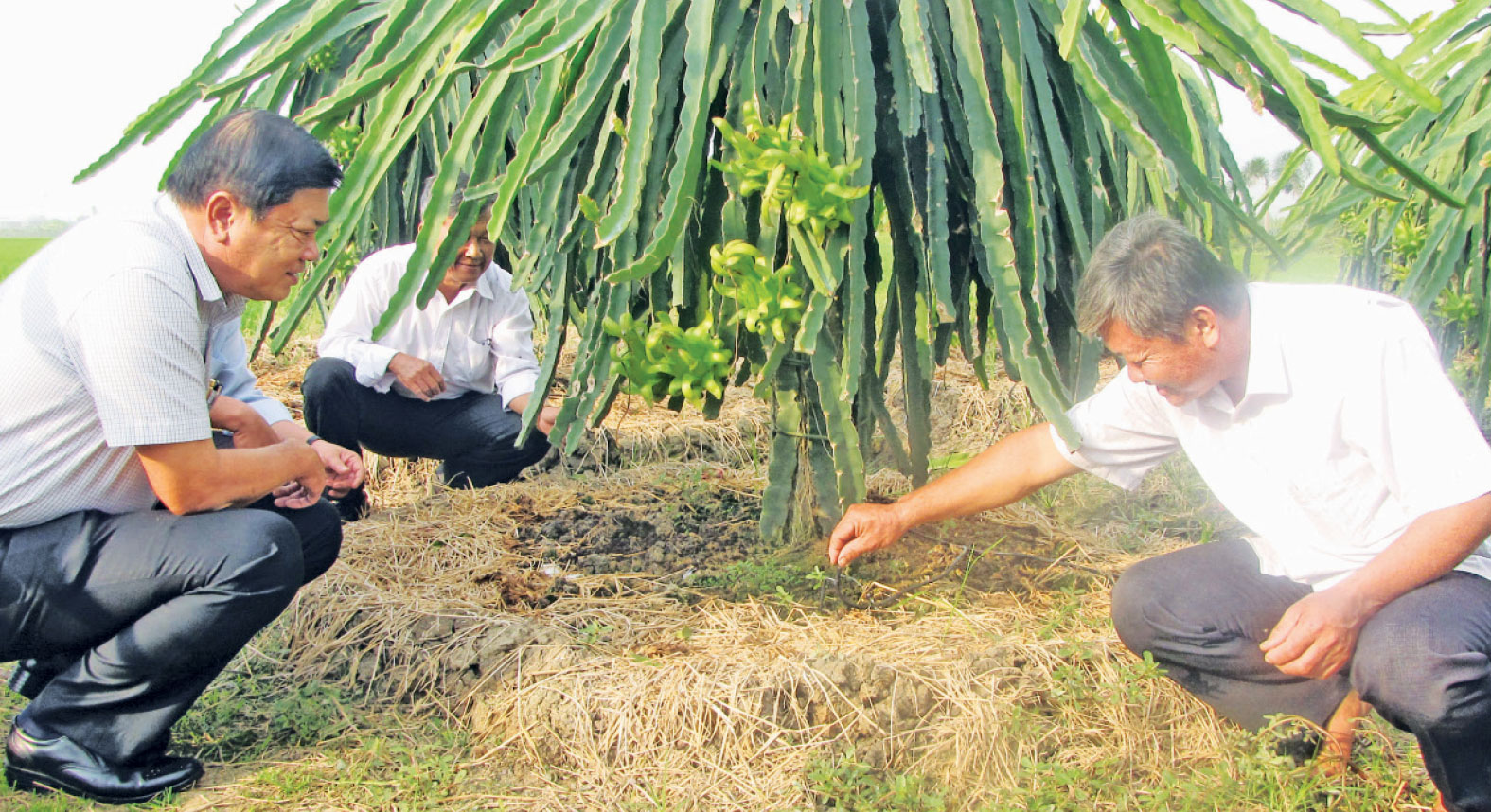 Chairman of People's Committee in District Tan Tru Tran Van Doc (left) visits a model of growing dragon fruit adopted hi-tech in farmer Ngo Van Nhan in Binh Dien village
The district authorities decided to choose two trees and two animals to apply hi-tech in breeding and production in a pilot program. The program's goal is that Tan Tru District will have four key crops and cattle including rice, vegetables, dragon fruit and beef for meat to be competitive on the market by 2020. The district applied hi-tech in the 250-hectare paddy field in terms of seedlings, production environment, looking after, harvesting, preservation, processing, and consuming.
In addition to 250-hectare paddy field, the district also zoned 20-hectare field of dragon fruit with adoption of hi-tech as per GAP utilizing biological products in cultivation, watering and artificial illuminating system to blossom and bear off-season fruit meanwhile pig farmers in the districts applied hi-tech to create a new variety by cross-breeding and specialized husbandry.
To make breakthrough in agriculture sector, Tan Tru district promoted re-structuring for improving value added and sustainable development. One of measures is to build rural roads and irrigation system. After two year implementation, Tan Tru district achieved some positive results. Total production value in 2017 was VND960.4 billion; of the amount, planting took up VND535.5 billion while husbandry was VND298 billion. Specially, hi-tech dragon fruit plot in My Binh Commune and a cooperative to look after the dragon fruit farm were set up in the year.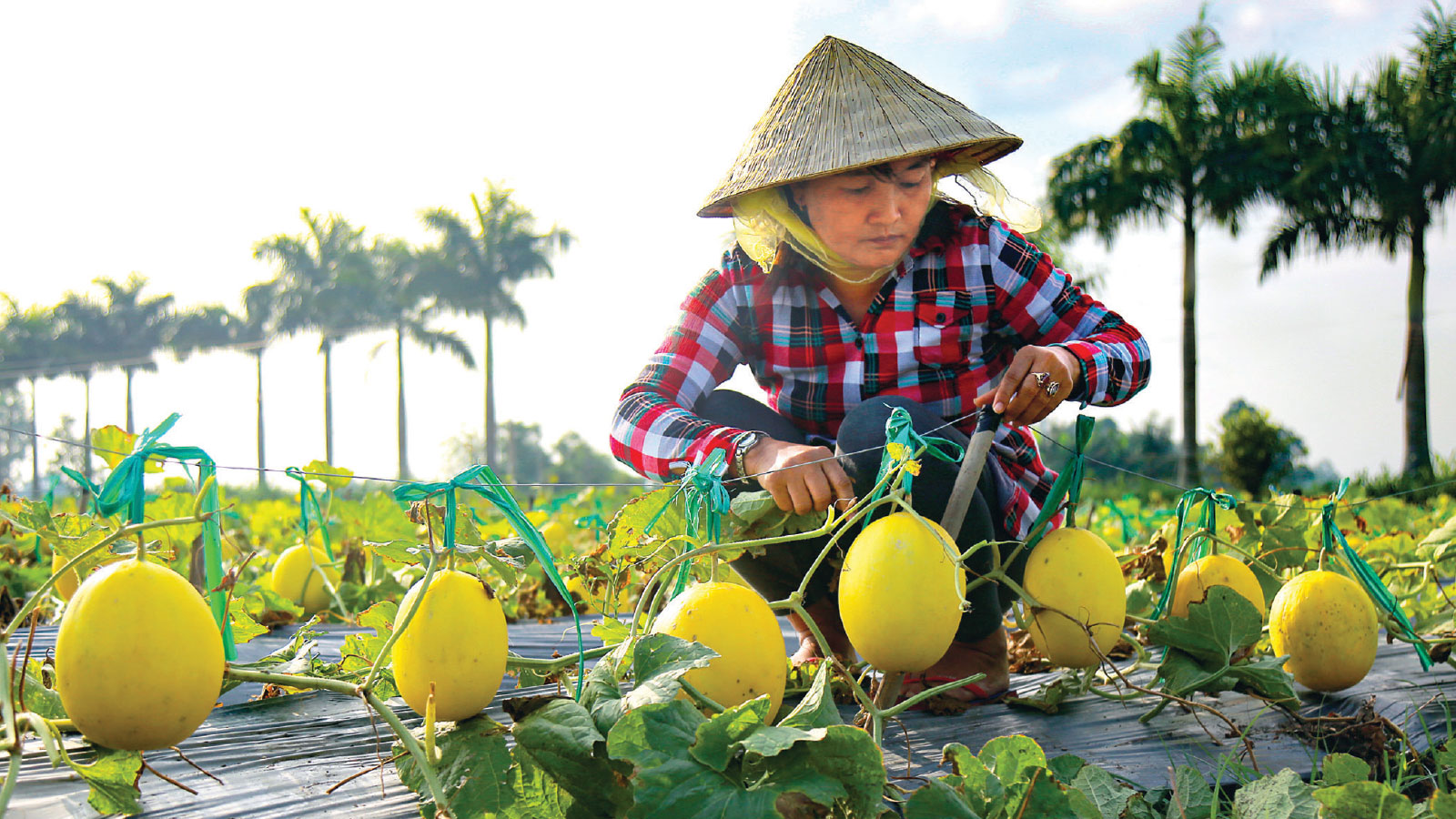 Pilot growing water melon in Tan Tru
Party Chief in My Binh Dang Van Tay Lo said at present the fruit is grown in over 32 hectares in the commune and the cooperative plants the fruit in 14 hectares. The cooperative has liaised with others in Chau Thanh District to find out buyers for the fruit. The areas for planting dragon fruit increase annually; accordingly, relevant agencies and local government expected to find market to help farmers to improve production value and income.
Currently, enterprises which want to invest in fruit and buy all by signing contracts with cooperatives. The formation of agricultural cooperatives will help reduce small-scale farming. An enterprise in Tan Tru has signed contracts to purchase all produce yet to have stable market for agricultural produces, alliances amongst farmers, enterprises, scientists under the government's support is a vital factor.
Farmer Tran Van Hong in village No.2 in Lac Tan Commune shares he has bred cow for three years. Breeders can make use of agricultural by-products such as rice straw, corn tree as feed for cows to save cost. However, so far, price of cow is not stable resulting in breeders facing difficulties especially needy farmers who have no choice but ask for bank loan; therefore, he expected the government to find market to assist farmers.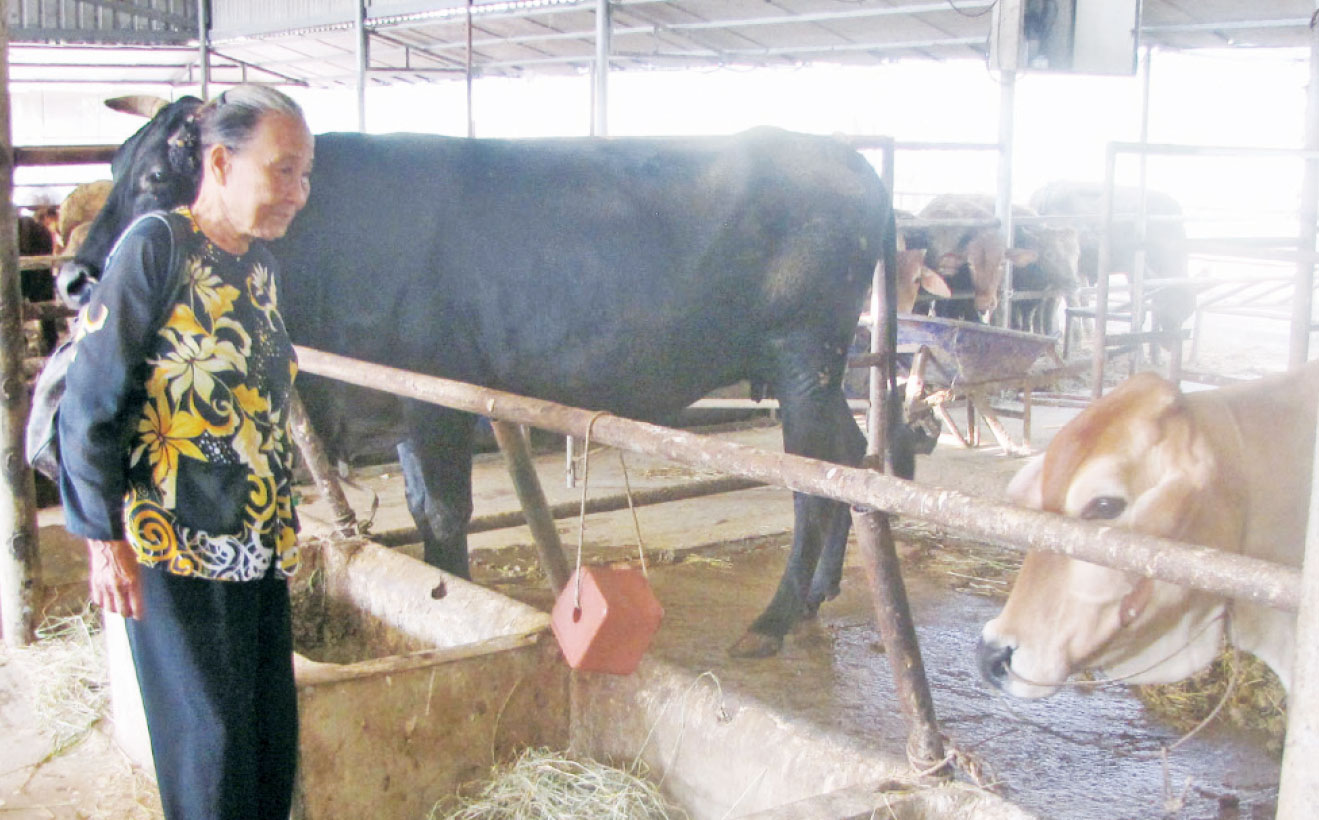 Breeder Vo Thi Ha raises cattle for meat at large scale with hi-tech orientation
A 81 year old woman in My Binh Commune who owns a farm of 140 cattle for meat said that farmers are not worried any longer if the government find markets for them while Mr. Nguyen Van Chien in My Binh Commune said lately, farmers shifted crop restructuring efficiently, subsequently price of dragon fruit maintained stable or high so farmers are elated. Now, white flesh dragon fruit fetches VND20, 000-25,000 per kilogram while its red flesh kind is sold at VND55,000-60,000 a kilogram. If price keeps stable at this level, farmers will enjoy high profit.
Chairman of People's Committee in Tan Tru Tran Van Doc said that to find market for agricultural produces, district administrators and relevant agencies acted as bridge to connect enterprises and farmers aiming to keep price stable. Above all, the district encouraged farmers in communes with giant field to cooperate from production to preservation, processing and find market for consumption.
To find market for agricultural produces, district administrators and relevant agencies acted as bridge to connect enterprises and farmers aiming to keep price stable
Chairman of People's Committee in Tan Tru - Tran Van Doc
By Hoàng Lê - Translated by Uyen Phuong