Ten remarkable achievements of Long An province in 2019
In 2019, Long An has achieved many positive results in various fields, creating an important premise for 2020 to continue rising up. In particular, many important and prominent events made a year's marks for efforts and breakthroughs in the process of building and developing the homeland. Long An Newspaper voted and would like to introduce 10 remarkable achievements in 2019 to our readers.
1. Scientific seminar "Comrade Nguyen Van Chinh with Vietnam revolution and his Long An hometown"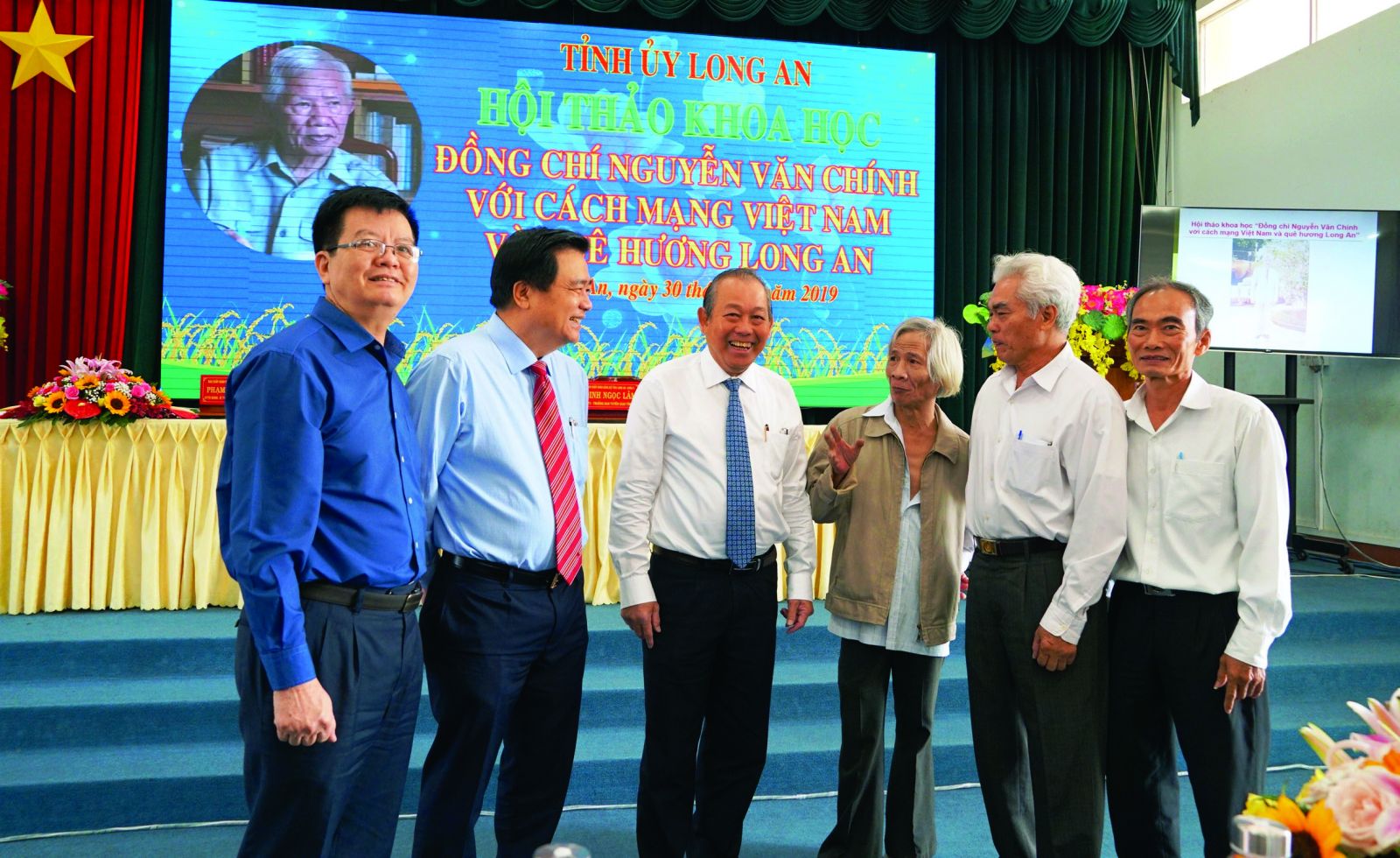 Central and provincial leaders discuss with Mr. Cao Tu Thanh (3rd, R), the eldest son of Mr. Nguyen Van Chinh
The seminar was organized by Long An Provincial Party Committee on November 30, 2019 with the participation of former President - Truong Tan Sang; Standing Deputy Prime Minister - Truong Hoa Binh; Deputy Head of Central Organizing Committee - Mai Van Chinh; Secretary of the Provincial Party Committee, Chairman of the Provincial People's Council - Pham Van Ranh; former leaders of Long An province; representatives of leaders of Ho Chi Minh City, Dong Thap and Tien Giang provinces; representatives of Vietnam Farmers Association, many scientists and researchers and so on. The seminar aims to honor and express gratitude for Mr. Nguyen Van Chinh's great contributions to Long An's revolution and homeland, he was well-known for the portrait of a loyal revolutionary soldier and a strategic leader with pioneering decisions.
2. Photo exhibition "Long An - 50 years of implementing President Ho Chi Minh's Testament "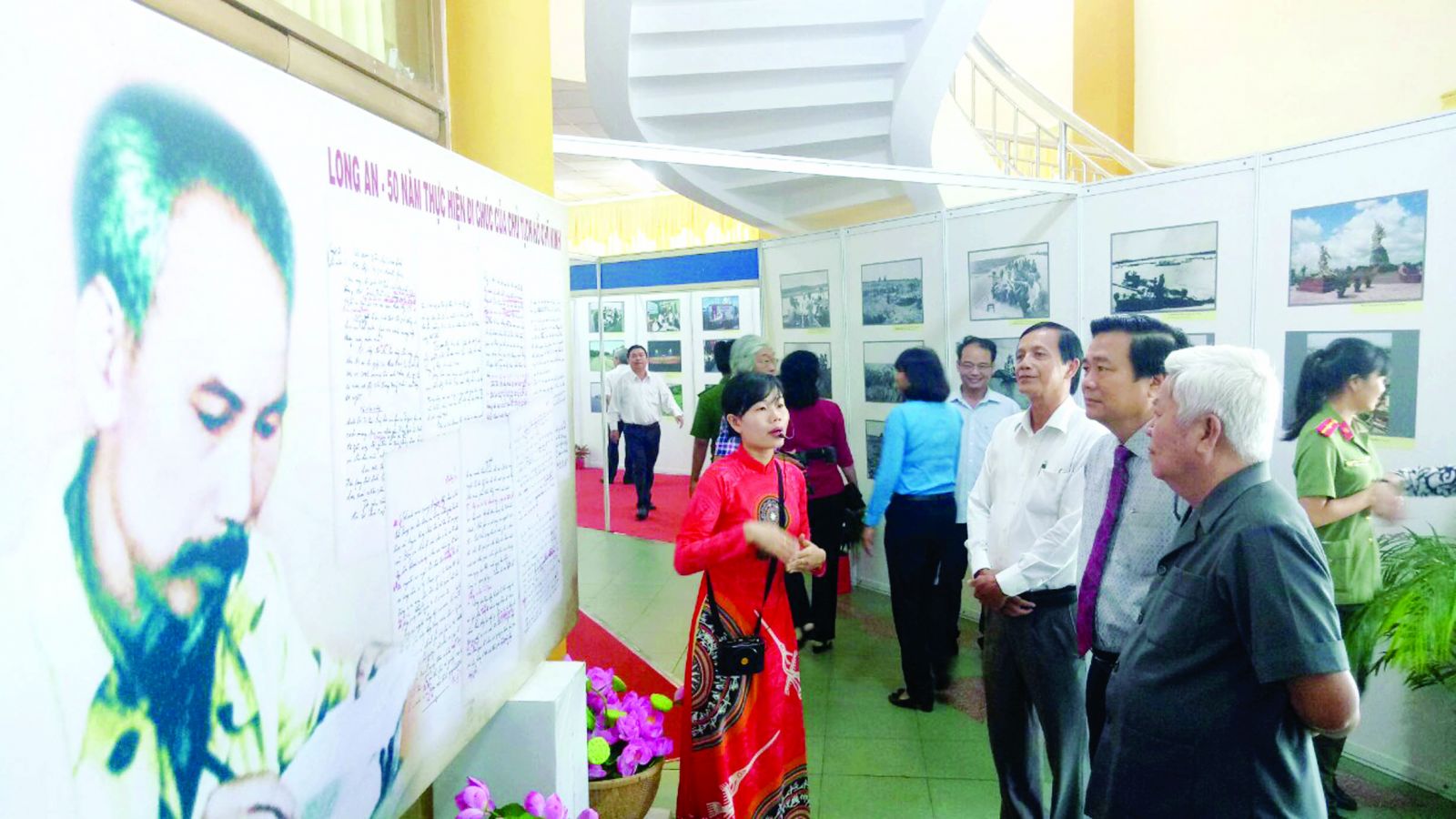 Secretary of the Provincial Party Committee, Chairman of the Provincial People's Council - Pham Van Ranh (2nd, R) and former provincial leaders visit the photo exhibition ​"Long An - 50 years of implementing President Ho Chi Minh's Testament"
On September 2, 2019, the provincial People's Committee held the opening ceremony of the photo exhibition "Long An - 50 years of implementing President Ho Chi Minh's Testament". The exhibition took place from September 2 to 6 at the Provincial Center for Cultural and Arts. The exhibition displayed 200 colorful photos (size 40 centimeters x 60 centimeters), a model of Uncle Ho's stilt house made of wood (size 100 centimeters x 150 centimeters). Among them, 100 photographic works with overall topic praised President Ho Chi Minh, his testament and creative ways of typical collectives and individuals in learning and following Uncle's examples. In addition, the photo exhibition introduced the typical images of the entire Party, army and people of Long An in implementing Uncle Ho's Testament in the past 50 years.
3. Former President Truong Tan Sang mobilized to build over 100 bridges, culverts and awarded 4,000 breeding cows in Long An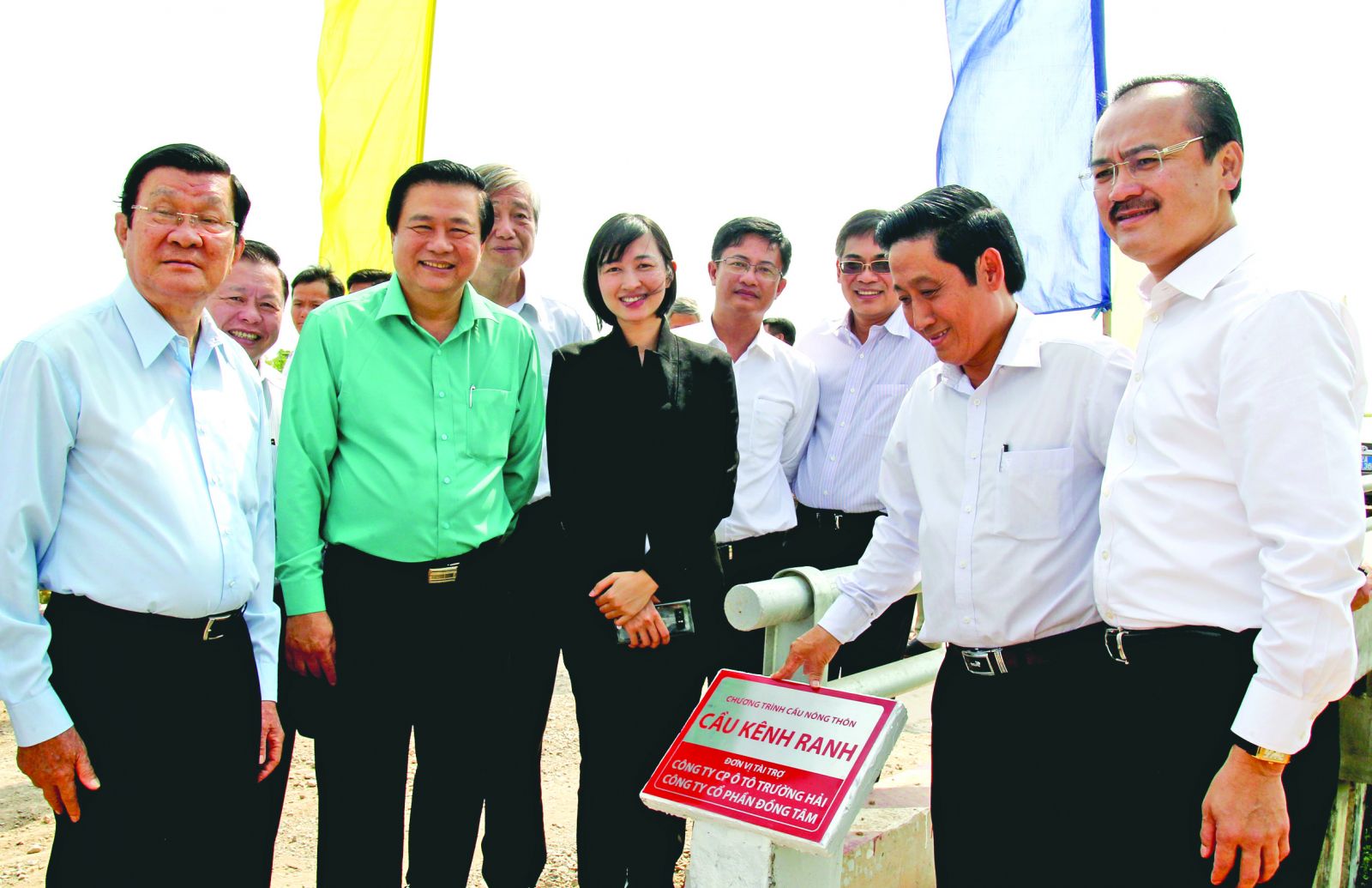 Former President - Truong Tan Sang; Secretary of the Provincial Party Committee, Chairman of the Provincial People's Council - Pham Van Ranh attends the opening ceremony of Kenh Ranh Bridge in Thanh Hoa district
Former President of Vietnam - Truong Tan Sang mobilized sponsors and businesses to support the implementation of the Rural Bridge Program, built more than 200 bridges and culverts, worth more than 160 billion VND in border areas and remote regions of 3 provinces of Long An, Dong Thap and An Giang. Only Long An was supported more than 100 bridges and culverts, of which more than 80 bridges and culverts were put into use. In addition, former President - Truong Tan Sang also mobilized to donate 4,000 breeding cows, worth over 52 billion VND to poor and near-poor households in the province; he mobilized to build schools, clean water for schools, etc. Thereby, it contributes to changing the appearance of the countryside, improving the life quality of rural people.
4. Tan An city was recognized as a type-II urban and commences the Tan An city's Ring Road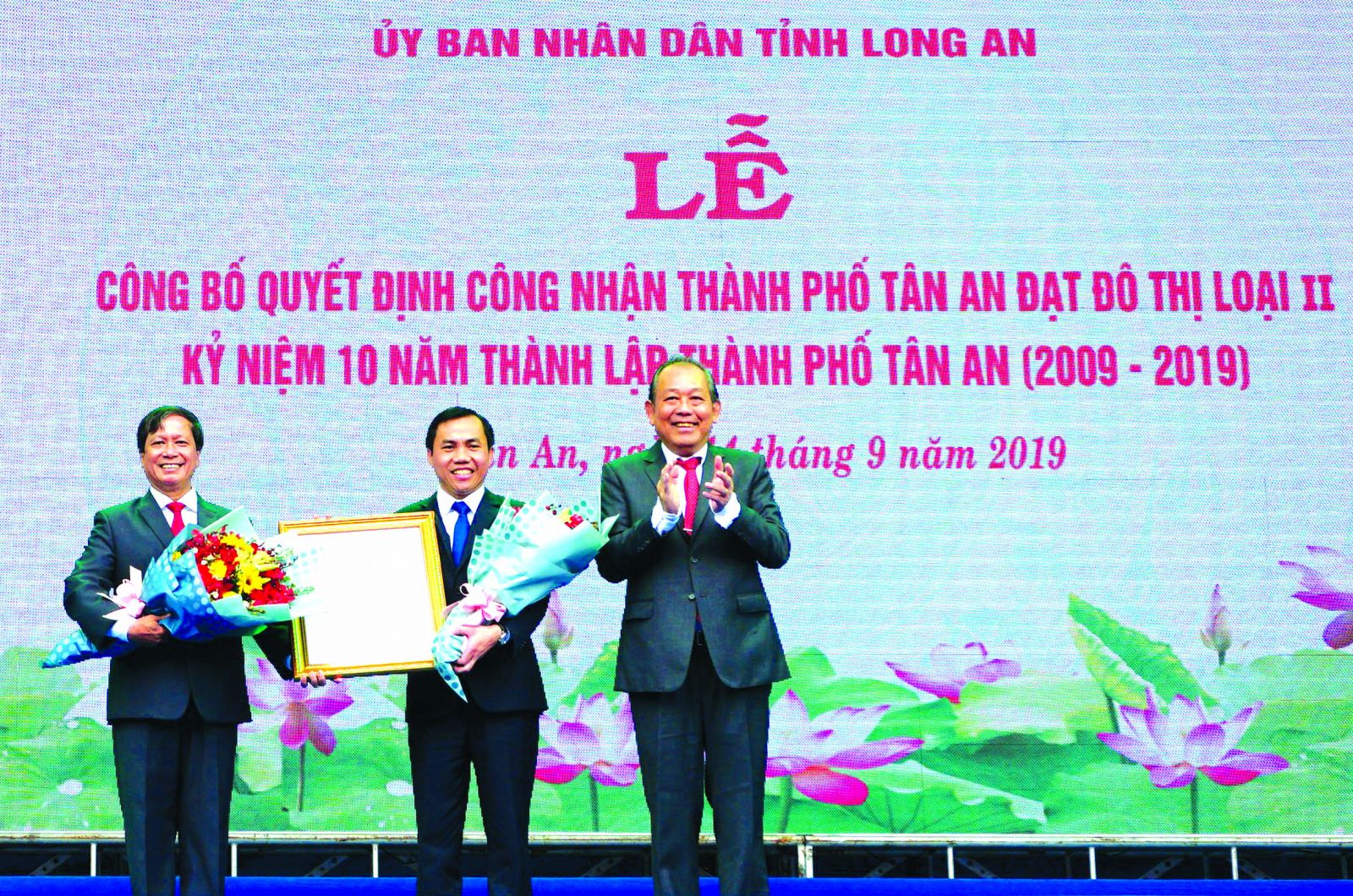 Under the authorization of the Prime Minister, the Standing Deputy Prime Minister - Truong Hoa Binh awards the Decision on recognizing Tan An city as a type-II city to city leaders
On September 5, 2019, the Prime Minister issued Decision No. 1140/QĐTTg recognizing Tan An city to meet type-II urban standards. The Ring Road of Tan An City was started to build a section from National Highway 1 to Pham Van Ngo street and a section of Phan Van Tuan street connecting Nguyen Tan Chinh street. This is a key project according to the Resolution of the Xth Provincial Party Congress, term 2015-2020.
5. Outstanding results over 10 years of building new-style rural areas (The whole province has 77 out of 166 communes meeting new-style rural standards; Chau Thanh district and Tan An city meet new set of new-style rural criteria)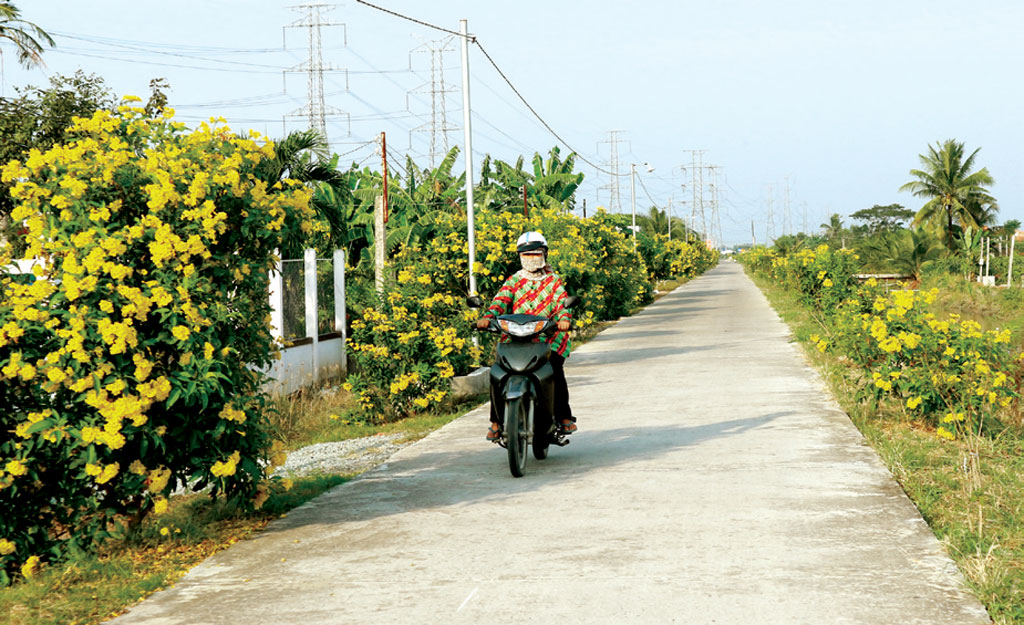 Concreted rural roads make Chau Thanh countryside a new appearance
After 10 years of building new-style rural areas, up to now, the whole province has 77 out of 166 communes meeting new-style rural standards. Chau Thanh currently meets 9 out of 9 new-style rural district criteria, 12 out of 12 communes meet 19 out of 19 criteria for constructing new-style rural and is waiting for the Central Government to issue a decision for recognizing the district to meet the new-style rural standards. Tan An city currently has 5 out of 5 communes meeting new-style rural standards and is submitting to the Central Government to appraise and recognize the completion of the task for building a new-style rural in 2019.
6. The total state budget revenue in the province is about 18,000 billion VND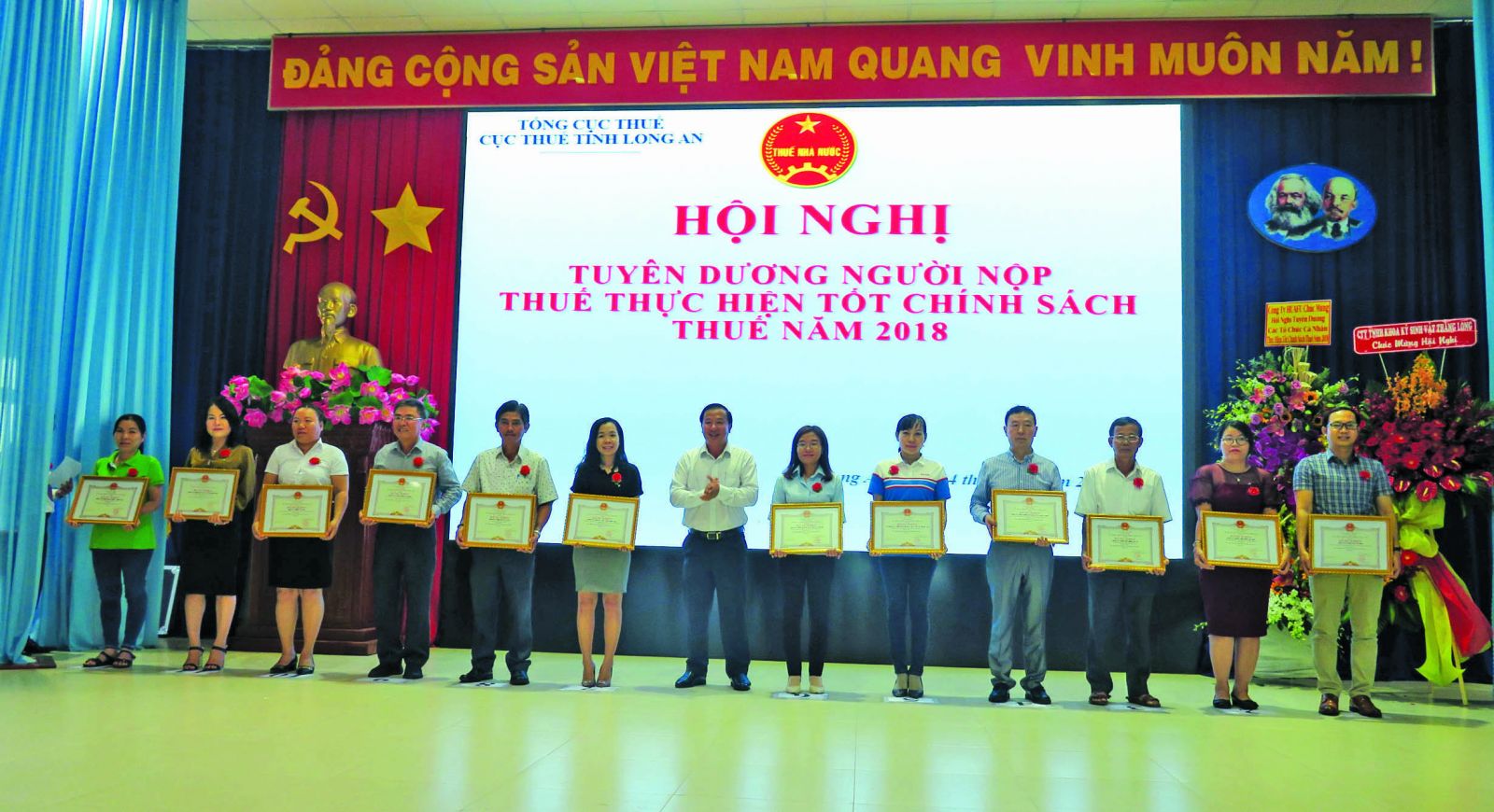 Enterprises and taxpayers are commended for their positive contribution to the state budget revenue
About 18,000 billion VND is the total state budget revenue estimated to reach in the province in 2019, an increase of more than 20 percent over the same period. With this budget revenue, Long An becomes the leading locality in the Mekong River Delta in terms of budget revenue.
7. Long An has 5 solar power projects connected to the national electricity grid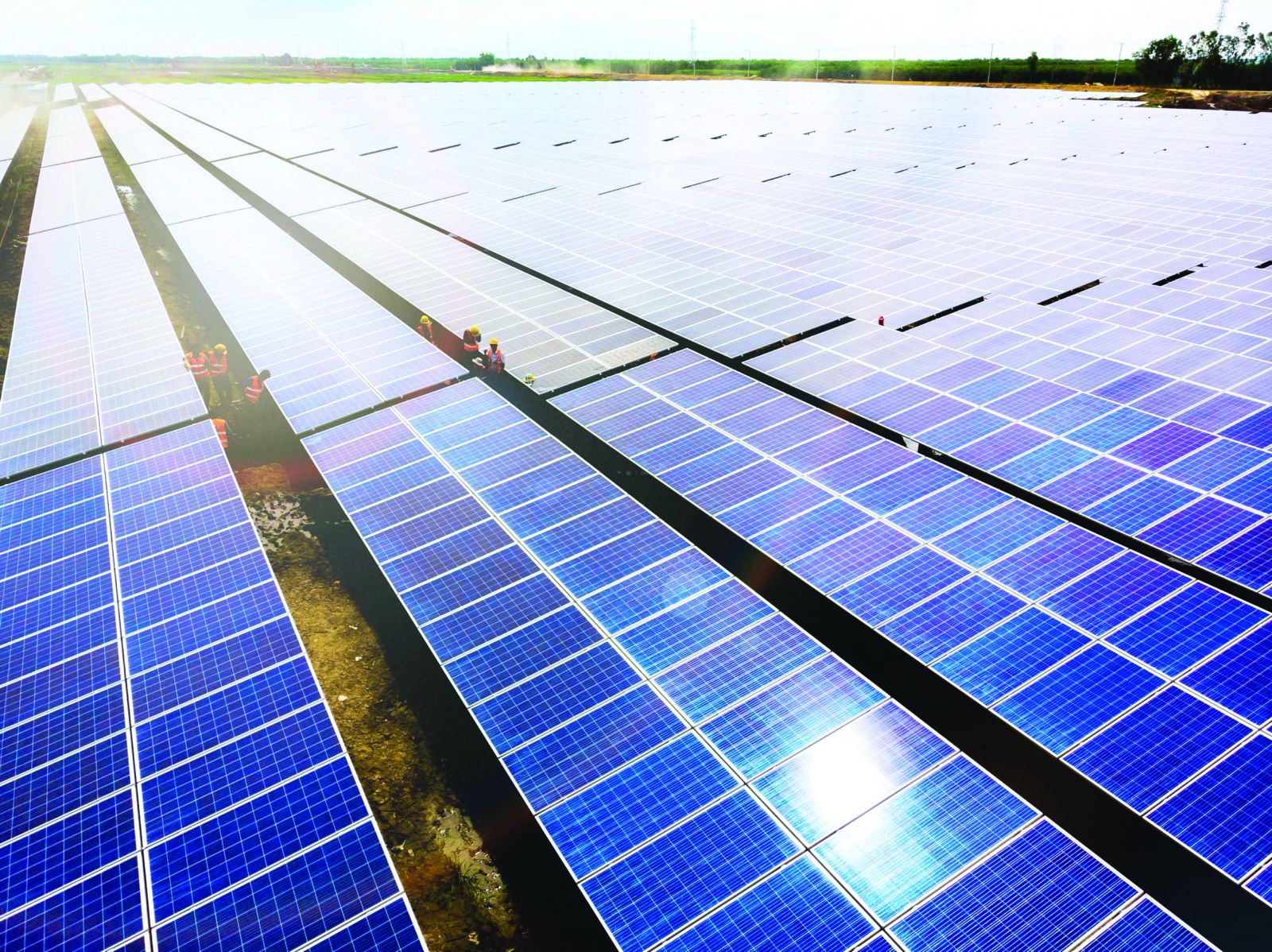 BCG-CME Long An Solar Power Plant 1 (Thanh An commune, Thanh Hoa district)
In Long An province, there are currently 18 registered projects investing in solar power plants with a capacity of 1,400MW. Up to now, 8 projects have been approved by the Ministry of Industry and Trade, of which 5 plants have been put into operation with the national electricity grid of 240 MW. The remaining 3 projects, investors are implementing and will connect to the electricity grid by 2020.
8. The 24th Art Exhibition of Region VIII, Mekong River Delta in Long An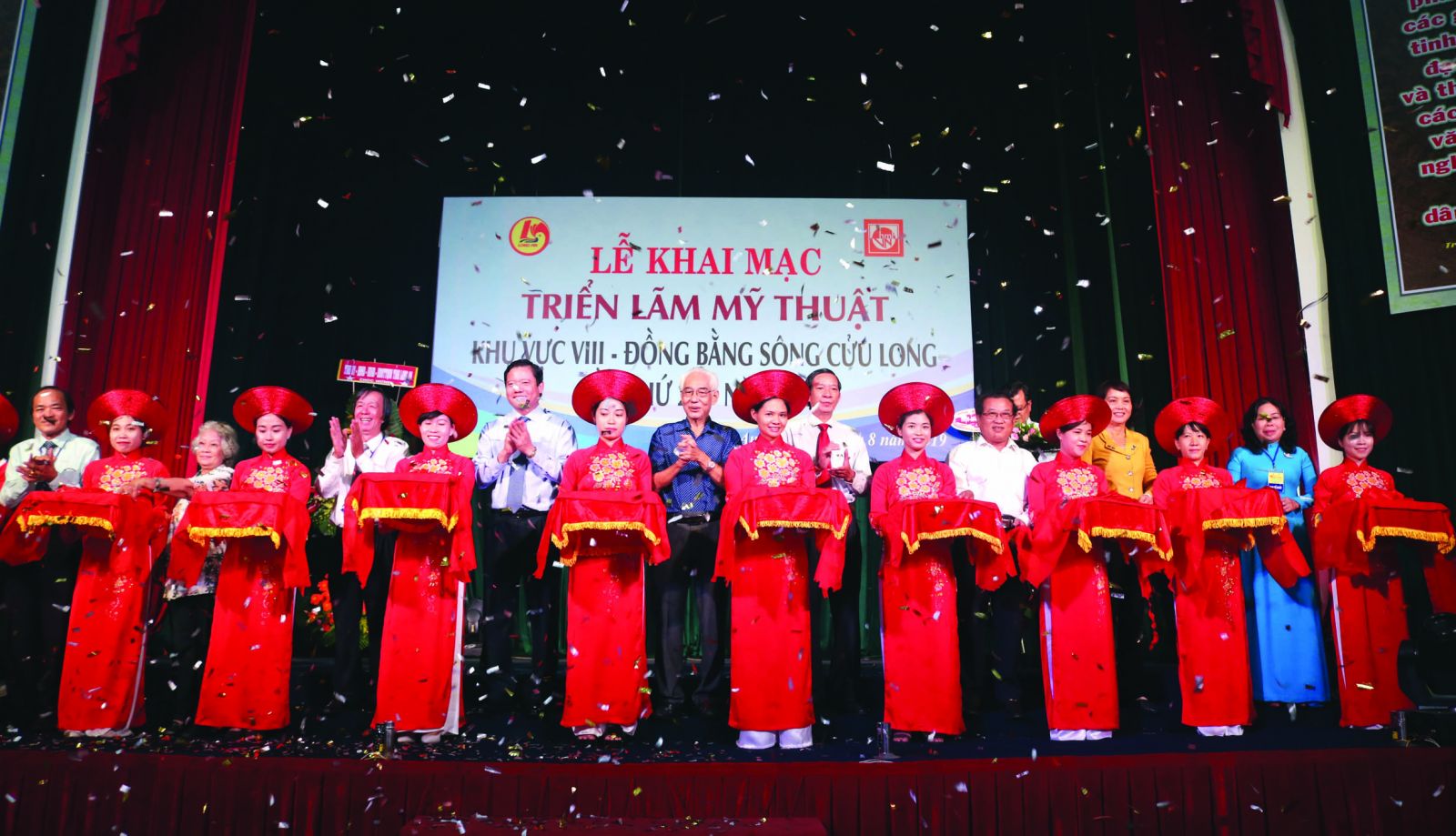 Delegates cut the ribbon to open the art exhibition
Art exhibition takes place from August 8 to 17, 2019 at Long An Center for Culture and Arts, 13 provinces and cities participated in the exhibition including Long An, Tien Giang, Ben Tre, Dong Thap, Vinh Long, Tra Vinh, Hau Giang, An Giang, Kien Giang, Soc Trang, Bac Lieu, Ca Mau and Can Tho city. At the exhibition, there are 22 award-winning works of the Vietnam Fine Arts Association and the Mekong River Delta Fine Arts Awards. In particular, the author Ha Phuoc Duy (Long An province unit) won the Prize A of the Vietnam Fine Arts Association Award with the work "Dong trua" ("Fields at noon").
9. Historical site of Long Khot Border Area is ranked as National Monuments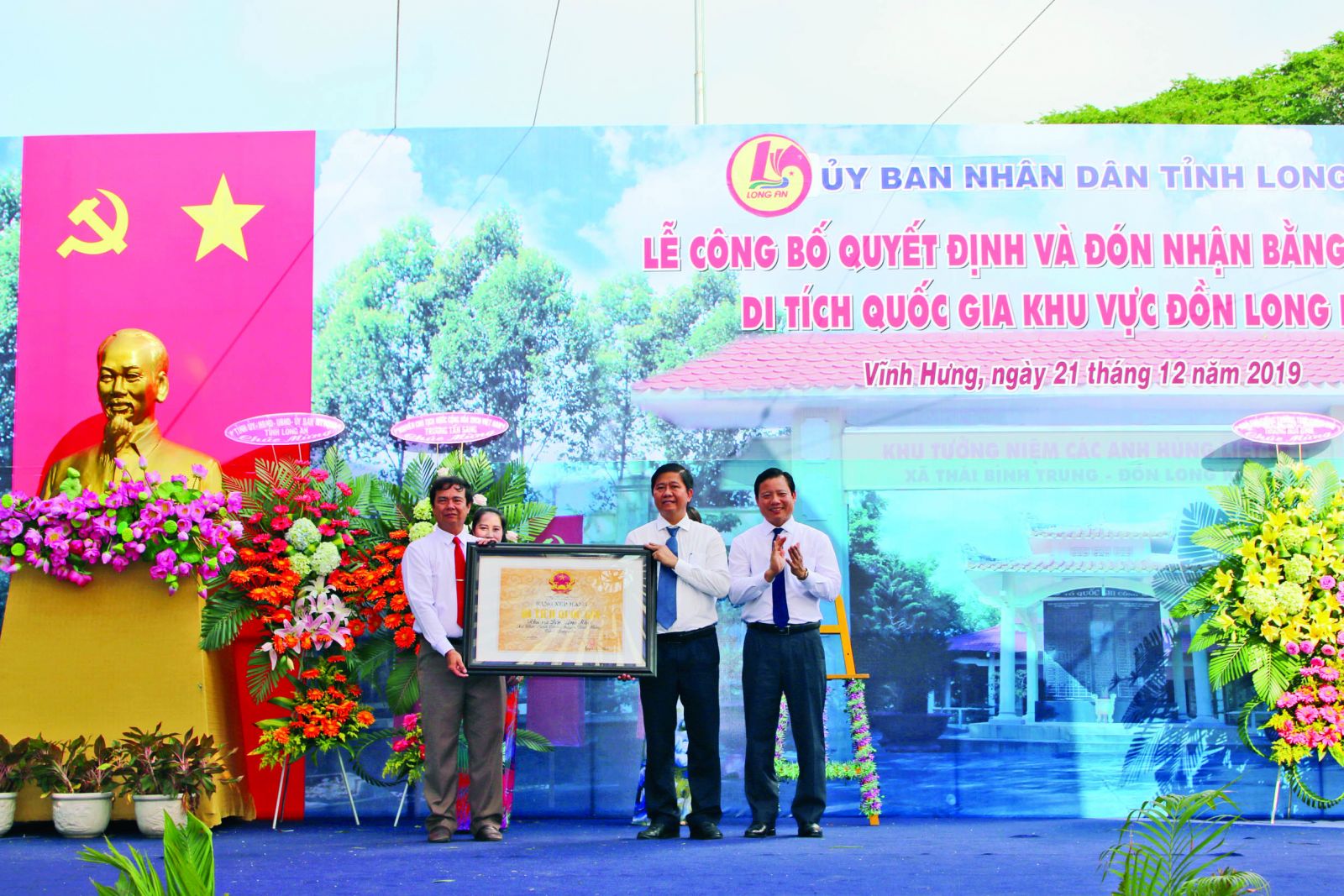 The decision for recognizing Long Khot Border Area as the National Historical Site is announced
On December 21, 2019, the Long Khot Border Area, Thai Binh Trung commune, Vinh Hung district, received the Certificate of National Historic Monuments Rank. During the resistance war against the US and the war to protect the southwest border, Long Khot Border Area was a fierce battle between us and the enemy, taking place 3 typical battles: the battle against Long Khot Sub-area (from June 9 to 16, 1972); large-scale attack on Long Khot Sub-area (on the night of April 28 to 29, 1974); 43-day-and-night heroic battle (from January 14 to February 27, 1978) to protect Long Khot Border Area of the provincial People's Public Security Forces, the local army and people.
10. Athletes of Sports Training and Competition Center under the Long An Department of Culture, Sports and Tourism won Gold and Bronze Medals at SEA Games 30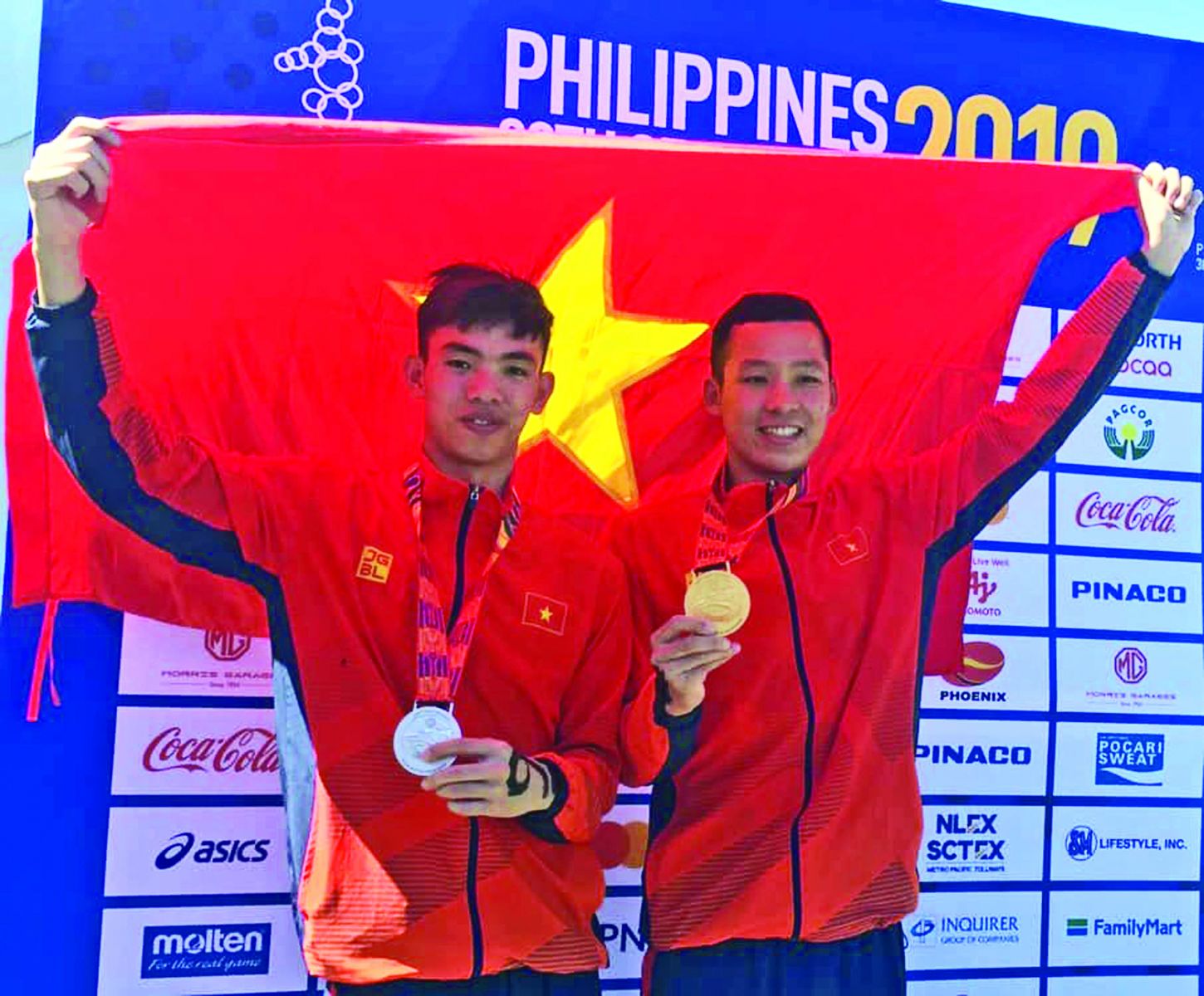 Athlete Tran Tan Trieu (R) won the SEA Games Gold Medal in swimming for 10-kilometer distance
SEA Games 30 in the Philippines, Long An has 8 athletes were summoned to the national teams. In which, Tran Tan Trieu won the Gold Medal in the outdoor swimming track, 10-kilometer distance with a record of 1 hour 53 minutes 31 seconds. This is the first Gold Medal that Long An athletes won at the SEA Games arena. In addition, there is 1 Bronze Medal of athlete Nguyen Hoai Van in athletics for throwing javelin with the achievement of 70.88 meters; 3 girls Thanh Thuy, Kim Thanh and Kim Lien playing a key role with the Vietnamese women's volleyball team won the Silver Medal./.
Long An Newspaper - Translated by Duc Tam
Source: http://baolongan.vn/10-su-kien-noi-bat-tinh-long-an-nam-2019-a88017.html