Thailand's rice exports expected to benefit from weaker baht
A weaker baht is predicted to increase Thailand's rice exports in the rest of 2021 by making Thai rice more competitive and prompting higher global demand.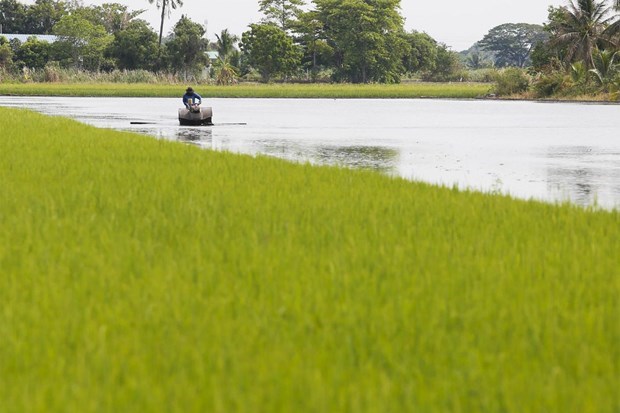 A rice field in Thailand (Photo: www.bangkokpost.com)
Keerati Rushchano, director-general of the Foreign Trade Department was quoted by local media as saying that rice exports started improving since June, boosted by higher purchases from China, the Philippines, Cameroon, Malaysia, Mozambique and Singapore.
Thailand's rice exports are expected to continually increase in the last quarter of this year with more than 700,000 tonnes per month, he said.
In the first eight months of this year, Thailand's rice exports totalled 3.18 million tonnes, down 14 percent from the same period of last year, with export value of 58.68 billion THB (1.75 billion USD), down by 23.3 percent year-on-year. Rice exports in September rose 124.87 percent to 877,555 tonnes, he noted.
Keerati said that the country is on track to export 6 million tonnes of rice this year as targeted, citing drivers including the weaker baht, declining global COVID-19 cases and the relaxation of lockdown measures worldwide.
Chookiat Ophaswongse, honorary president of the Thai Rice Exporters Association, said the weaker baht, which has depreciated 13 percent against the dollar this year, has resulted in lower export prices of Thai rice, making it more competitive against rival exporters.
He said Thai rice production is expected to increase in the 2021/2022 harvest season, with milled rice production estimated at 20 million tonnes, up from 17 million tonnes in the 2020/2021 season.
In 2019, Thailand shipped abroad 7.58 million tonnes of rice for 131 billion THB, down 32 percent in volume and 25 percent in value over the previous year. In 2020, the Southeast Asian country exported only 5.7 million tonnes of rice./.
VNA