This spring, let's explore Long An on excursion
Being an idyllic, sentient and welcoming land with lots of tourist attractions, Long An promisingly delivers enjoyable experiences to regional and visitors within and outside the province on the New Year holiday.
1. With the advantages of routes crossing over the province, namely the National Highway (NH) 1, NH N2, NH 50, and Ho Chi Minh City - Trung Luong expressway, getting to Long An by land transport becomes quite convenient. Nguyen Thi Thuy, Deputy Director of Long An Department of Culture - Sports and Tourism, provides: ''Presently, the provincial sector of Culture - Sports and Tourism encourages and raises socialization to invest in historical relics, tourist areas to attract visitors, especially on Tet and special occasions".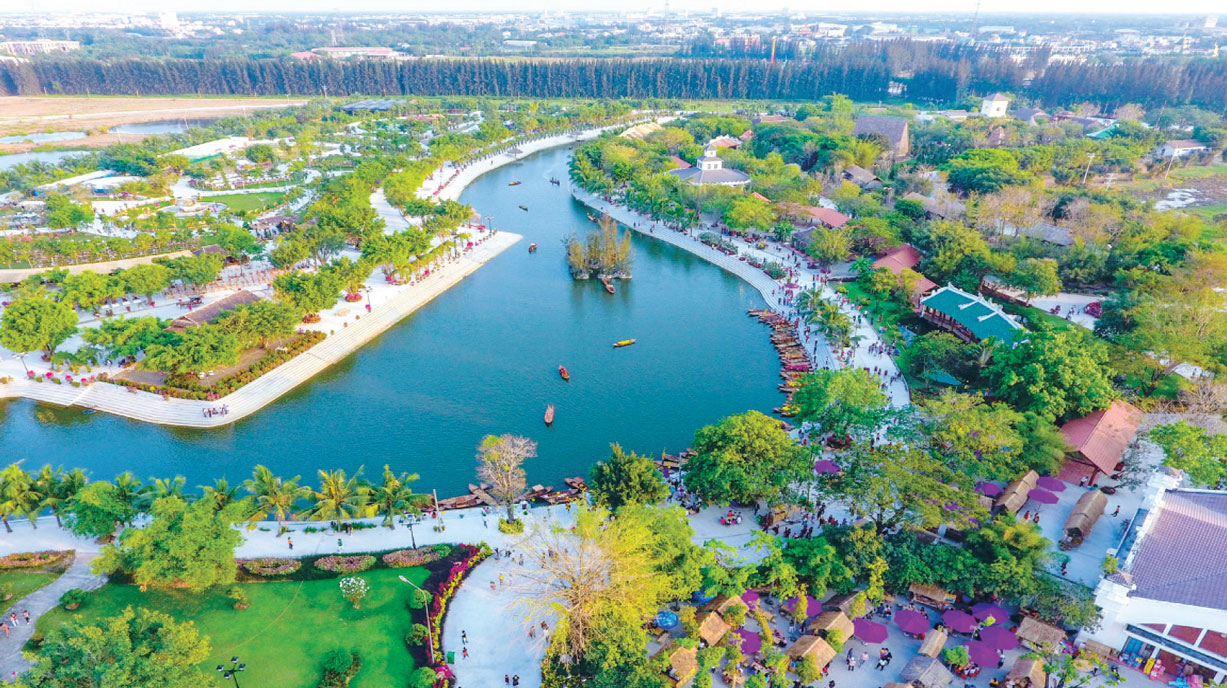 Khang Thong Recreational Complex (Happyland)
Along the NH 1 on the path from Ho Chi Minh City to provinces, cities of the western region, just as passing over Ben Luc bridge, enter Nhut Chanh four-way intersection, then turn right onto Provincial Road (PR) 816, it is Khang Thong Recreational Complex in Thanh Duc Commune, Ben Luc District right where you reach. On New Year and special occasions, plenty of bustling and enjoyable activities are organized, attracting a lot of tourists to come and join, such as flower market, music gala, circus, folk games, cultural depictions of various regions, areas. Mr. Nguyen Xuan Thai - Happyland's Manager, stated that in the Lunar New Year 2021, the spring flower festival to serve the visitors is even now the significant cultural feature of the three regions.
Coming here, tourists are offered chances to immerse in the regional culture-engraved music: Southern Music of Amateurs (Don ca tai tu Nam Bo), Hue Royal Refined Music (Nha nhac cung dinh Hue), and water puppetry. Additionally, there are typical markets of three regions, namely Ben Thanh market in the South, Dong Ba market in the central region, and Dong Xuan market in the North, etc. Besides, the tourist area erects a mini "East Sea" with two models of Paracel Islands (Hoang Sa) and Spratly Islands (Truong Sa) spreading the message of protection and preservation of national maritime sovereignty. Plus, the mini " Truong Son forest mountains" is also created to give a portrait of more than 50 ethnic groups' characteristics. Especially, Happyland is equipped with a food court that serves specialties of three regions. "In the coming future, Khang Thong company is going to provide visitors with a mini supermarket. Alongside the Vam Co Dong's riverbank, food stalls and riverside cafes are ready to offer services everyday" - Mr. Thai further stated.
Mr. Ho Huynh Anh Son, a Happyland's staff, informed: "The tourist area has been added several constructions that are simulators of Trang Tien Bridge (Thua Thien Hue), Western flower field, recaptured brickyard of ancient times, area for artificial rain showers, "Nang Thom" paddy field, Hai Tuong Aquarium, seaside aquariums, and so on".
2. Ms. Nguyen Dang Thi Ngoc Han - sales staff of Ecological Tourist Area of Tan Lap floating village (Tan Lap Commune, Moc Hoa district), expressed: "The tourist site's area is over 130 hectares with surrounding year-round subsurface dykes which means visitors can come to admire particularly picturesque sceneries of the flood season in the Plain of Reeds with natural creatures such as lotus, water lily, birds, storks, etc. Recently, an eight-story floating hotel has been added for renovation. Tourists staying overnight at the cajeput forest are going to enjoy a fascinating time here".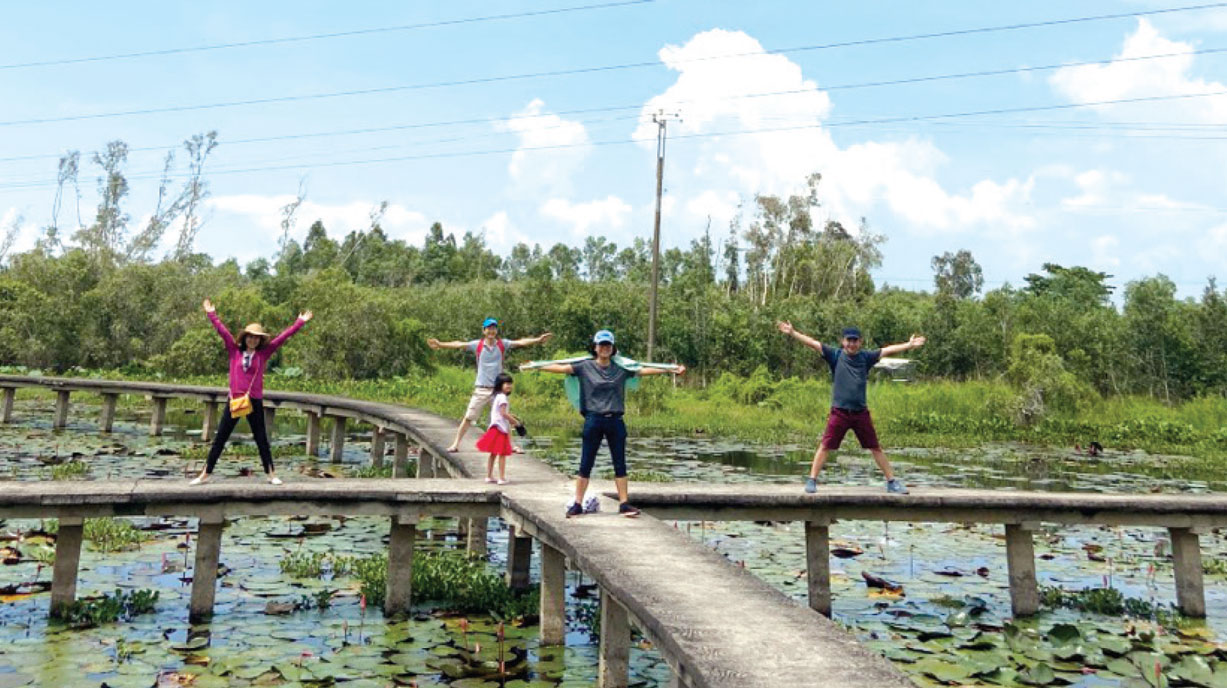 The Ecological Tourist Site of Tan Lap Floating Village
Based on Thap Muoi Tourism Co., Ltd's information - investor of Tan Lap Floating Village, the company are going to build more amusement areas soon, chiefly for the refurbished domestication area of birds with an area of over 10 hectares, the folk games area are having more interesting games, night cinemas are also being supplied to serve visitors. Presently, underground tow-cable systems were equipped to move passenger trains with a speed of 3 kilometers every 50 minutes. Visitors can feel free to go sightseeing, take photos as their keepsakes, feast their eyes on the beauty of the lotus, water lily, and cajeput forest. To ones who are keen explorers, going hiking on a 5-kilometer-long trail through the forest or climbing up to an 18-meter-high tower to overlook the forest. The ecological tourist site currently brings electric shuttle-cars into use to drop visitors off at the tourist spots.
Ms. Ngoc Han also provided that the food area is presently able to serve tourists the dishes of three regions, mainly rural dishes of the Plain of Reeds. Large quantities of visitors left positive feedbacks and praised for tasty dishes, a rather good service attitude and infrastructure.
Mr. Le Van Hue, a local citizen, who is currently an electric car driver of the company, shared: "Since Thap Muoi Co., Ltd's investment in the ecological tourist site, the area has drawn a huge number of tourists, mostly the youths from Ho Chi Minh City, thus it facilitates the jobs for local people".
3. Being notable for leisure travel form of travel which attracts numerous visitors within and outside Long An, the Reserve owned by Dong Thap Muoi Reserve Study and Drug Development Joint Stock Company (JSC) (located in Binh Phong Thanh town, Moc Hoa district) has an area of up to 1.000 hectares. It also takes care of few hundreds of hectares of pristine cajeput forest, which brings abundant sources of drugs. Pharmacist Bui Dac Thang – the chairman of the board, General Director of Dong Thap Muoi Reserve Study and Drug Development JSC, expresses: "To ensure the customer retention, especially customers who appreciate health and relaxation, we fund different categories: running track, forest cycling, natural pools, fishing area, sauna, massage, etc. Furthermore, coming here, visitors can relax and get therapy with a variety of home remedies.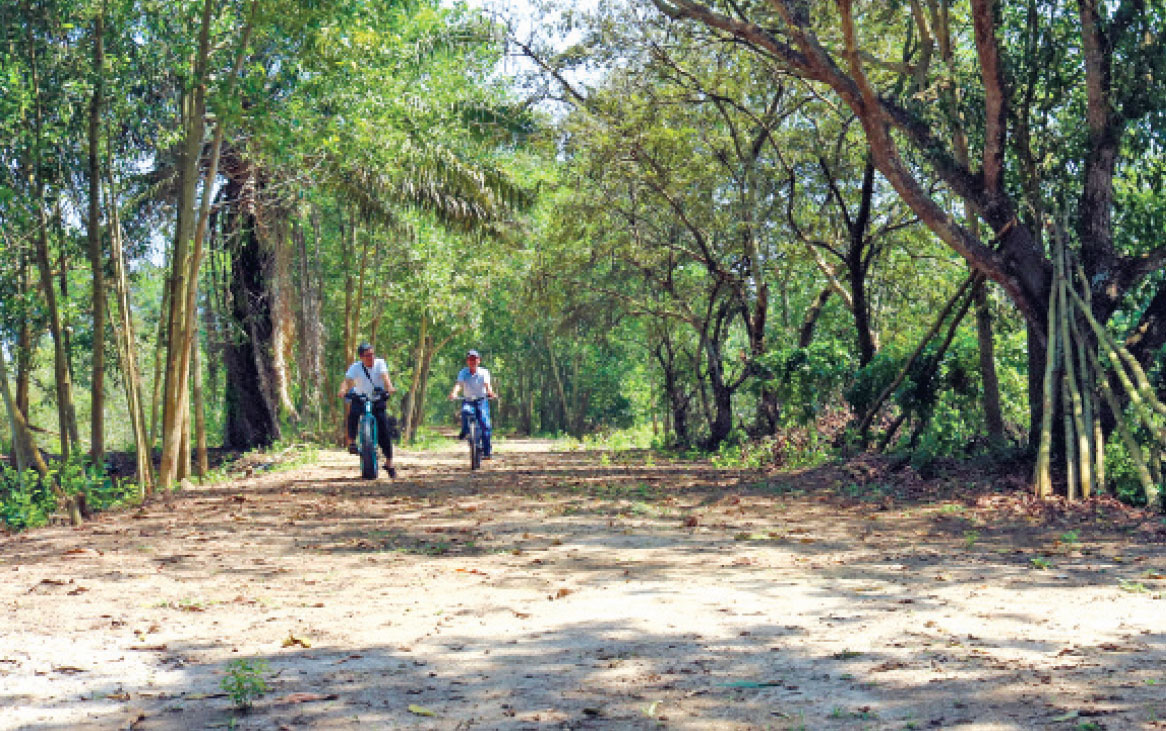 The Reserve belonging to Dong Thap Muoi Reserve Study and Drug Development JSC
This Reserve is also renowned for including the temple of Hai Thuong Lan Ong - Godfather of the Vietnamese Medicine; the central location in "The Endless Field" movie, etc. Hence, it is annually visited by corps of students coming to study and explore.
Turning onto Long An, visitors will fully enjoy taking in the fresh and warm air of the rural Plain of the Reeds, gain deeper insight into heroic historical traditions of the courageous and imperishable lands in images of cultural and historical relics. All fatigue and hustling things in the relentless drive of everyday life could be blotted out for a pleasant retreat when the spring arrives on every single corner of life./.
By Dai Lam – Translated by Duc Tam
Source: https://baolongan.vn/tet-nay-ve-long-an-di-du-lich-a108671.html