Tra Lu Trung route inaugurated to construct
On December 23, Five-Star International Group Joint Stock Company (Five-Star Group) - Investor of Five-Star Eco-urban Area (Phuoc Ly Commune, Can Giuoc District, Long An Province) held the groundbreaking ceremony for the construction of Tra Lu Trung route connecting Lucky Land & Golden River area.
Through the process of constantly growing up, Five-Star Eco-urban Area has gradually become the most livable urban area in the South gate of Ho Chi Minh City. Up to now, phase 1 - Lucky Land of Five Star Eco City has been stably put into operation, attracting a large number of investors as well as residents to settle down. The number of townhouses built has increased significantly recently, when the "living green" is becoming a trend with strong attraction.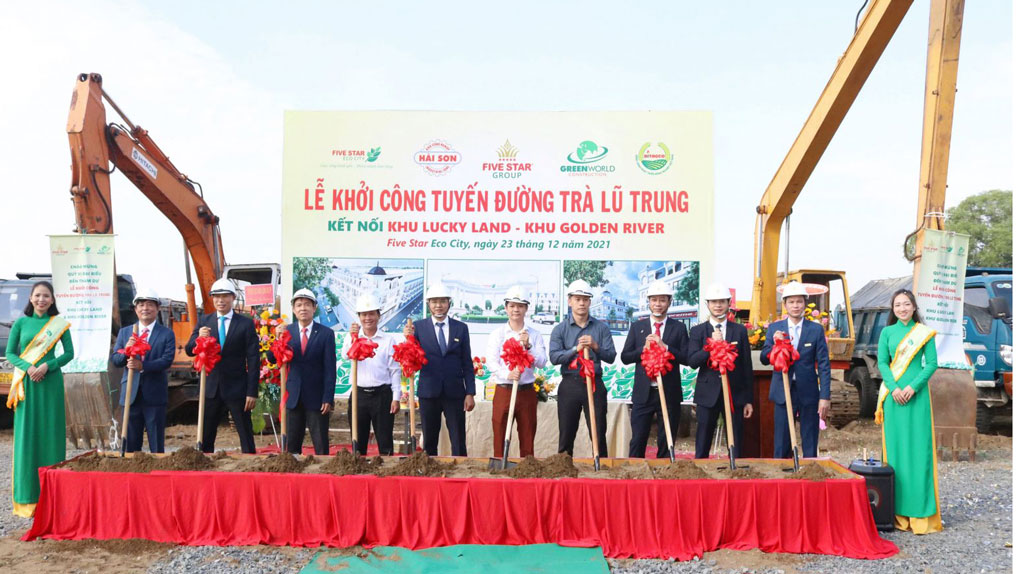 Groundbreaking ceremony of Ta Lu Trung route
Realizing the wide potential of the ecological real estate market, Five-Star Group focuses on implementing strategic plans to focus on exploiting phase 2 - Golden River.
Initially, Five-Star Group focused on constructing Tra Lu Trung route - an important main road connecting Lucky Land with Golden River.
Thanks to the complete transportation system and the sustainable development potential of Five Star Eco City, it will contribute to improving the quality of life and promoting the economic development of the whole region in general and the Golden River in particular.
Mr. Tran Van Duong - General Director of Five-Star Group said: "The orientation of Five-Star Group is to build Five Star Eco City into a high-class urban area with an open traffic system and spacious infrastructure. Following the success of phase 1 - Lucky Land, the completion of Tra Lu Trung route marks an important milestone in the investment implementation process and is a solid premise for the development of phase 2 - Golden River".
During the groundbreaking ceremony, Five-Star Group awarded more than 5 billion VND to support Phuoc Ly commune, Can Giuoc district to invest in installing a drainage system and pavement of route 835B across the area in response to the policy of the local government and accompanies people in the process of urban embellishment, contributing to creating a green, clean and beautiful landscape./.
By Luc Nguyen – Translated by Duc Tam
Source: https://baolongan.vn/khoi-cong-xay-dung-tuyen-duong-tra-lu-trung-a127629.html