Vietnam becomes attractive colocation markets for foreign investors
Vietnam ranked seventh among the top 10 emerging colocation markets globally with a market size estimated to hit 1.5 billion USD by 2026, according to a recent report by KPMG published earlier this month.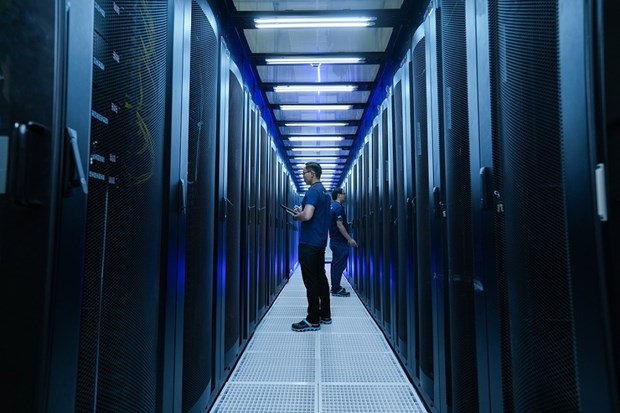 Illustrative image (Photo: baodautu.vn)
Colocation is the practice of renting space for servers and other computing hardware at a third-party provider's data centre facility.

Meir Tlebalde, merger and acquisition director for KPMG in Vietnam told Dau Tu (Vietnam Investment Review) that large tech investment traditionally tended to take place in tier-1 markets like Singapore, Hong Kong, Sydney, and Tokyo, which account for 82% of Asia-Pacific's total data centre capacity.

However, tier-1 markets are facing a shortage in mass land for development and expensive renewables costs, high construction and power costs, and increasing regulatory frameworks in sustainability and data privacy, Tlebalde said.

With rapid digitalisation, emerging Southeast Asia with land resource and cost competitiveness has become an attractive data centre investment destination.

According to Tlebalde, key growth drivers for Vietnam's colocation market are attributed to the lowest development cost in Southeast Asia and capable internet system, reliable power resources at the region's lowest price, and the accelerated digital transformation.

In terms of connectivity, Vietnam is ranked 39th globally in download fixed broadband, she added.

Along with the government's commitment to sustainable development towards net-zero emissions by 2050, Vietnam boasts the potential to become an eco-friendly data centre market for investments in upcoming years.

As of April 2023, Vietnam was home to 28 data centres covering a total area of 108,700sq.m. Hanoi and Ho Chi Minh City are the two major locations, with 11 and 13 centres, respectively. The market is concentrated with 11 operators, among which five major players hold 89% of the country's total computing space.

Experts said that major challenges for development in Vietnam are the need for a clear and streamlined legal framework, as well as power stability. They highlighted the importance of a well-defined licensing process that provides clarity, adding that high financial costs and liquidity issues also pose obstacles for potential investors.

Chris Wallace, APAC Data Centre & Critical Facilities Lead of Mace Vietnam – a leading global consulting and construction corporation, said Vietnam's strategic location and strong determination from its Government make it an attractive destination for international investors./.
VNA