Vietnam firm on top of SEA Games 32 tally with 107 golds
Vietnamese athletes on May 14 won an additional 20 gold medals at the ongoing 32nd Southeast Asian Games (SEA Games) in Cambodia, raising their total golds to 107 and consolidating their top position.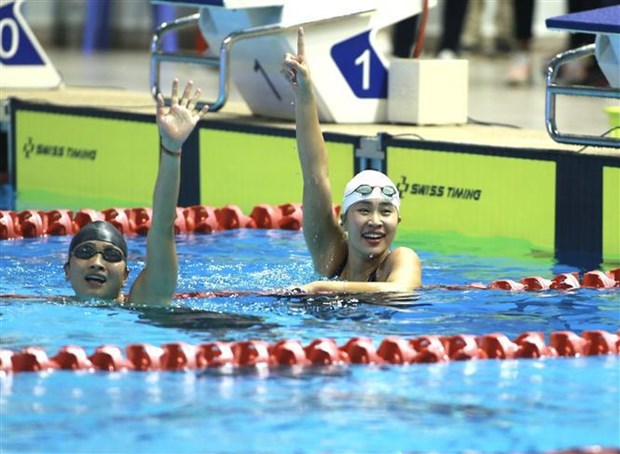 Vietnamese divers win gold medal in mix relay 4x50 surface event. (Photo: VNA)
On the day, divers brought home five gold medals in the men's and women's singles and teams.
Nguyen Tran San San once again broke the SEA Games record in women's 800 m surface, clocking 7 minutes and 13.91 seconds, after breaking abitger in the women's 400m surface a day earlier. Following San's May 14 gold, the Vietnamese diving team won four others.
After striking a hat-trick on May 13, Vietnamese Aerobic athletes continued to grab two more gold medals in the duo and group performances.

Fencers, Judokas, and wrestlers also have two more gold medals in each sport.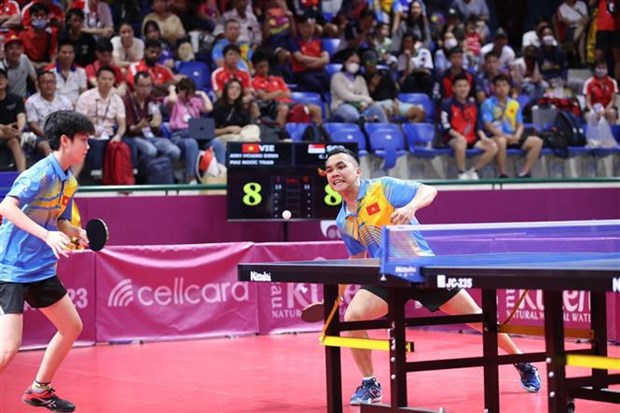 Table tennist players Dinh Anh Hoang (right) and Tran Mai Ngoc at the SEA Games 32. (Photo:VNA)
Other gold medals were won by Vietnam in weightlifting, rowing, table tennis, and Chinese chess.
On the tally, Vietnam is followed by Thailand with 90 and Cambodia with 67 gold medals.
Vietnam sent a 1,003-strong sports delegation to the SEA Games 32, about 700 of them athletes.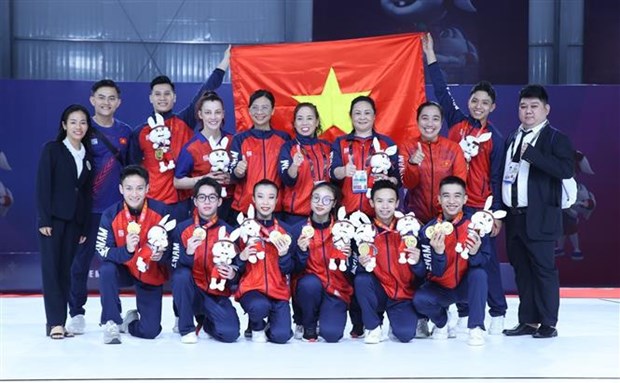 Vietnam Aerobic team win five gold medals at all five events they compete at SEA Games 32. (Photo:VNA)
Competing in 31 sports events, the Vietnamese team aims to bring home 90-120 gold medals and enter the top three.
SEA Games 32 is held in Phnom Penh, Siem Reap, Preah Sihanouk, Kampot, and Kep in Cambodia from May 5 and will be closed on May 17./.
VNA