Vietnam joins ASEAN-Japan cybersecurity drill
The Vietnam Cybersecurity Emergency Response Teams/Coordination Centre (VNCERT/CC) on June 24 took part in the 2021 ASEAN-Japan Drill with the aim of enhancing cooperation between Japan and 10 ASEAN countries in addressing trans-national cybersecurity incidents.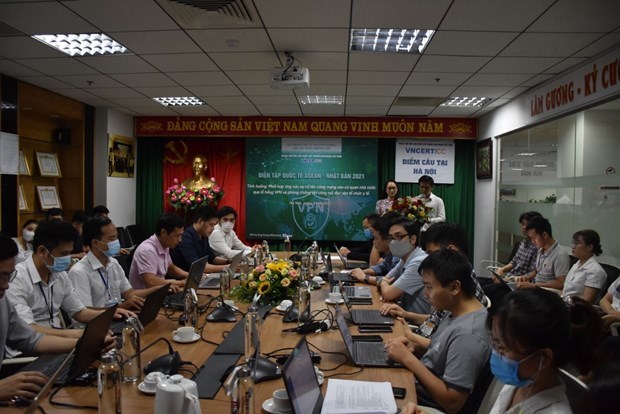 The 2021 ASEAN-Japan cybersecurity drill held at the Vietnam Cybersecurity Emergency Response Teams/Coordination Centre's headquarters. (Photo: VNA)
Amidst the COVID-19 pandemic, the exercise was held in both online and in-person formats. It was connected with 200 locations across the country for IT units of ministries, agencies, provinces and cities to join the event.
This year's drill focused on coordination in dealing with cyber attacks targeting state agencies through Virtual Private Network vulnerabilities and in preventing ransomware attacks on medical institutions.
Hoang Minh Tien, Deputy Director of the Information Security Authority under the Ministry of Information and Communications, said that in the past two years, the COVID-19 pandemic has caused impacts on cybersecurity.
Cyber attacks are becoming more and more sophisticated. Even the health systems that are struggling to fight the pandemic are still subject to this kind of attacks.
He stressed the need for countries and organisations to strengthen protective measures, coordinate in responding to arising incidents, especially to support and protect the health systems./.
VNA