Vietnam's dragon fruit, banana, durian export targets 2 billion USD in 2023
The export of dragon fruit, banana and durian is expected to contribute 2 billion USD to the country's export turnover in 2023.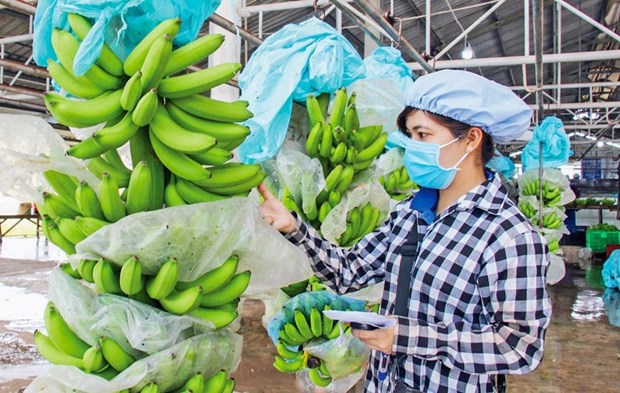 Illustrative image (Photo: VNA)
The fruits and vegetables export recorded positive signals in early 2023, reaching 300 million USD in January, up 3% year-on-year.
This promises a great help to the sector in realising its goal of 4 billion USD in revenue this year, a year-on-year surge of 20%.
This is attributable to China's re-opening in early January and its increasing import of fruits and vegetables from Vietnam; and the efforts of Vietnamese exporters to maintain orders with partners in the US, the European Union (EU), and Japan.
In the fourth quarter of 2022, the export volume of durian sharply soared, hitting 421 million USD, up 137% from the same period last year.
The export of banana also saw strong growth, reaching 311 million USD last year, up 34.5%.
The trade of goods at the border gates between Vietnam and China has become bustling. As many as 220,000 tonnes of fruits were exported to China via border gates in the northern province of Lang Son from January 1 – February 13, a hike of 40% year-on-year.
According to Nguyen Thanh Binh, President of the Vietnam Fruit and Vegetable Association, 2023 is expected to be an optimistic year for Vietnam's fruits and vegetables export industry, especially durian.
China remains the largest importer of Vietnamese durian among other key names including Australia, the US, Japan, and Taiwan (China).
Banana export is also expected to exceed 300 million USD thanks to a protocol signed with China in November 2022.
Vietnam is the second biggest exporter of banana to China after the Philippines. China annually spends over 1 billion USD on importing banana from the Southeast Asian nation.
Last year, Vietnam raked in nearly 1.4 billion USD from exporting dragon fruit, banana, and durian./.
VNA