Vietnam's U23 football team to meet U23 Kyrgyzstan in Doha Cup 2023's third round
Vietnam's U23 football team will meet Kyrgyzstan's team at the third round of Doha Cup 2023 - a friendly tournament serving as a warm-up ahead of the 32nd SEA Games to be held in Cambodia.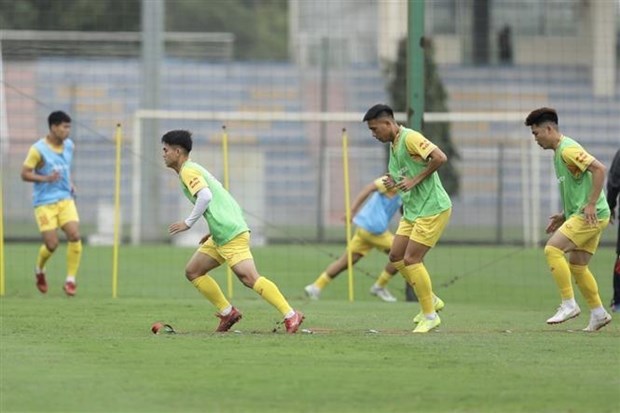 Vietnam's U23 football team in a training session. (Photo: VNA)
Vietnam's last match at the ongoing tournament will be held at Al Gharafa Stadium at 0.30 am March 29 (Vietnam time).
According to the coaching board of the Vietnamese team, competing with strong opponents at the Doha Cup 2023 brings a lot of benefits to the preparation of U23 Vietnam for the SEA Games and others in the future.
"In terms of results, U23 Vietnam lost. But as I shared, when participating in the 2023 U23 Doha Cup in Qatar, U23 Vietnam's aim is the step-by-step progress of its players. And with what happened in the match against U23 UAE, I can say satisfied," U23 Vietnam coach Philippe Troussier said.
"For me, U23 Vietnam is gradually improving."
A 4-0 loss to the UAE in their second game after a 3-0 loss to Iraq in the opening game once again shows a big gap between U23 Vietnam and strong football teams in the continent./.
VNA