Ben Luc aims for clean agriculture
To build a clean, safe and sustainable agriculture, the use of organic fertilizers is inevitable. In recent years, farmers in Ben Luc district, Long An province have gardually prioritized organic fertilizers, thereby creating clean products that do not pollute the environment.
Thanks to using organic fertilizers, the 3-year-old seedless lemon garden of Mr. Le Van Hiep's family (hamlet 10, Luong Hoa commune) is always green. Applying organic fertilizers help loosen the soil, increase water retention and limit pests and diseases,etc. Mr. Hiep shared: "If chemical fertilizers is used too much, the leaves will be big and thin, therby being more susceptible to leafworms, other pests and diseases. On the contrary, when using organic fertilizers, it will help branches, leaves and trees become stronger to be able to withstand adverse weather conditions.
According to Mr. Nguyen Van Ut (hamlet 10, Luong Hoa commune), after more than 3 years of using microbial organic fertilizer on 0.7 hectares of lemons of the family, the efficiency is quite high. His lemon garden has less pests and diseases, high fruit yield. The application of organic fertilizers not only helps plants grow sustainably but also limits production costs in the situation that inorganic fertilizers prices in the market are too high.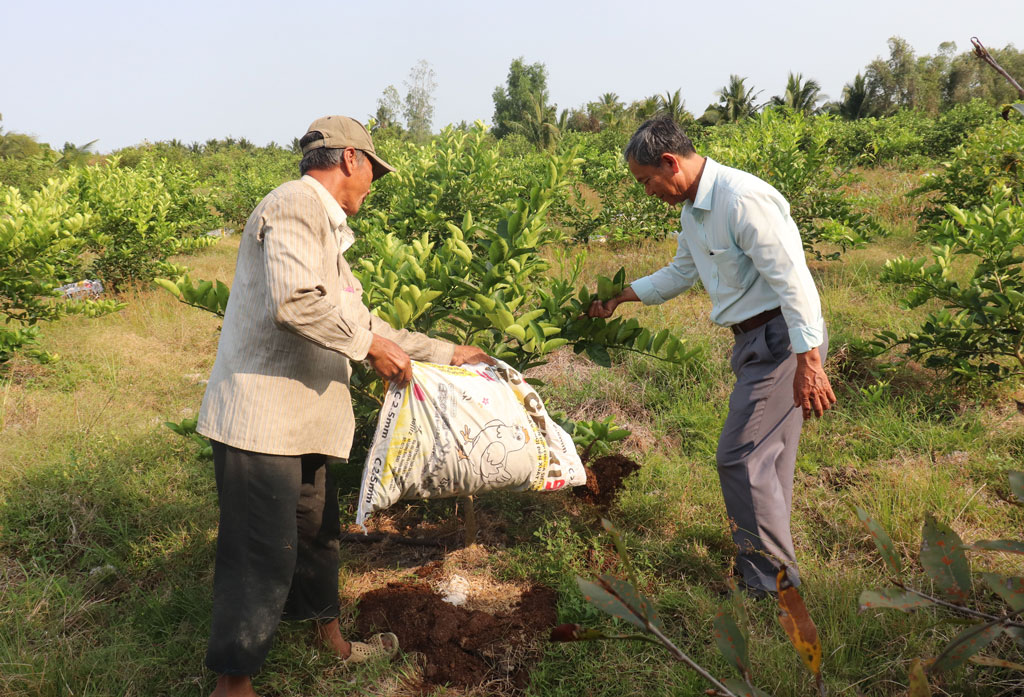 For many years, Mr. Nguyen Van Ut (hamlet 10, Luong Hoa commune) (on the left) always uses microbial organic fertilizers on his family's lemon garden.
In recent years, drought, saltwater intrusion and difficulties in product consumption have caused farmers to change their production thinking a lot. Mr. Ut said that seedless lemon tree used to earn billions when growing out-of-season, but now, the weather and water sources are no longer favorable, so he does not use chemical drugs to grow out-of-season fruit to prolong the longevity for the tree. During the production process, he gradually increased the proportion of microbial organic fertilizers for the garden. Mr. Ut also met scientific experts to learn organic farming methods, because he understood that too much dependence on chemical methods would lead to land degradation and inefficient farming. Thanks to changing thinking and farming methods, the 4-year-old lemon garden of Mr. Ut's family produces an annual output of 30-35 tons/hectares. With the current purchase price of 25,000 VND/kg, after deducting expenses, he earned a profit of over 100 million VND/year/0.7ha of lemons.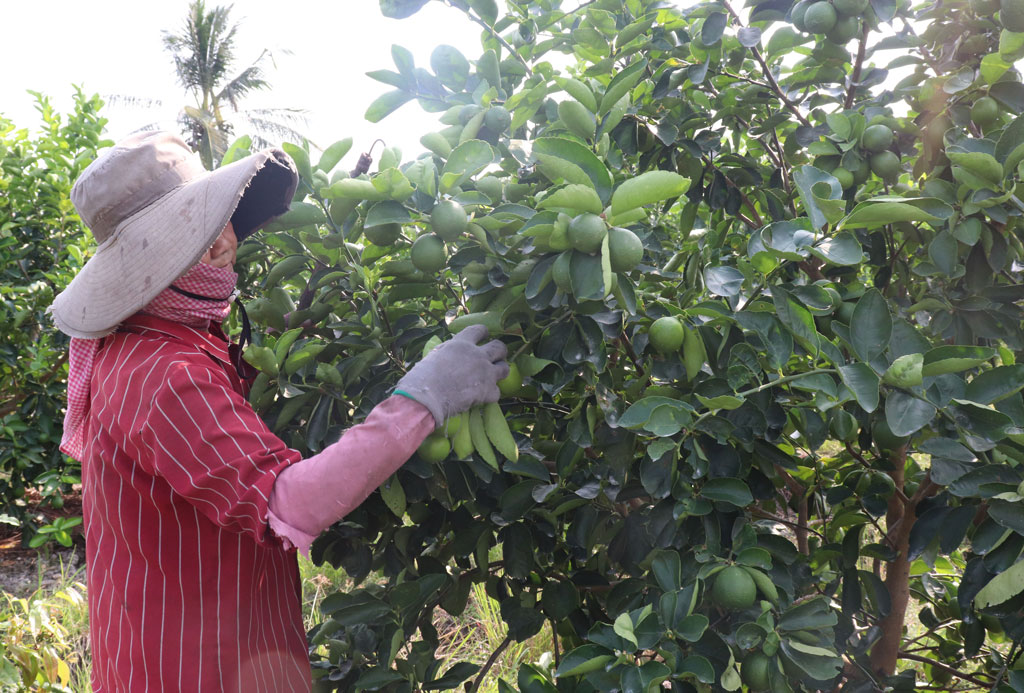 Using microbial organic fertilizers both creates clean products and protects the environment
Currently, the district's lemon growing area is over 7,000 hectares, of which, there are about 2,200 hectares applying high technology, produced in the direction of GAP, eligible for export to the European market with about 15,000 tons/year.
Deputy Director of the Agricultural Service Center of Ben Luc District - Nguyen Van Co said: "When farmers use organic fertilizers, it will bring 4 benefits: ensuring a cleaner living environment and water source; bettering the farming environment since plants will be healthier, reducing dependence on pesticides; making agricultural products more clean and safe, more valuable in the market, increasing export capacity; taking advantage of agricultural organic waste in daily life to reuse in organic fertilizers production, contributing to environmental protection. Therefore, the district Agriculture sector advocates to increase the rational use of organic fertilizers in agricultural production to improve the quality of products as well as gradually restore the ecosystem affected by the abuse of chemical fertilizers"./.
By Staffs - Translated by Q. Thien
Source: https://baolongan.vn/ben-luc-huong-den-nen-nong-nghiep-sach-a151896.html