Supply chain of clean agricultural products continued to develop
The goal of developing a supply chain of clean agricultural products is to provide safe products for users; control, trace the origin of products, serve the stable supply for domestic and foreign markets and export.
Initially forming chains
In the period 2016-2020, Long An has developed 22 production chains, providing safe agricultural, forestry and aquatic food not only in the area but also at the markets in Ho Chi Minh City and neighboring provinces.
Deputy Head of Sales Division of Mechanical Construction, Food and Foodstuff Joint Stock Company (Ward 6, Tan An City) - Ho Minh Hop said: "In 2019, the company was granted a eligible certificate for supply chain and currently cooperates with some rice production households in Van Phong hamlet, Tan Hoa commune, Tan Thanh district. Farmers participating in the chain are very excited because the company purchases with the price higher than that of the market. Currently, the company's rice product supply chain covers an area of about 100 hectares, supplied at many supermarkets such as MM Mega Market, Saigon Co.op, collective kitchens, and so on with an output of 14 tons of rice of all kinds per year.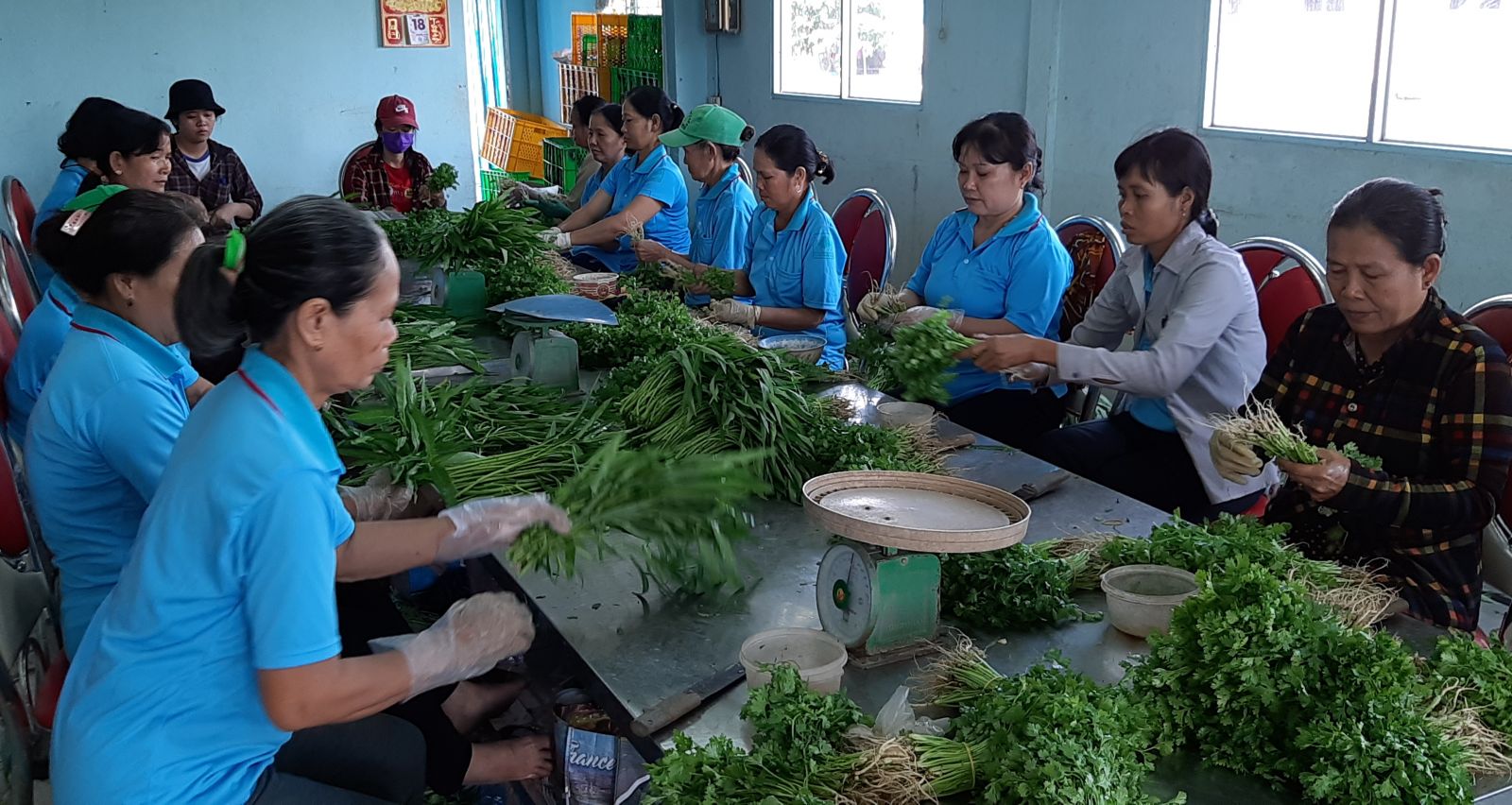 Phuoc Hoa Safe Vegetable Cooperative in Can Duoc district is one of the cooperatives applying the food safety chain for green vegetables (Illustrated photo)
Currently, dragon fruit has built 2 product chains. Specifically, Long Chau Production and Trading Facility (Tam Vu townlet, Chau Thanh district) with such following products as dried red-flesh dragon fruit, dried white-flesh dragon fruit and red-flesh dragon fruit. Up to now, the facility has been granted VietGAP and HACCP certificates with a production area of over 21 hectares, an estimated output of 624 tons per year.
Thanh Phu Long Agricultural Cooperative (Chau Thanh district) has 50 hectares of dragon fruit with an output of 2,000 tons per year. Up to now, the cooperative's products have stable output at Big C Supermarket, Lavifood Joint Stock Company and some other companies. Products of the cooperative are granted VietGAP certificate, eligible certificate for food safety.
According to the Director of the Mekong Agricultural Production - Trade - Service - Import-Export Cooperative (confirmed the supply chain in 2019, Hoa Thuan 2 hamlet, Truong Binh commune, Can Giuoc district) - Ngo Anh Dung, despite the Covid-19 epidemic situation has greatly affected the supply of goods, especially the transportation, but due to the establishment of a supply chain with stable output, the cooperative still regularly exports goods every month.
Products of the cooperative such as water spinach, malabar spinach, amaranth, collard greens, sweet potato, jute, zucchini, broccoli, bitter melon, pumpkin, green beans, papaya, and so on. The cooperative has a production area of over 11 hectares with 40 participating farmers, providing more than 360 tons of vegetables per year. Vegetables of the cooperative are granted VietGAP certificate, food safety certificates are provided to Saigon Co.op Supermarket and some other collective kitchens in Ho Chi Minh City.
Supply chain products ensure quality and safety as this is the leading criterion in chain production. Engineer Luu Pham Van Khuong - a specialist in product quality of San Ha Co., Ltd. - Long An branch (confirmed the supply chain in 2017, Thanh Phu commune, Ben Luc district), informed: "Quality management is concerned by the company and regularly coordinated with farmers to ensure trust with customers. The company's products include herb chicken, Ngoc Ha chicken and cage chicken. Chicken farms are concentrated in Thanh Loi communes, Ben Luc and Thanh Hoa districts. Every day, the company supplies 25,000-30,000 chickens for meat, with an estimated output of 50 tons per day to some stores in Long An province and stores in Ho Chi Minh City.
Particularly for seafood products, the province currently has Long Thanh Fisheries Facility (confirmed the supply chain in 2018, in Long Thanh commune, Thu Thua district) with such products as pangas catfish, yellow catfish, frogs, snakehead fish, porcupine-head perch, so on. The production scale is 19 hectares, supply all year round, the estimated output is over 1,000 tons. Products are supplied at the market of ward 2, Tan An city, Binh Dien wholesale market, HCMC and supplied to some seafood export companies. The establishment commits certificates for safe production and food safety.
In addition, the province also built 3 chains of cattle and poultry slaughtering in some localities in the province. Slaughtering facilities meeting food safety standards supply to markets and supermarkets in the province and Ho Chi Minh City.
Ms. Hanh, a consumer in Ward 3 in Tan An City, shared: "When I go to the supermarkets and markets to buy products with food safety stamps, consumers are very secure. Because many products are presently in the market with poor quality and residues of pesticides that are invisible to the naked eye, they are very harmful to our health".
Adding at least 15 supply chains
According to the plan to build and develop a model of a safe agricultural, forestry and fishery food supply chain in the province in the period 2021-2025, continue to maintain stability and develop and replicate 22 food supply chains. Safe agricultural products are built in the period 2016-2020. Accordingly, the province advocates to expand 22 built chains; increases participating members, expands the chain's products; increases the output of products participating in the chain; and expands domestic and foreign consumption markets and export.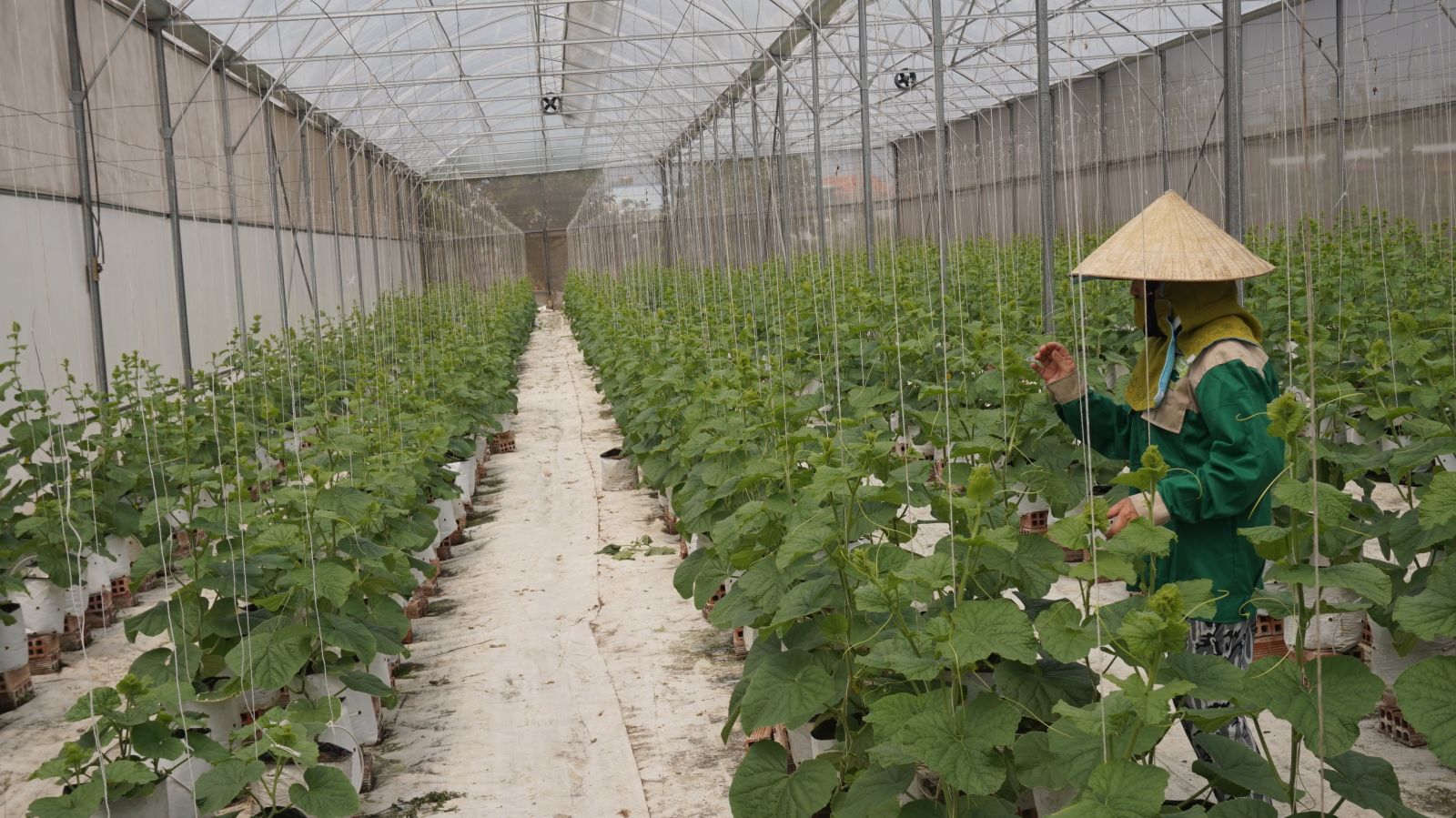 Growing cantaloup in a net house in Can Giuoc district
Units meeting the standards to supply clean product chains must ensure production facility, a place for processing and packaging and a place for consumption (stores, suppliers). Factors participating in the chain such as 100 percent of people involved in food production, processing and trading, chain model managers have knowledge of food safety, chain management; 100 percent of the original production facility is GAP certified or signed to produce safe products; preliminarily processing facilities or processing ones certified to meet food safety conditions or equivalent; Products are sold at facilities that are qualified for food safety or have signed a commitment to ensure safety.
Deputy Director of the Department of Industry and Trade - Chau Thi Le said: "Models of safe agricultural food supply chains are supported with traceability by electronic stamps; participating in fairs, trade promotion conferences, connecting production-consumption of safe products".
In the period 2021-2025, the province will build at least 15 new safe food supply chains on key agricultural products of the province; at least 50 percent of the production of key agricultural products, with a high level of risk, are having many pressing concerns about food safety, which is controlled by chain food safety (vegetables, meat).
To achieve the above goals, the province will have the policy to support production facilities and businesses to participate in the chain of some equipment and tools for quick inspection at the site to self-monitor some indicators on food safety; design packaging, labels for product identification, promotion and product traceability; supporting production and business with stable loans, long-term loans, preferential interest rates to encourage establishments to apply and deploy the model of safe food production and business chain, so on./.
By D. Lam – Translated by Duc Tam
Source: https://baolongan.vn/tiep-tuc-xay-dung-chuoi-cung-ung-san-pham-nong-san-sach-a118901.html