Cold storage warehouse market forecast to grow 12 percent a year: Savills Vietnam
Vietnam's cold storage real estate segment is developing and is expected to reach 295 million USD in 2025 with a growth rate of 12 percent a year, according to real estate consultancy Savills Vietnam.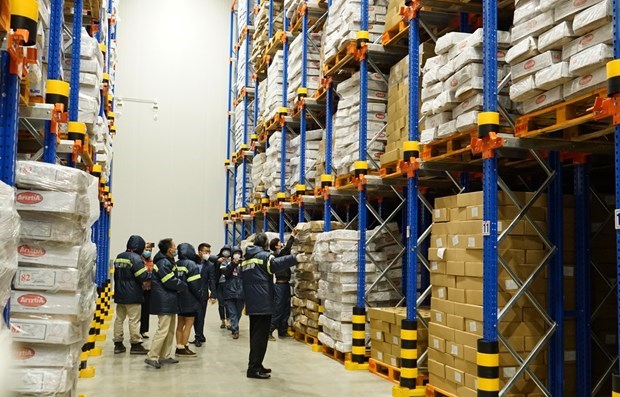 Illustrative image. (Photo: VNA)
Analysis conducted by Savills showed that in spite of the increasing demand, the country had only 48 cold storage facilities with some 600,000 shelves and over 700 refrigerated trucks.
Experts attributed the constrain in supply to the fact that cold storages take more time to build than other types of logistics facilities and is more expensive than standard warehouses. They also said the rental price increased rapidly from 52 USD in early last year to 87 USD per tonne this year.
Cold storage real estate in the southern provinces is considered to be more developed due to the robust demand for storage food, seafood and retail items. However, northern localities have seen a boom in cold storage facilities with design capacity skyrocketing from 26,750 shelves in 2015 to 71,750 shelves in 2018.
John Campell, Savills Vietnam Industrial Services Managers, said modern commercial retail is the main driving force for the industry because about 80 percent of demand comes from the food sector.
The strong growth of e-commerce is putting a lot of pressure on cold storage facilities in Vietnam due to limited quantity, despite rising investment from domestic and foreign investors in the expansion of cold storage facilities in the past three years.
The cancellation of seafood export orders during the peak of the COVID-19 pandemic this year has forced cold storage facilities to operate at maximum capacity, he said
Campell said Vietnam is still a fast-growing economy with a stable business environment. The resuming of international flights in the near future will be one of the prerequisites for a successful 2022. He predicted that with the great potential of the market, multinational companies continue to explore opportunities to expand cold storage facilities in Vietnam, helping the segment prosper./.
VNA
...................................................................