Conference connects tourism safely between Hanoi and other localities
A conference was held in Hanoi on December 17 to connect tourism between Hanoi and other localities under the theme "Establishing safe tourism corridor in Hanoi and localities".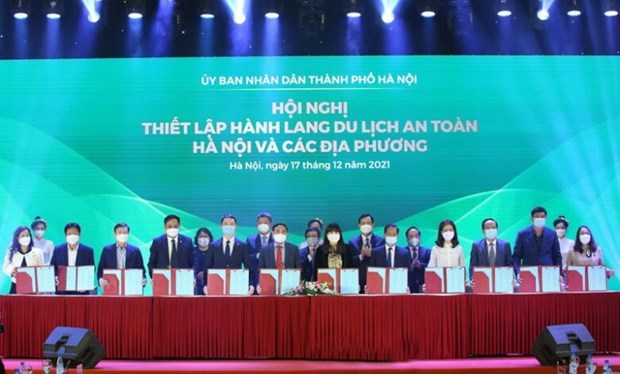 At the event (Photo: nhandan.vn)
Over the past two years, the COVID-19 pandemic has had many negative impacts on the tourism industry. Although the whole country has now entered the phase of both anti-pandemic and economic recovery, the tourism industry still faces many difficulties.
In order to revive tourism, Hanoi targets that the capital, in the 2022-2023 period, will focus on the domestic tourist market; gradually recover the international tourist market, with a focus on close and key markets such as Southeast Asia, the Republic of Korea, and Japan, while gradually attracting tourists in North America, the EU and new markets such as Australia, India.
The roadmap to restore tourism in the capital is carried out in two phases. The first phase, from the first quarter to the second quarter of 2022, will focus on welcoming domestic tourists in association with safe tourism models and preparing conditions for international arrivals. Phase 2, which will commence from the third quarter of 2022, is expected to restore all tourism activities and products in the city, regardless of size, and deploy them in welcoming international guests.
As such, in 2022, Hanoi strives to receive 9-10 million visitors, of which domestic tourists are projected to reach 7.8-8 million and international visitors from 1.2-2 million, with total revenue from tourists exceeding 27 trillion VND.
The city proposed seven key solutions, including: ensuring safety at destinations and for tourists; building diversified, unique and attractive tourism products; and increasing advertising and tourism promotion activities.
However, in order to restore tourism, safety must come first, ensuring the harmony between epidemic prevention and control with creating the most favourable conditions for tourists to move and use services between businesses and localities.
At the conference, representatives of the tourism industry of provinces and cities such as Thanh Hoa and Dien Bien discussed measures to create a green tourism corridor between Hanoi and other localities.
Within the framework of the conference, a signing ceremony of cooperation in safe tourism development took place between the state management agencies in charge of tourism in the new normal state of 12 provinces and cities: Hanoi, Hai Phong, Quang Ninh, Ninh Binh, Thanh Hoa, Nghe An, Hoa Binh, Son La, Dien Bien, Lai Chau, Lao Cai, and Ha Giang./.
VNA