Digital skills for teachers, students must be prioritised: Education minister
Teachers and students should have access to information technology (IT) to take full advantage of humanity's knowledge, Minister of Education and Training Phung Xuan Nha said on October 15.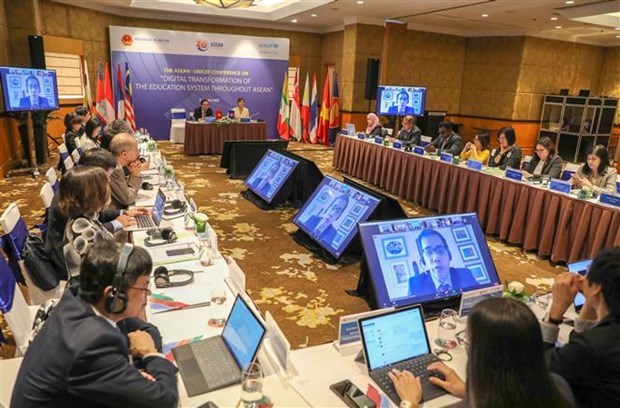 At the ASEAN-UNICEF Conference on "Digital Transformation of the Education System Throughout ASEAN" (Photo: VNA)
He made the comments while attending the ASEAN-UNICEF Conference on "Digital Transformation of the Education System Throughout ASEAN" held by the Ministry of Education and Training in collaboration with the ASEAN Secretariat and UNICEF Vietnam.
The conference was organised as part of Vietnam's ASEAN Chairmanship in 2020 and in the context of the bloc's education sector working to ensure students are safe and their studies are not interrupted by the COVID-19 pandemic.
Nha called on education ministers in the bloc to work towards adopting effective policies and a legal framework on digital transformation in the education sector, emphasising that these would help improve management and teaching quality.
Education ministers should join hands and build a common set of criteria on digital skills in the region, he said, noting that it would pave the way for technologies to be applied in the education sector both thoroughly and systematically.
Sharing Vietnam's efforts in promoting digital transformation, Nha said that as the country targets students in all grades being equipped with digital skills, IT is taught at primary schools and focuses on digital skills, the application of IT, and computer science.
The application of IT in teaching and knowledge-sharing has been developed in Vietnam, he said, adding that the ministry organises e-learning lesson design contests to improve teachers' capacity in digital transformation while building digital learning and teaching data in the sector, with more than 7,000 high-quality materials having been shared on the internet.
At the end of the conference, ASEAN education ministers adopted a joint statement that affirmed the importance of efforts to promote digital skills and digital transformation in the education sectors of member states.
They agreed to facilitate safe access for students to opportunities for digital study, cooperate with relevant bodies in the field of open education resources, and support the building of the ASEAN statement on digital transformation in the education system./.
VNA