Hi-tech applied rice farming meets with difficulties in Long An
After two years of implementation, Long An province's hi-tech applied agricultural development project in association with agricultural restructuring has gained satisfactory results. Still hi-tech rice farming models have still faced lot of difficulties.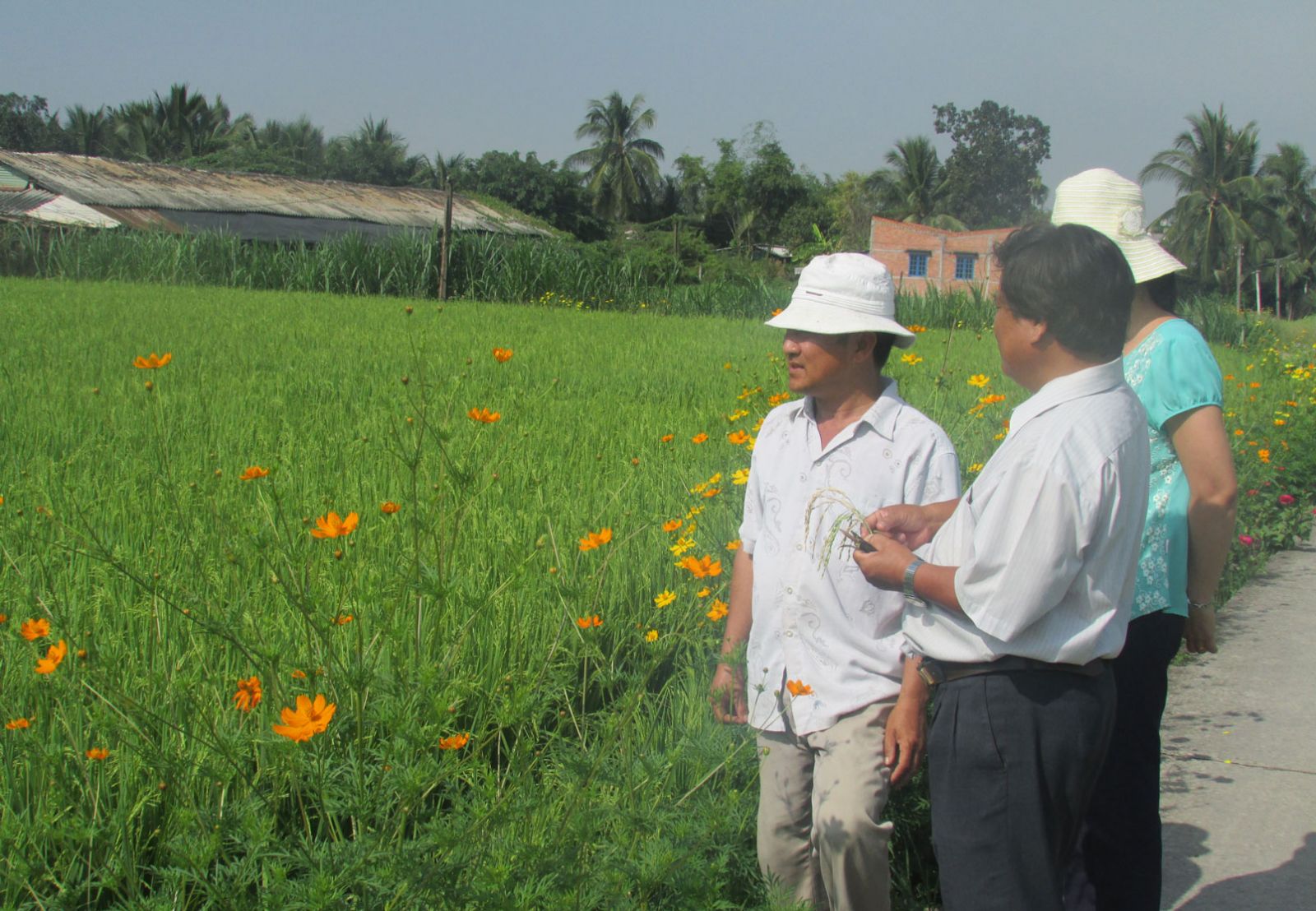 Hi-tech applied rice farming models bring high efficiency
By the end of 2017, the province had 600 hectares of hi-tech rice farming area, lower the plan of 4,200 hectares.
Deputy director of the provincial Department of Agriculture and Rural Development Nguyen Chi Thien said that hi-tech rice farming models brought higher than normal profit.
Tan Hung district implemented two hi-tech models over 100 hectares in winter spring and summer autumn rice crops, yielding the profit of VND27-31million hectares a crop, VND10 million higher than normal.
Deputy head of Tan Hung Agriculture and Rural Development Department said that the district applied five 50 hectare hi-tech models and expanded four other models over 460 hectares. It is expected that the district will propose the province to build 21 irrigation works with the total cost of VND83 billion this year.
Head of the department in Vinh Hung district To Van Chanh said that the district carried out one hi-tech model in summer autumn crop with the total area of 50 hectares. That increased to five models over 250 hectares in winter spring crop.
The district plans to expand the area to 300 hectares with six models in winter spring crop this year and 1,400 hectares for the entire year. The province has given the district VND1.9 billion in financial assistance to invest in five works to serve hi-tech rice farming and the district itself has spent VND8.5 billion on infrastructure development in Hung Phu cooperative, Vinh Thuan commune.
Other districts have also built their hi-tech rice farming models from local budgets. For instance, Thanh Hoa district has piloted eight models over 250 hectares, Kien Tuong town has applied hi-tech models over 58 hectares in Thanh Hung cooperative and 20 hectares in Binh Hiep commune.
Lot of difficulties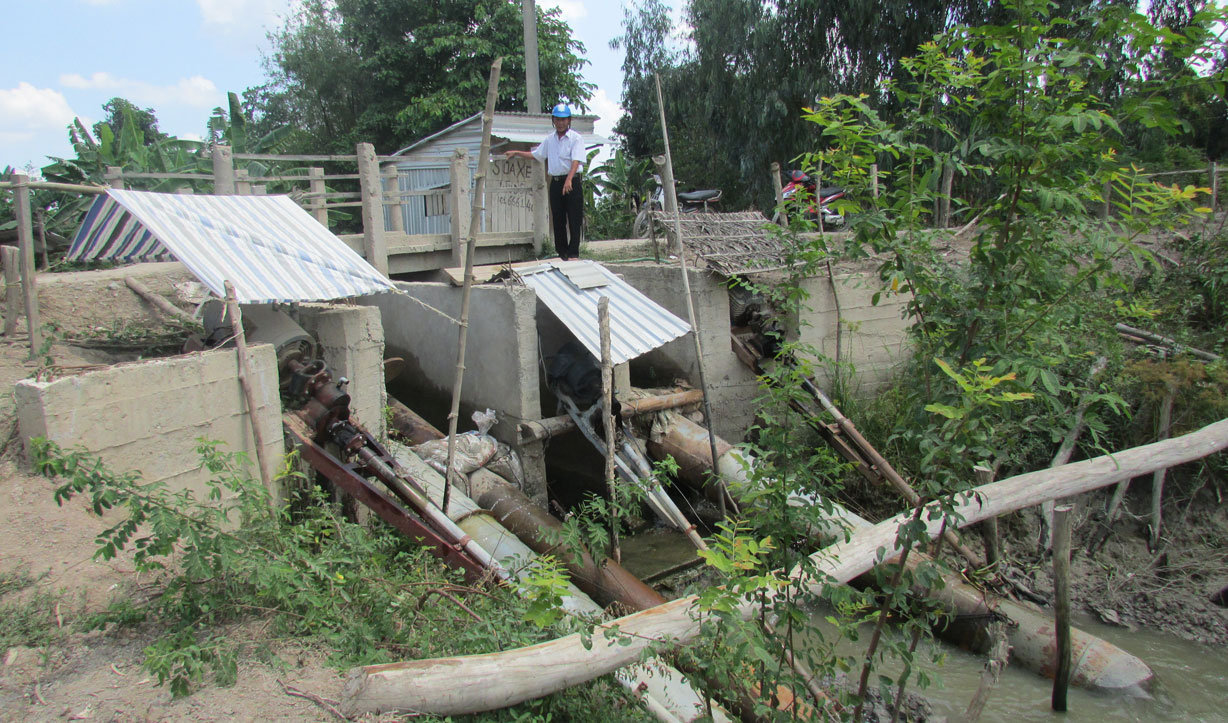 Many pumping stations met with difficulties in electricity
Deputy chairman of Vinh Hung district People's Committee Nguyen Huu Hong said that hi-tech agricultural production and rice farming in particular has met with lot of difficulties. Residents have neither strongly participated in hi-tech production nor used bio-organic fertilizers. Popularization has not been extensive and the system of three-phase electricity network has not met demand.
Businesses have no longer interested in connecting with farmers, financial assistance for hi-tech farming models and building pumping stations has been lower than practical demand.
Director of the provincial Department of Agriculture and Rural Development Le Van Hoang estimated that implementation results of the hi-tech applied agricultural production project are lower than requirements because popularization has not been good and regular.
Some members of political-social organizations have not positively attended in piloting hi-tech models. Technical infrastructures especially traffic, irrigation and electricity for hi-tech agricultural production have failed to meet requirements in many places.
In addition, disadvantageous weather conditions have created conditions for pests and diseases to develop and raise production costs. The development of collective economy including cooperatives and cooperative groups have faced difficulties and problems, especially in loan access assistance polices. Many residents have entered cooperatives and attended hi-tech farming models to mainly receive financial assistances from the state.
In the upcoming time, local agencies will intensify propaganda to create clearer changes in the political system and residents' awareness of hi-tech applied agricultural production, review the implementation progress of technical infrastructure works to serve the project as well as all financial sources to solve behind schedule electricity and pumping station works.
Province and district level land use plans will be adjusted to create conditions for domestic and foreign firms to invest in agricultural and rural investment projects. Measures will be conducted to connect production with consumption to improve farm produce value in the province.
Relevant agencies will study to put some important norms in implementing the project into economic and social development resolutions annually from provincial to communal levels, added Mr. Hoang./.
By Huynh Phong – Translated by Kim Chung