Korean firm contributes 10 billion VND to COVID-19 vaccine fund
President of the Vietnam Fatherland Front (VFF) Central Committee Do Van Chien on June 16 received 10 billion VND (some 431,700 USD) from the Republic of Korea's Hyosung Vietnam Co. Ltd. to Vietnam's COVID-19 vaccine fund.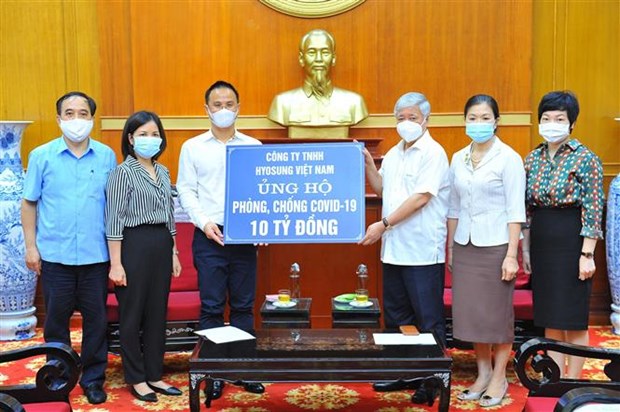 Representatives from Hyosung Vietnam hand over 10 billion VND to the VFF Central Committee to contribute to the COVID-19 vaccine fund (Photo: VNA)
Expressing gratitude for the donations of foreign companies in Vietnam, Chien described the support as a great encouragement for the country to push back the pandemic and resume production soon.
Chien said that in order to complete the goal of delivering COVID-19 vaccine to over 70 percent of its population, Vietnam needs 150 million doses of vaccine at an estimate cost of about 25.2 trillion VND (1.09 billion USD), with about 16 trillion VND coming from the central State budget and the remainder mobilised from local budgets, businesses, organisations and individuals.
So far, the fund has received over 5 trillion VND (about 219 million USD) from agencies, organisations, businesses and donors, he noted.
The VFF will allocate the resources in a most effective manner, he said, stressing the significance of the consensus and support of the community to the Party and State's pandemic prevention and control policies.
Pham Minh Cao, chief representative of Hyosung Vietnam in the northern region, said that the firm hopes to join hands in fighting COVID-19 so that production and business activities will run normally.
Cao hoped that the company's contribution will help Vietnam realise the target of conducting massive COVID-19 vaccinations in 2021 and assist pandemic-hit localities in buying medical equipment.
The same day, the VFF Central Committee also received 1 billion VND from officials and employees of the Ministry of Construction to the COVID-19 vaccine fund.
Deputy Minister of Construction said that the contribution is part of the ministry's response to the call from the Party, State and VFF in COVID-19 prevention and control.
Also on June 16, Vice President of the VFF Central Committee Truong Thi Ngoc Anh received 596 million VND from the Trade Union of the Vietnam Television and 200 million VND from the Echo Vietnam Co. Ltd. donated the COVID-19 vaccine fund, along with goods worth of 19.1 million VND from Blossom21 project to support Tan Yen district of Bac Giang province, and 58.5 million VND from the Vietnamese Society of Aesthetic and Plastic Surgery to assist COVID-19 prevention and control activities./.
VNA