Labor export: Quality and reputation are first
On June 24, the People's Committee of Long An province held a conference to implement the Project of sending workers to work abroad under contracts (known as labor export) in Long An province in the period 2020 - 2025.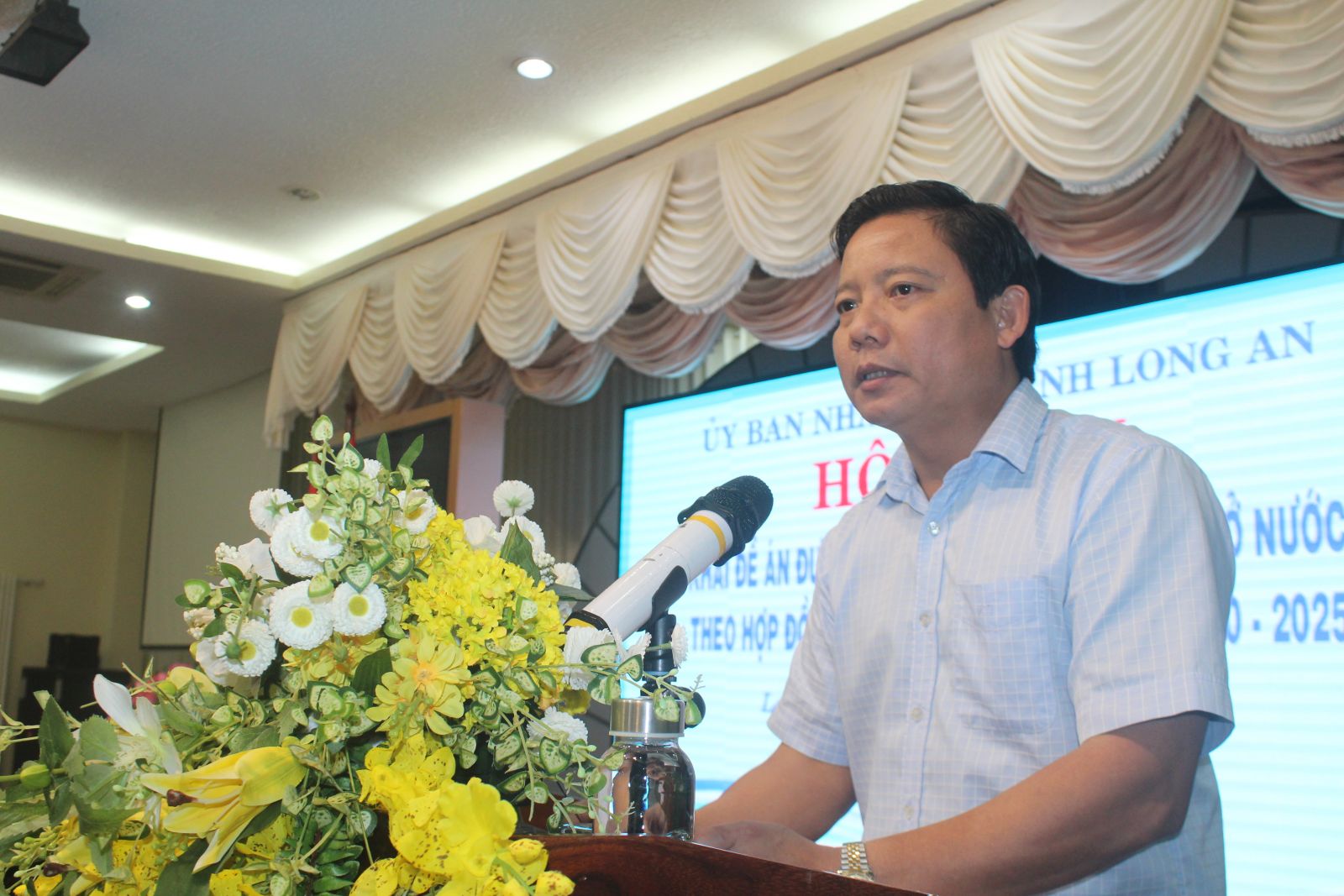 Vice Chairman of Long An People's Committee - Pham Tan Hoa affirmed: Do not send workers to labor export at all costs, quality and prestige must be put on top
From 2011 - 2019, Long An has 1,214 people participating in labor export in countries such as Japan, Korea, etc. This number is very small compared to the potential of the province, meanwhile, people has demand for labor export is very large, the market for labor export is diversified. The reason is that the qualification and skills of foreign workers are still low, failing to meet the labor market with high requirements; levels and sectors have not paid attention to labor export; propaganda and dissemination of labor export laws are limited, etc. Moreover, the province has no policy to support and encourage workers to participate in labor export.
Stemming from the above cause, the development and implementation of the project of labor export in Long An province in the period 2020 - 2025 is very necessary, in order to support funding for people in need of labor export, contributing to increase income and improve quality of life, creating a skilled labor force. The objective of the project, from 2021 - 2025, every year, the province strives to bring 1,000 workers or more to participate in labor export. Particularly in 2020, the province will bring 500 people to labor export.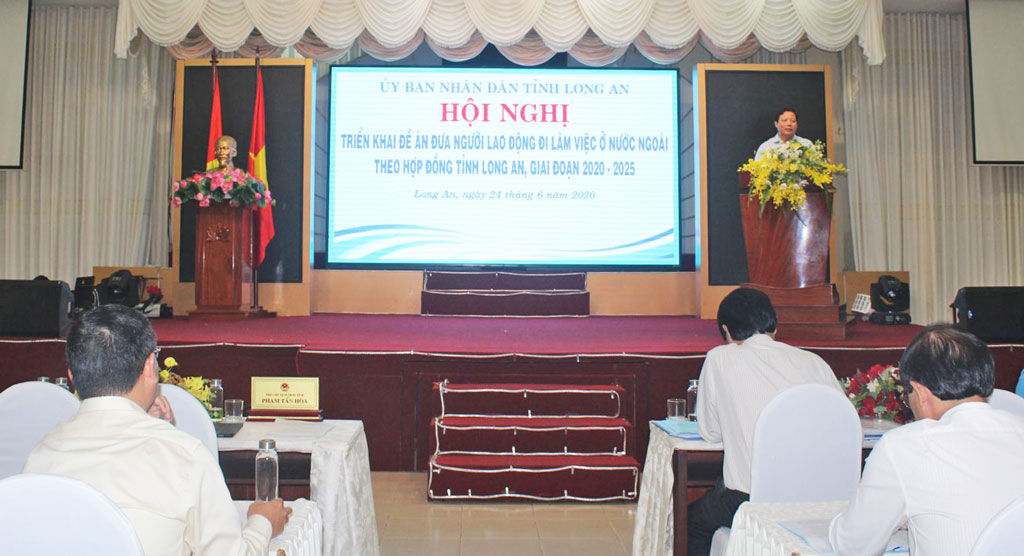 Participants in the conference
Under the scheme of labor export, employees participating in labor export of the following 2 groups are supported with loans: Group 1, workers from ethnic minorities, people from poor, near poor or households revoked agricultural land, relatives of people with meritorious services to the revolution; group 2, workers are demobilized soldiers and policemen, laborers from households facing economic difficulties are reviewed and certified by the communal People's Committee.
The maximum loan amount is equal to 100 percent of the expenses for going to work abroad under contracts signed between laborers and enterprises sending laborers to work overseas but not exceeding 150 million VND. The lending interest rate for group 1 is equal to the lending interest rate for poor households prescribed by the Government in each period; Group 2 loan interest rate is equal to 130 percent of loan interest rate for group 1. The term of a loan to go to work abroad under a contract does not exceed the period of working abroad of the employee stated in the case. The contract signed between the employee and the enterprise sending the employee to work abroad.
According to the Project, the province has selected 12 enterprises and companies participating in the project of labor export: Esuhai Co., Ltd. (Ward 13, Tan Binh District, Ho Chi Minh City), Tracodi Labor Export Joint Stock Company (District 1, Ho Chi Minh City), Mirai Human Resources Company Limited (District 7, Ho Chi Minh City), and so on. Currently, these companies and businesses need to recruit nearly 1,500 employees to join in labor export, with over 90 orders, including 268 employees with secondary school level; over 1,130 employees with high school level; and 77 employees with university level.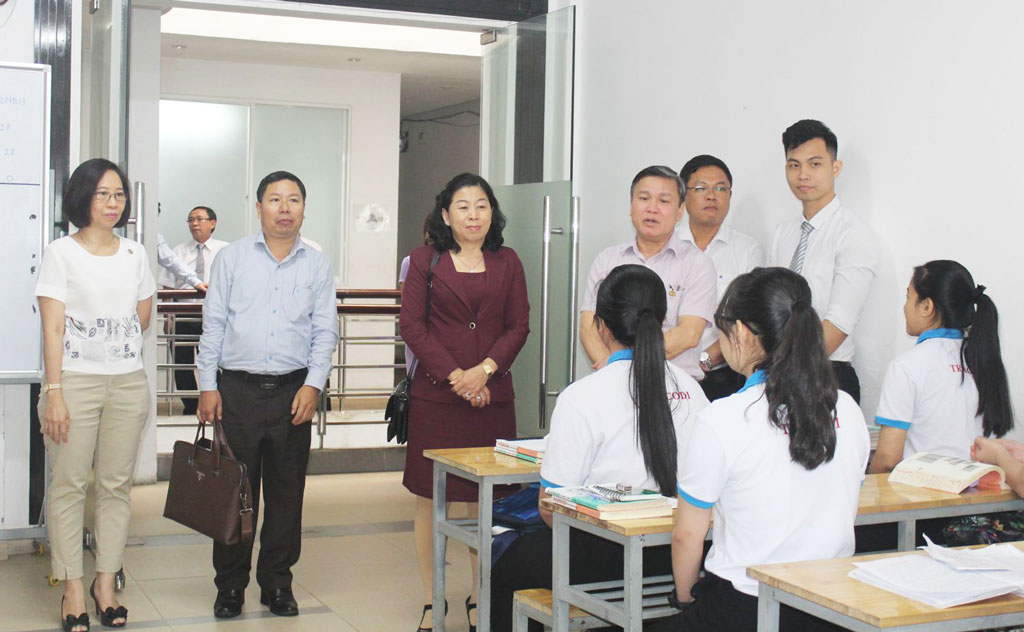 The Department of Labor, War Invalids and Social Affairs visit the Tracodi Labor Export Joint Stock Company
Deputy Chairman of the Provincial People's Committee - Pham Tan Hoa affirmed: "The project of labor export is the key to creating jobs, reducing poverty sustainably, especially creating a high quality labor force to meet the needs of industrialization and modernization of the country.
In the coming time, the Department of Labor, War Invalids and Social Affairs is requested to formulate a plan and roadmap for the implementation of the Project's targets and tasks; coordinating with all levels and branches to promote propaganda on labor export, in which focusing on foreign language training, and bringing programs and policies to support workers working abroad to target groups; improve capacity forecasts of labor supply and demand. Departments, branches and localities develop their own plans and programs to fulfill their targets on labor export; pay attention to training skilled human resources for the labor export market, etc.
"In particular, Long An does not accept companies and businesses that send people to work abroad in violation of the laws of Vietnam and the host country, in which, putting quality and prestige first, not sending people laborers participating in labor export at all costs; Each employee participating in labor export is an "ambassador" of Long An"./.
By Kim Ngoc - Translated by Duc Tam
Source: http://baolongan.vn/xuat-khau-lao-dong-dat-chat-luong-uy-tin-len-hang-dau-a97603.html