Long An: 65 pct. of rural households to access clean water by 2025
The Mekong Delta province of Long An is striving for 65 percent of its rural population to have clean water supply by 2025 to ensure health and increase quality of life.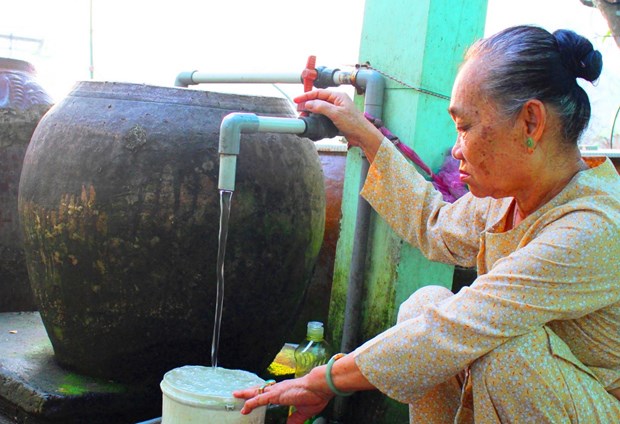 Local woman uses clean water (Source: baolongan.vn)
The Department of Agriculture and Rural Development said it will propose the provincial People's Committee continue stepping up public investment in rural water supply facilities, with a focus on large-scale, inter-commune and inter-district facilities.
It will complete adjustments to the province's water supply planning, which will concentrate on ensuring public health and social welfare and increasing quality of the locals' life by providing water to poor households.
The department will also ask relevant agencies to coordinate with localities in supervising and monitoring the quality of water at rural facilities managed by private businesses, and in guiding how to disinfect water.
According to Long An's rural environment hygiene and clean water centre, during 2016-2020, the provincial People's Committee has allocated nearly 300 billion VND (12.9 million USD) from the provincial budget and new-style rural building capital for 107 facilities in border and underprivileged communes, and an additional 33 billion VND for 17 water supply facilities in areas affected by drought and saline intrusion.
The number of rural households using clean water increased from 16.6 percent in 2015 to 51.82 percent in late 2019. The figure is expected to reach 52 percent late this year./.
VNA