Mekong delta embarks on foundation building for organic agriculture
The Mekong Delta, Vietnam's vital agricultural and aquaculture hub, is witnessing the coming-into-being of various organic farming models, laying a basis for future development of the sector.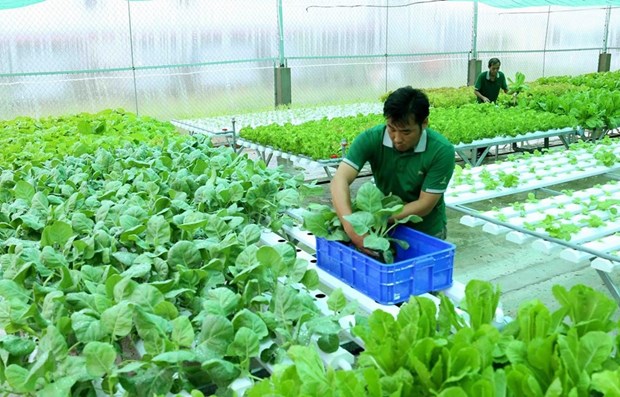 Illustrative photo (Source: nongnghiep.vn)
In Tam Nong, a large rice production area of the region, an organic farming model that combines rice cultivation with fish and duck rearing has proved suitable to the local conditions. The fish is raised in organic paddy fields, and the ducks released to feed on vermin around the area.
Minister of Agriculture and Rural Development Le Minh Hoan said the model follows the natural cycle, reduces emissions, and increases incomes in a limited area of arable land.
Hoan noted that such a feasible method should be further studied for larger application in areas with similar conditions.
Meanwhile, the farming sector in Can Tho city has been collaborating with businesses to launch organic production models for rice and fruit, with high-tech models and the VietGap (Vietnamese Good Agricultural Practices) standard widely applied. After thorough assessment, the city has planned to have 4,000ha of paddies, 1,3000ha of fruit trees, and 150ha of vegetables following organic farming.
According to the minister, perceptions of the agricultural economy have improved significantly. Enterprises, cooperatives, and farmers are aware of the need to reach higher-level export markets for better value and profit.
Such improvement has helped form material areas of a strong connection between businesses and farmers, Hoan said.
Statistics showed that the total agricultural land for organic farming in the country reached some 174,000ha in 2022, an increase of 47% over 2016, putting Vietnam in the list of the top 10 countries with the largest organic agricultural land in Asia. The nation has set a target of increasing its total organic land area to 2.5-3% of the agricultural land area by 2030.
Organic farm produce has brought home 335 million USD in annual export value and is present in over 180 countries and territories. Europe is the main importer of those products from Vietnam./.
VNA