Efforts exerted to increase climate change adaptability of Mekong Delta urban systems
Localities in the Mekong Delta region are working hard to increase their urban areas' adaptability to climate change, and boost urban development to green and sustainable direction.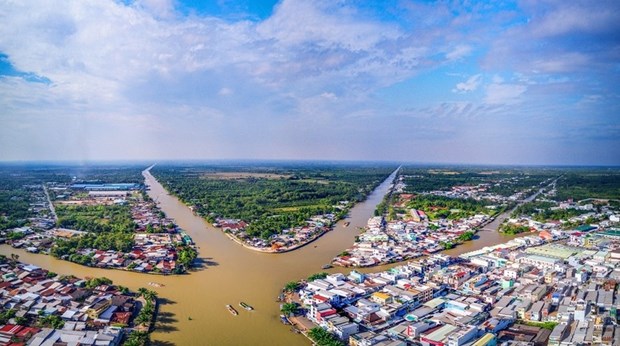 Mekong Delta urban areas attempt to respond to climate change. Photo: VNA
Climate change is posing a great challenge to the Mekong Delta region, especially erosion, landslides, flooding, and pollution.
Vice Director of the Department of the Urban Development under the Ministry of Construction Tran Thi Lan Anh said that Vietnam ranks 23th out of the 30 countries that are hardest hit by climate change, and the Mekong Delta is one of the three floodplains with the largest land loss risk in the world.
It is forecasted that by the end of the 21st century, the sea level will rise by 0.5 - 1 m, affecting about 39% of the area and 35% of the population of the Mekong Delta. All the 13 provinces and city in the region are at risk of flooding, which is higher in some large and medium urban areas such as Rach Gia and Ha Tien cities in Kien Giang province, Ca Mau city in Ca Mau province, Soc Trang city in Soc Trang province, Vi Thanh city in Hau Giang province, and Can Tho city, Anh said.
Currently, the urbanisation rate of the Mekong Delta is 31.16%, up 4.6% from 2015. Under an approved regional planning for the 2021-2030 period with a vision to 2050, the urban system of the region will be constructed with suitable distribution along the major economic corridors.
Accordingly, Can Tho city, a centrally-run first-tier urban area, is defined as a centre of administration, services, commerce, health care, education - training, science - technology, culture, tourism and processing industry of the whole region.
Rach Gia city will be developed into a hub of marine economy, trade and service in the western coastal area of the Mekong Delta, and a centre of for aquatic farming, exploitation and export. Ca Mau city will be the centre of the coastal sub-region in the area of the Ca Mau Peninsula, and a national centre of energy and petroleum services as well as ecotourism services.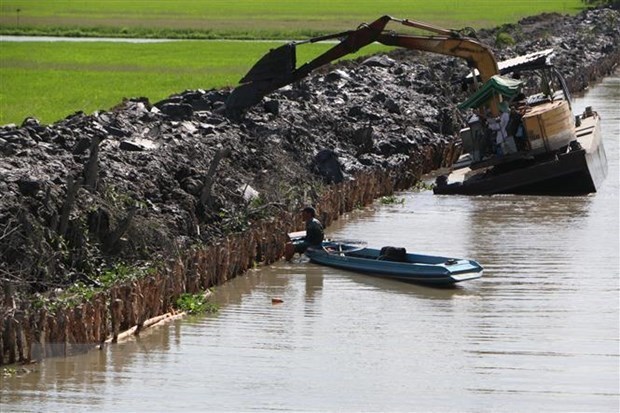 Dredging canals to prevent saltwater, store fresh water in Vi Thuy district, Hau Giang province. Photo: VNA
Currently, Can Tho is designing measures to develop sectors towards sustainability in association with environmental protection and climate change response to suit its real conditions in particular development periods.
The city is implementing a number of projects in water drainage and wastewater treatment, climate change response and adaptation, while actively engaging in international organisations and networks to learn initiatives and solutions in environmental protection and climate change response.
Meanwhile, Vice Chairman of the People's Committee of Kien Giang Le Quoc Anh said that as part of the efforts to develop Vietnam's urban areas with adaptation to climate change impacts in the 2021-2030 period, the locality is rolling out measures and solutions such as making surveys and evaluation of climate change impacts to existing and planned urban systems in the 2021-2030 period, thus calculating the capacity and level of adaptation, seeking response solutions and setting up database and risk alerting map system.
Kien Giang is also building a flood controlling system in urban areas, constructing dyke system, and piloting the development of green urban areas, he said./.
VNA