Ministry of Construction surveys water supply management and development in Long An
On May 13, the delegation of Ministry of Construction led by Deputy Minister Nguyen Dinh Toan worked in Long An province on the situation of water supply management and development in the province. Vice Chairman of the Provincial People's Committee - Pham Van Canh received and worked with the delegation.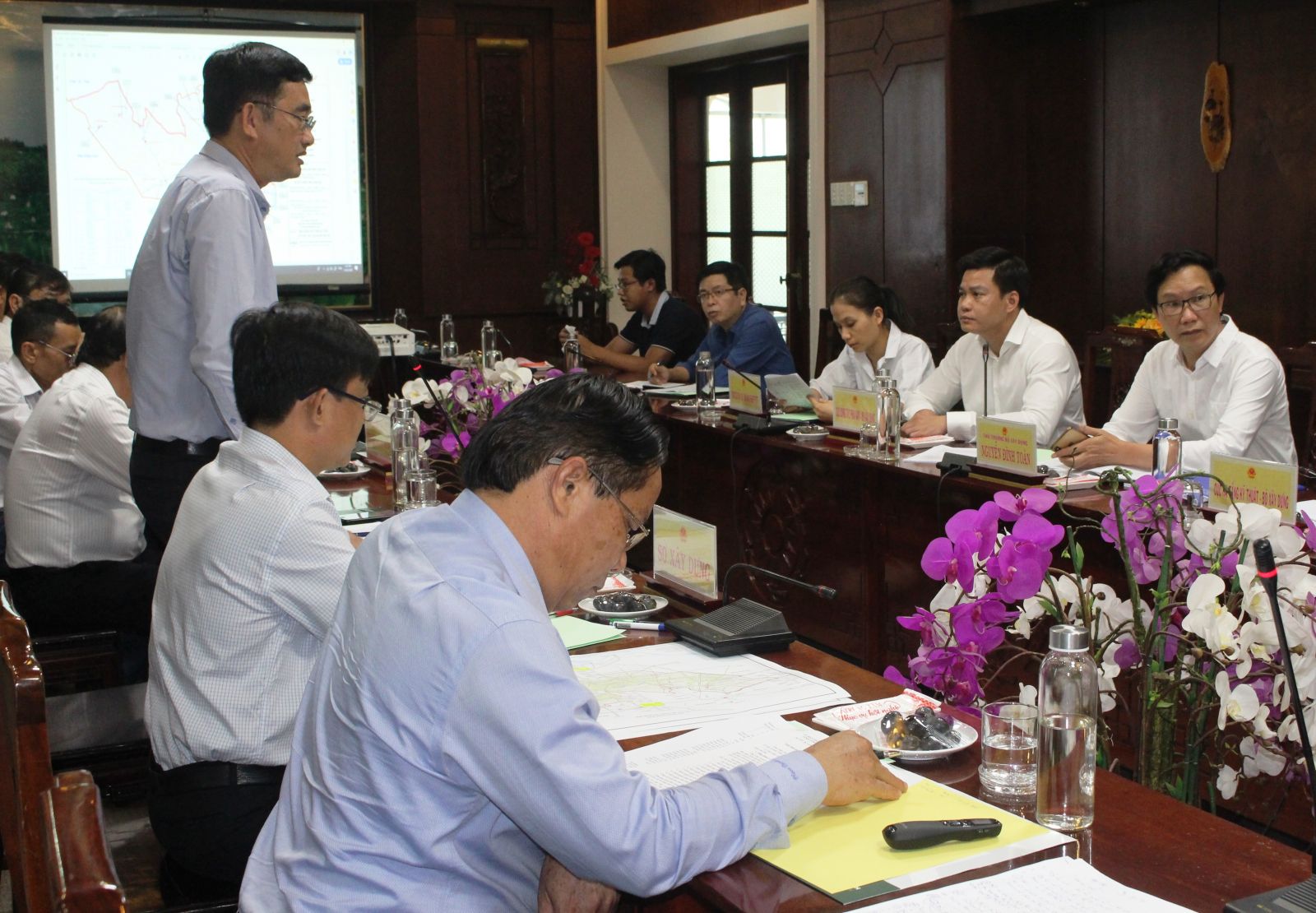 Vice Chairman of the Provincial People's Committee - Pham Van Canh receives and works with the delegation
According to the regional water supply plan of Long An province to 2020 and vision to 2030 approved by the Provincial People's Committee in Decision No.1299/QD-UBND dated April 15, 2013, the demand for the clean water supply of the province to 2020 will be 420,077 cubic meters, it will be about 735,969 cubic meters by 2030. Currently, there are 35 clean water treatment plants or stations with a total capacity of existing water plants of 205,700 cubic meters per day. However, the supply of domestic water is still difficult.
In urban areas, water is mainly provided by Long An Water Supply and Sewerage Joint Stock Company, Kien Tuong Water Supply, Sewerage and Environment Ltd., Co. and Urban Works Company. Most water plants are small scale (they will not be increased their capacity in the coming time), so they do not meet all the needs of people, especially industrial and urban development. At the same time, water supply in rural areas is only for small-scale stations (less than 300 households).
The Provincial People's Committee instructed the Department of Construction to concentrate on completing the adjustment of the water supply planning in Long An province for a long time. In which it focuses on ensuring community health and social security, improving the quality of life; supporting water supply to the poor, especially difficult areas; ensuring safe water supply with the climate change, indicators of water loss rate; prioritizing exploitation of surface water sources, gradually reduce underground water exploitation; increasing coverage of clean water supply services, etc.
Currently, Long An province is asking the Central Government to consider and support the investment capital for the works including the system of 5 urgent saline prevention sluice gates along Vam Co Tay river, in Thanh Hoa district, serving the prevention of salinity for Long An province and Tien Giang, to contribute to the supply of fresh water for the Rach Chanh Water Plant (Long An) 60,000 cubic meters per day and night and the Dong Tam Water Plant (Tien Giang) 60,000 cubic meters per day and night; Construction of a freshwater reservoir in Thuan Binh commune, Thanh Hoa district with an area of 100 hectares in order to supply domestic water to about 12,000 households, to provide fresh water for agricultural production, industry, tourism and services.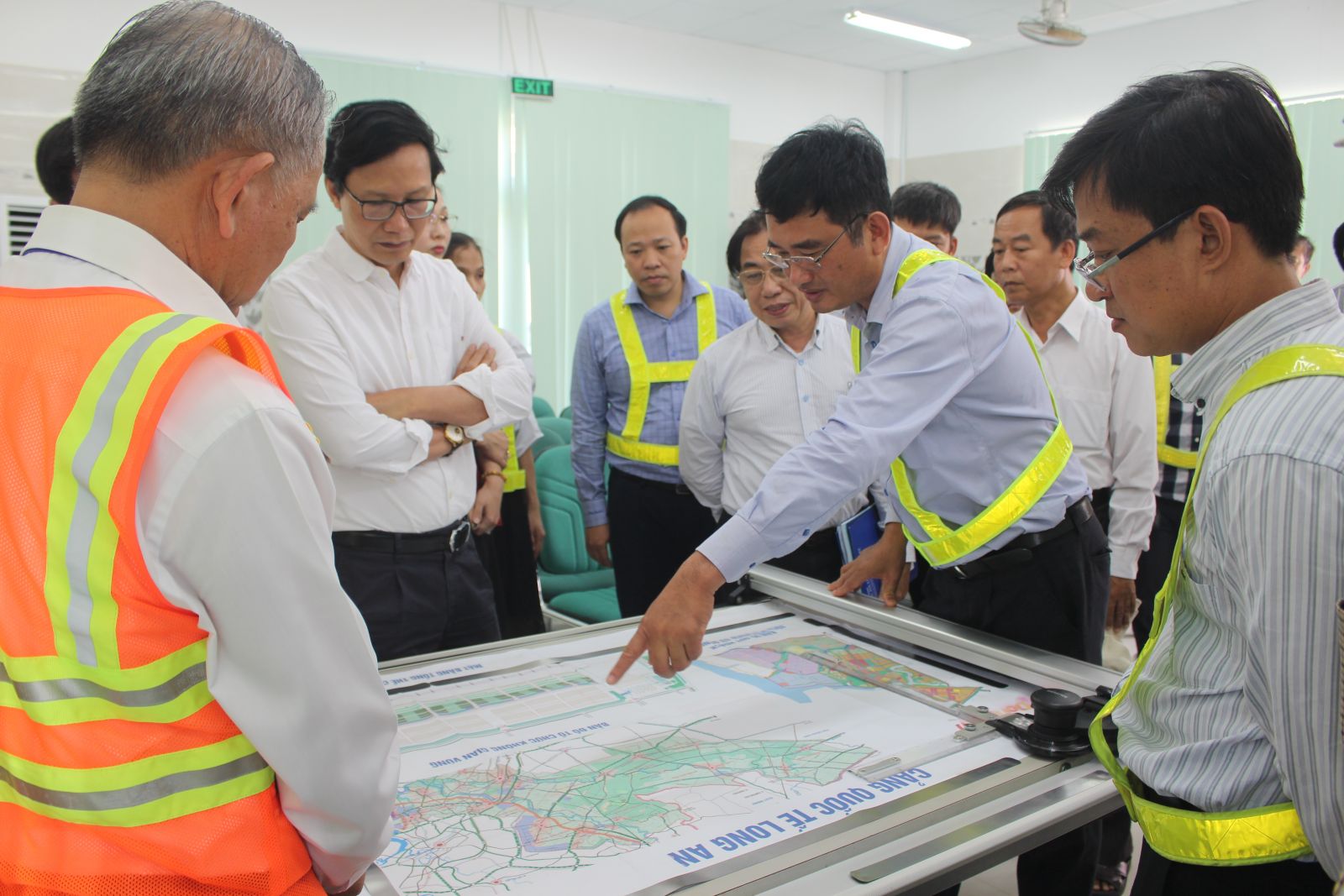 Deputy Minister of Construction - Nguyen Dinh Toan views the planning map at Long An International Port
At the meeting, Deputy Minister of Construction - Nguyen Dinh Toan highly appreciated Long An's proactive work in supplying daily-life water to people in the dry season. He said that the problem of domestic water must be addressed in the overall development of the region, for both production and daily life in both urban and rural areas where water demand is mainly agricultural production. The Ministry also urgently coordinated with the concerned ministries and branches to review and plan the implementation of works to ensure the supply of daily-life water for the Mekong river delta region, including Long An province, to prevent the passive situation, lack of daily-life water in the dry season.
On the same day, the delegation also surveyed at Long An International Port (Can Giuoc district), Nhi Thanh water plant (Thu Thua district) and embankment of ward 5 (Tan An city) ./.
By Huynh Phong – Translated by Duc Tam
Source: http://baolongan.vn/bo-xay-dung-khao-sat-tinh-hinh-quan-ly-va-phat-trien-cap-nuoc-tai-long-an-a95318.html