PM congratulates Khmer people on Chol Chnam Thmay festival
Prime Minister Nguyen Xuan Phuc has sent a letter to the Khmer ethnic people, congratulating them on the traditional Chol Chnam Thmay (New Year) festival.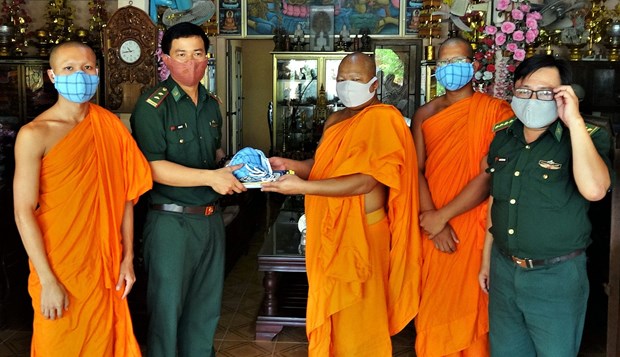 Border guard officers of southern Soc Trang province present face masks as support for Khmer monks in the COVID-19 prevention and control (Photo: VNA)
In his message, on behalf of the Party and State leaders, the PM offered the best wishes to the people, monks and expatriates of the Khmer ethnic group on the occasion of the festival.
He highlighted the country's significant achievements in all aspects and attributed those successes partly to the important contributions by the Khmer people.
He said this year's Chol Chnam Thmay festival is special as 2020 witnesses a number of major national events like the 90th founding anniversary of the Communist Party of Vietnam, the 130th birthday of late President Ho Chi Minh, and the second national congress of Vietnamese ethnic minority groups. The festival is also special as it takes place amid the complex developments of the COVID-19 pandemic, with the whole country taking actions to protect people's health and lives.
"The COVID-19 pandemic is challenging all of us, but I believe that we will join efforts, stay unanimous to soon push back and triumph over the disease, and I also believe that compatriots, comrades, monks and expatriates of the Khmer ethnic group will continue upholding the tradition of patriotism and solidarity, actively study, work and make unceasing efforts to obtain even greater achievements, thus joining hands with the whole country to successfully realise the set socio-economic development targets and tasks," PM Phuc wrote./.
VNA