Poverty tops concerns of Vietnamese citizens: 2019 PAPI Report
Even before Vietnam became affected by COVID-19, poverty, economic growth and the environment were top concerns of citizens in the country, reveals the 2019 Provincial Governance and Public Administration Performance Index (PAPI) Report released by the UNDP on April 28.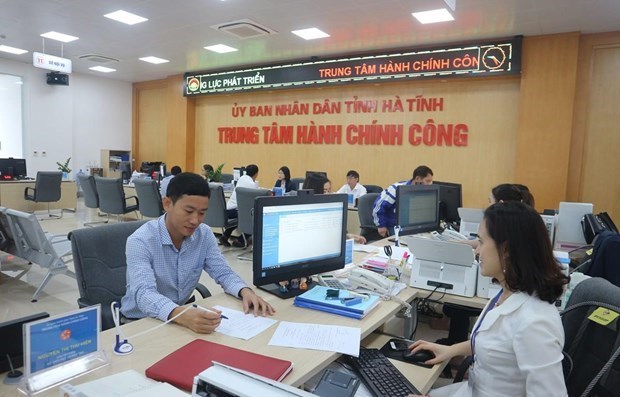 Illustrative photo. A citizen applies for public administrative services at the center for public administration in the central province of Ha Tinh. (Source: VNA)
The report also highlights that the country made encouraging progress in governance and public administration performance to address citizens' needs in the past year and delivers key insights into a broad spectrum of reform areas across nearly a decade. This stock-taking will help inform decision-makers in 2020 – a pivotal year that will shape Vietnam's future development agenda.
A total of 14,138 people randomly selected from all 63 cities and provinces nationwide were interviewed for the report. Since 2009, the voices of 131,501 citizens have been reflected in annual PAPI reports, providing a rich reservoir of findings for decision-makers at a crucial time when they are defining the Socio-Economic Development Strategy for the coming decade and are now addressing the recent global health and economic twin crises caused by the pandemic.
"The 2019 report highlights PAPI's value in assessing governance and public administration reforms across a decade and benchmarking governance performance towards national development targets and the Sustainable Development Goals with improvements across most dimensions," said Caitlin Wiesen, UNDP Resident Representative in Vietnam.
"Importantly, nationally representative findings on top citizen greatest concerns, including poverty and job loss, and evaluation of recent reform priorities regarding control of corruption and e-governance, provide valuable insights for policymakers as Vietnam enters the recovery phase of COVID-19".
"The analysis and assessment of public administration and governance performance at the provincial level from citizen perspectives is a very important channel of information which not only reflects the citizen perception and expectations at the grass-root level but also serves as an indication of provincial public administration and governance performance helping the policymakers introduce timely policy adjustment and improvements to respond to the actual circumstance," said Vice President of the Vietnam Fatherland Front Central Committee Nguyen Huu Dung.
Poverty has topped the list of most important issues facing Vietnam in the past five years and 2019 was no exception as nearly one-quarter of respondents stated that it was their main concern.
Jobs and employment have also remained in the top four of greatest concerns since 2015, despite the country's rapid growth and job creation.
These concerns are likely to be amplified in the coming months with large groups of citizens having been hit hard by the current COVID-19 crisis.
The state of the environment has remained a significant public concern, the third most serious in 2019. In the majority of provinces, citizens have reported that air quality has remained the same or degraded.
This year's PAPI report contains a special chapter on gender and leadership. The 2019 report found that voters exhibited a strong bias against women in leadership roles, especially at the village level – which is considered to be one of the most important levels of governance by citizens.
The report also shows a largely positive trend over the past five years with improvements in five out of the six initial dimensions of government performance measured by PAPI. This steady growth in average provincial scores from 34 points in 2015 to 37.4 points in 2019 underlines improvements in provincial governance during the current government term (2016-2021).
Last year, the greatest progress was made in the dimension of enhancing Control of Corruption in the Public Sector, which is most strongly correlated with overall citizen satisfaction, and increasing Transparency in Local Decision-making.
The report reflects the clear impact of this anti-corruption campaign on perceptions of grand and petty corruption. This dimension saw the strongest improvements in 2019 at the commune and national levels – with 5 percent more respondents than in 2018 reporting that corruption was decreasing./.
VNA