Long An focuses on administrative reforms to improve PCI and PAPI
On April 12, Chairman of Long An Provincial People's Committee - Tran Van Can chaired the conference on reforming administrative procedures, activities of the Provincial Public Administration center, evaluating the Provincial Competitiveness Index (PCI) and the Provincial Governance and Public Administration Performance Index (PAPI) 2018.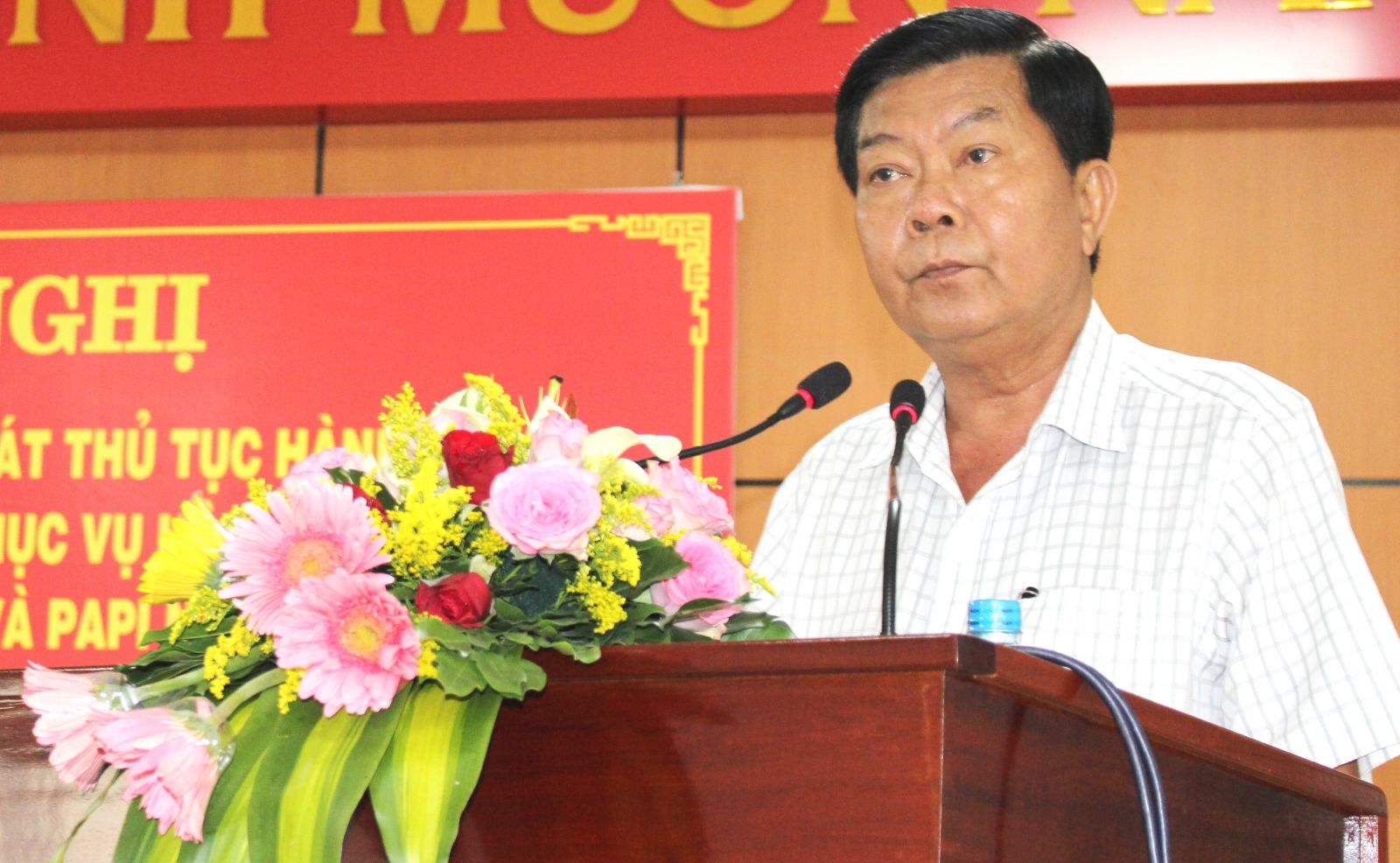 Chairman Can asked the agencies to coordinate better in solving administrative procedures for residents and businesses
In 2018, administrative control activities continued to achieve positive results. The publication and updating of administrative procedures are maintained regularly and promptly. The public listing of administrative procedures is complied with regulations.
Accordingly, the whole province received 1,475,378 documents of individuals and organizations, in which, there are 4,846 documents received through online public service portal level 3 and 4. As a results, there are 1,450,015 documents to be solved with 1,434,615 ones to be done on time.
PCI 2018 of Long An province reached 68.09/100 points (an increase of 1.39 points compared to 2017), ranking 3/63 provinces and cities in the whole country, increasing 1 step compared to 2017.
The province has the highest score in the Land Access Index with 7.76 points (7.34 points in 2017), followed by the Time Cost Index with 7.71 points (7.6 points in 2017), the lowest is the Labor Training Index with 6.3 points (6.06 points in 2017).
PAPI 2018 reached 48.35/80 points, ranked 35th in the country, classified 3rd in the low average group.
The establishment of district-level Public Administration Centers creates favorable conditions for residents and enterprises to solve administrative procedures
Besides the achieved results, the province has faced with some problems. Leaders of some agencies have not yet closely guided the implementation of reforming and controlling administrative procedures. Administrative officials have been confused in advising on administrative procedures.
In 2018, PCI of the province had 4 component indexes decreased due to many reasons. To be more specific, the role of the heads of some provincial and district administrative agencies has not been effectively promoted. They have not actively advised the provincial People's Committee to implement the Central regulations. In addition, in surveying people about improving PAPI, coordination between departments, sectors and local authorities to serve people has not been synchronized, etc.
Chairman of Long An Provincial People's Committee - Tran Van Can asked provincial departments and branches, district People's Committees to focus on effectively implementing one-stop shop, inter-agency one-stop shop mechanisms and upgrading electronic one-stop shop software to ensuring interconnection between the province and the national connection axis.
At the same time, the agencies must actively coordinate better in solving administrative procedures for residents and enterprises, contributing to improving the PCI and PAPI of the province./.
By Staff writers - Translated by Pham Ngan
Source: http://baolongan.vn/day-manh-cong-tac-cai-cach-thu-tuc-hanh-chinh-gop-phan-nang-cao-chi-so-pci-papi-a73660.html