Sixth Regional Veterinary Department checks prevention and control of African swine fever in Long An
The delegation led by the Head of Department of the 6th Region Animal Health (AH) - Bach Duc Luu, had a working session with Long An Department of Agriculture and Rural Development (DARD) on the implementation of measures of prevention and control of African swine fever (ASF) in the province on May 7.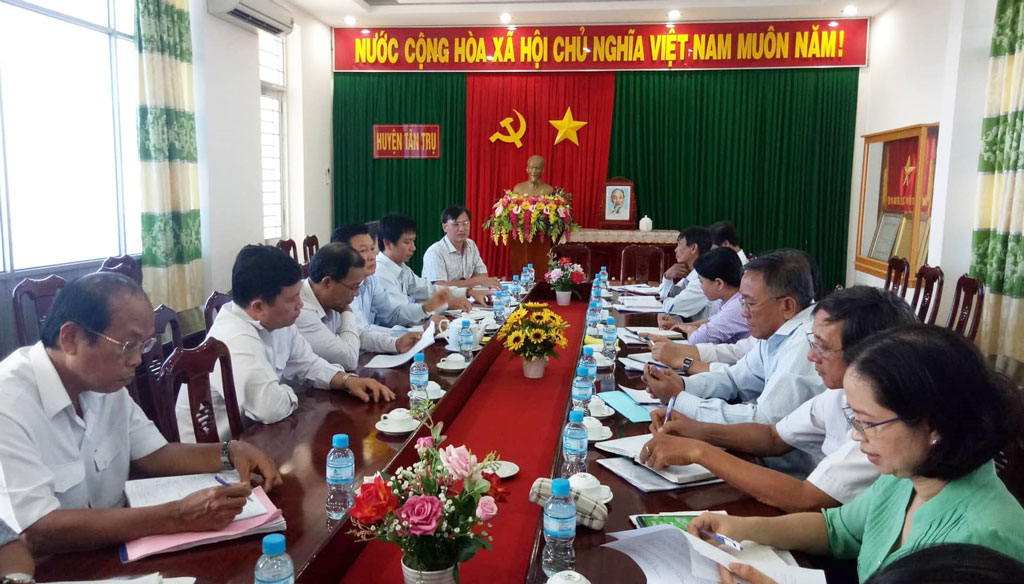 Delegation of the Department of AH of the 6th Region proposed that Long An DARD should continue to pay attention to and do the prevention and control of ASF well.
Deputy Director of Long An DARD - Dinh Thi Phuong Khanh said that the disease prevention and control have been implemented aggressively, synchronously and effectively by the Government and ministries and branches. The province has strengthened the Steering Committee for Disease Prevention and Control at all levels and issued many relevant guiding documents. Up to now, the province has no pigs infected ASF.
Currently, the province established 8 temporary animal quarantine stations, including 3 ones in Ben Luc district, 2 ones in Duc Hoa district, 2 ones in Tan An and one in Can Giuoc district. At the same time, sanitation and disinfection are also implemented in all districts. Besides, the province also pays special attention to propaganda so that people can understand the dangerous level of epidemics but they do not turn their backs on safe pork.
Head of Long An Division of Animal Husbandry, Veterinary and Fisheries - Phan Ngoc Chau said: "In order to prevent and control disease, the Division of Livestock, Veterinary and Fisheries will continue to coordinate with provincial forces to ensure the staff at the stations and control the market in the coming time. We maintain officials coordinating with local veterinary agencies to take samples for epidemic testing when in doubt. The staff will resolutely handle thoroughly for cases which there are no certification of origin".
Director of the 6th Regional Veterinary Department - Bach Duc Luu highly appreciated the prevention and control of ASF of Long An province. He suggested that the Provincial DARD should continue to pay attention to and do well in prevention and control of ASF and to have a plan to respond when epidemics happen. In addition, he also suggested the department to strengthen propaganda to raise awareness of farmers in the prevention and control of diseases in general and ASF in particular.
Previously, the delegation of the Department of the 6th Regional Animal Health had an inspection at the quarantine station in An Thanh commune, Ben Luc district and Le Huu Binh slaughterhouse in My Binh commune, Tan Tru district. Generally, there are veterinary forces, professional staff and police officers on duty 24 hours at the quarantine station and slaughter houses to strictly control the sources of pigs and pork products coming into and out the province./.
By Bui Tung – Translated by Duc Tam