State committee calls for OVs' continued support for evacuees from Ukraine
The State Committee for Overseas Vietnamese (OV) Affairs (SCOV) on March 11 sent an open letter asking Vietnamese people's associations in some European countries to continue helping with the evacuation of those from Ukraine.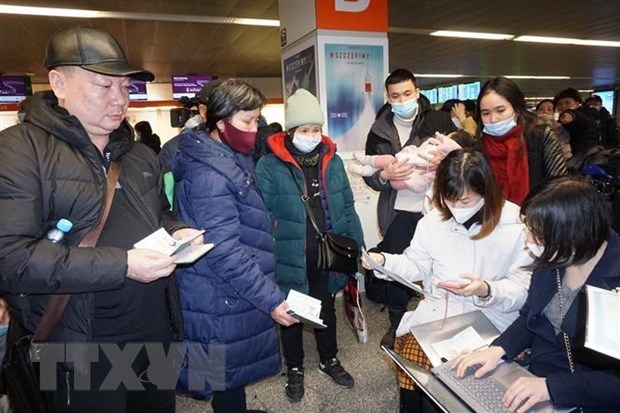 Staff members of the Vietnamese Embassy in Poland help the evacuees from Ukraine handle procedures for boarding the repatriation flight on March 9. (Photo: VNA)
The SCOV under the Ministry of Foreign Affairs called on the associations in Ukraine, Poland, Romania, Hungary, Slovakia, the Czech Republic and Germany to help the Vietnamese leaving Ukraine register for repatriation flights and make contact when necessary.
It noted that facing the complicated situation in Ukraine, many OVs there have moved to neighbouring countries and expressed their wish to return to the homeland. To meet their legitimate demand, under the Government's directions, domestic authorities conducted a repatriation flight from Bucharest (Romania) on March 7 and another from Warsaw (Poland) on March 9.
After those flights, there remain many people wishing to come back to Vietnam, and authorities are maximising efforts, with businesses' support, to arrange more repatriation flights, the SCOV said.
The committee asked the associations to instruct the evacuees to stay updated with the announcements published on the official websites of the Vietnamese embassies in Romania and Poland.
When official information about repatriation flights is released, the evacuees need to liaise and register with the embassies directly or via the registration links.
As some Vietnamese people have continued moving to some other countries like the Czech Republic and Germany, the embassies and associations of Vietnam there have also worked to disseminate the host countries' policies for people evacuating from Ukraine, according to the SCOV.
The Vietnamese evacuees needing assistance can liaise with the embassies via the followings:
- The Vietnamese Embassy in Poland: website: vnembassy-warsaw.mofa.gov.vn; email: sqbl.covid@gmail.com; hotlines: (+48) 782 257 359; (+48) 22 742 01 00.
- The Vietnamese Embassy in Romania: website: vnembassy-bucharest.mofa.gov.vn; email: dangkychuyenbayvn@gmail.com; hotline: +40 744 645 037.
- The Vietnamese Embassy in the Czech Republic: citizen protection phone number: +420792392299.
- The Vietnamese Embassy in Germany: citizen protection phone number: +49 152 2133 5656./.
VNA