Vice President presents pandemic prevention gifts to An Giang
Vice President Vo Thi Anh Xuan on September 19 led a delegation to visit the Mekong Delta province of An Giang and present gifts worth close to 14 billion VND (612,000 USD) to support its fight against the COVID-19 pandemic.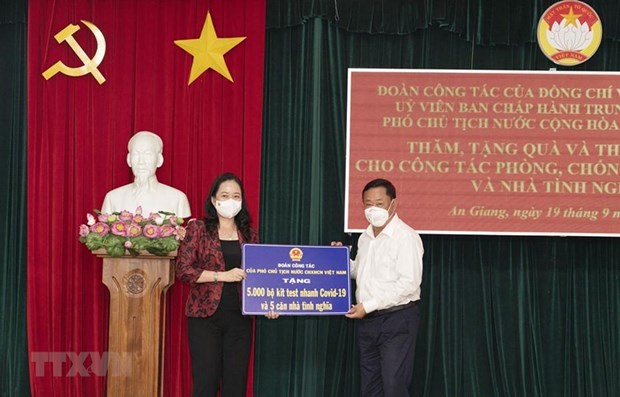 Vice President Vo Thi Anh Xuan presents the token of the gifts to An Giang province. (Photo: VNA)
Of the gifts, the Presidential Office and Xuan herself donated 5,000 rapid test kits and five charity houses, and the Vietnam Fatherland Front Central Committee presented 500 million VND. The Vietnam General Confederation of Labour offered local workers with welfare packages valued at 4 billion VND in total, while T&T Group granted 30,000 rapid test kits to An Giang.
At the reception ceremony, Chairman of the provincial People's Committee Nguyen Thanh Binh briefed on the province's COVID-19 situation.
Accordingly, from April 15 to 4pm on September 18, An Giang logged a total of 3,608 infections, including 1,077 detected in concentrated quarantine sites, 1,058 in locked-down areas, 1,298 in the community, and 84 imported cases.
There were 1,389 patients undergoing treatment, with the number of recoveries and deaths standing at 1,975 and 29, respectively.
Applying social distancing measures under the Prime Minister' Directive 16 since July 15, the province is now carrying out the PM's Directive15 along with some intensified measures.
To date, An Giang has received 161.8 billion VND worth of donations in both cash and kind for COVID-19 prevention and drought impact alleviation.
Binh took the occasion to express his gratitude for the attention of Party, State and Government leaders and the assistance of ministries, sectors, businesses and philanthropists toward the province's fight against the pandemic.
The visit to An Giang was part of Xuan's trip to encourage COVID-19 prevention and control activities in An Giang, Dong Thap, Tien Giang, Tay Ninh provinces and Can Tho city, presenting nearly 35 billion VND worth of donations in total./.
VNA