Vietnam's cyber security law designed to ensure safe cyberspace
The Law on Cyber Security, which was recently adopted at the fifth session of the 14th National Assembly, is expected to remedy shortcomings and loopholes in Vietnam's legal corridors, thus helping to ensure a secure and safe cyberspace.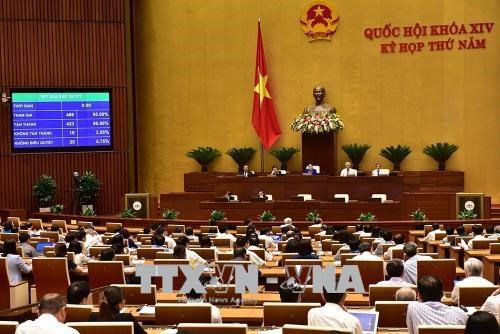 The Law on Cyber Security is adopted at the fifth session of the 14th National Assembly. (Photo: VNA)
The law does not ban social network users from raising their voices or expressing their standpoints. However, social network users have to abide by the Constitution and legal regulations.
The Law on Cyber Security only regulates and tackles information violating regulations as stipulated in the Penal Code and other legal documents.
According to the law's Article 15, information on cyberspace classified as illegal includes anti-state information; information that excites violent disturbance, undermines security and deranges public order; information that causes defamation and slander; information that violates economic management order; and false information that causes public panics, damages socio-economic activities, hampers state agencies' activities and on-duty persons, and violates rights and benefits of other organisations and individuals.
All of such information is likely to harm national security, social order, and illegal rights and benefits of organisations and individuals as stipulated in the Penal Code.
Citizens are free to express their political opinions and personal views but they are not allowed to make corrupt use of the rights to distort and oppose the Party and State, excites disturbance, or defame an offend others.
The Law on Cyber Security also aims to enhance protection of human rights and citizen rights stipulated in the Constitution. Article 16 presents specific regulations on protecting secrets of businesses, individuals and families.
Point a, Clause 2, Article 26 said that domestic and foreign telecommunications service providers have the responsibility to keep personal information and accounts of users secured.
Information of Internet users is only accessed by relevant authorities to serve investigation purposes and handle violations of cyber security regulations./.
VNA