Crops restructured to suit local advantages
Implementing the agricultural restructuring project, in recent years, Vinh Hung district of Long An province has promoted to restructure the crops and livestock on the basis of exploiting the advantages of the locality to create new products with high economic value. The transformation contributes to improving production value, increasing productivity and economic efficiency. As a result, people's living standards are improved.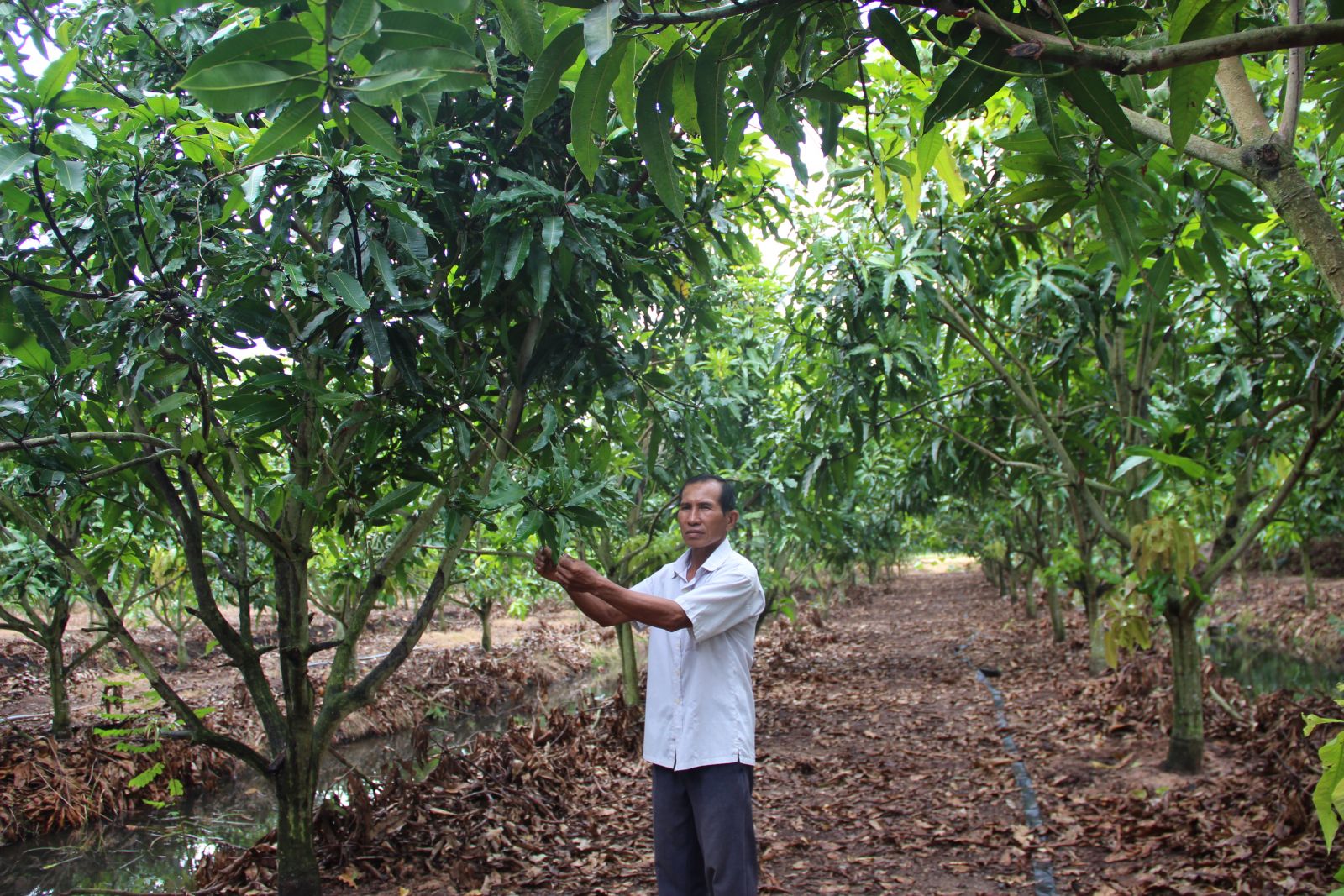 From the inefficient rice area, many farmers have switched to growing fruit trees and bringing higher economic efficiency (Illustrated Photo)
Recently, farmers in Vinh Tri, Khanh Hung, Vinh Chau A communes of Vinh Hung district actively converted hundreds of hectares of inefficient rice land to grow fruit and vegetable crops such as mango, pomelo, guava, durian, jackfruit, coconut, etc. In which, the conversion to fruit trees brings farmers in Roc Do hamlet of Vinh Tri commune with high profits. Since 2016, some households in Roc Do hamlet have started to improve their land and convert from inefficient rice land to growing fruit trees.
Mr. Tran Van Dua (Roc Do hamlet) said: "My family has converted 1.3 hectares of inefficient rice land to mango growing for more than 4 years, harvested 2 crops. Currently, my family is preparing for the New Year mango crop. Mango trees are quite easy to grow, less susceptible to pests and diseases, suitable for local soil and climate conditions.
As one of the households in Roc Do hamlet who strongly changed the structure of crops, Mr. Do Van Thoi shared: "After visiting relatives in Ben Tre, I found that they grew pomelos quite effectively, so I intend to switch to grow pomelos. After a period of research and experience, in 2018, I converted all 4.5 hectares of my family's land to growing pomelos. In the early years, I planted intercrops with guava for "short-term plan to serve long-term plan". Up to now, the pomelo garden has been harvested, the yield is quite stable, after deducting costs, I have a profit of about 70 million VND per hectare per crop. Compared with rice cultivation, pomelo trees bring higher economic value".
In Khanh Hung commune, many farmers also changed the structure of crops and livestock, bringing high economic efficiency. Mr. Bui Van Thien (Bau Sen hamlet of Khanh Hung commune) converted nearly 2 hectares of rice to coconut and fish farming. He shared: "With 2 hectares of land, after planting coconut trees, I also make use of the ditches to raise fish. After deducting expenses, I make a profit of more than 60 million VND per hectare per years".
According to statistics of the Vinh Hung Division of Agriculture and Rural Development, the whole district currently has more than 400 hectares of fruit trees of all kinds. With orientation in the coming time, Vinh Hung district farmers will continue to convert inefficient rice land to grow crops of higher economic value, in which, the district focuses on growing fruit trees such as pomelos, jackfruit, mango, etc
Head of the Agriculture and Rural Development Department of Vinh Hung district - Huynh Van Lam informed that the district's agricultural sector directed the communes to plan in detail the converted area, irrigation system, crops, etc. On that basis, the district plans to build model models, guide and support farmers in seeds, farming techniques, so on to avoid massive conversion or change without applying technical advances that lead to low efficiency, affect the economic structure and people's income./.
By Bui Tung – Translated by Duc Tam
Source: https://baolongan.vn/chuyen-doi-co-cau-cay-trong-phu-hop-loi-the-dia-phuong-a117929.html