E-cabinet system a stride forward in e-government building
The e-cabinet system, to be launched on June 24, will be a stride forward in Vietnam's efforts to build the e-government, said Minister-Chairman of the Government Office Mai Tien Dung.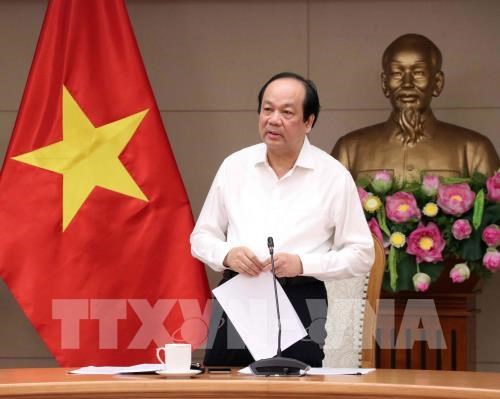 Minister-Chairman of the Government Office Mai Tien Dung (Photo: VNA)
He told the Vietnam News Agency that the move aims at a paperless government and the reduction of meeting time.
The Government Office is working toward cutting 30 percent of average meeting time and using 100 percent of e-documents (apart from confidential ones) at governmental meetings by the end of 2019.
Dung said if the work is done well, it could help prevent petty corruption, adding that such corruption creates huddles for businesses and startups and raises official and non-official costs.
He noted a tight process is necessary to ensure effective implementation of the system.
The official stressed building an e-governance means carrying out an administrative reform, which requires dedication and the elimination of personal interests and obstacles.
He quoted the Prime Minister's instruction on streamlining procedures to reduce time and costs, which he said will create further room for growth./.
VNA