E-commerce, many opportunities for businesses to consume products
The Covid-19 epidemic has made people use e-commerce services more and commerce becomes a great opportunity. Through the e-commerce platform, many processed products and agricultural products of Long An have improved in consumption, with orders to many provinces and cities, including abroad.
Growth potential is real
E-commerce is currently used by many users. The Covid-19 epidemic has made people use e-commerce services more and become a great opportunity for businesses. Information from the Department of Industry and Trade, in the context of the epidemic, the consumption of agricultural products is difficult due to changes in consumer habits, business households and cooperatives promote the introduction and sale of products on the e-commerce platforms. This is considered an effective solution.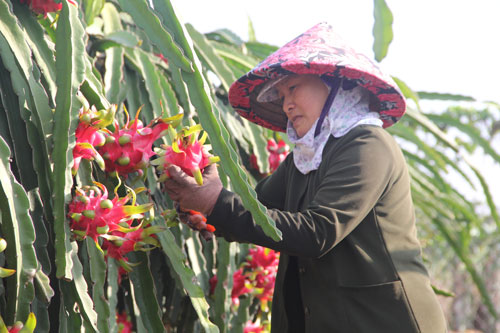 Dragon fruit is promoted on sales channel Prefood.vn
Typically, when the province implements social distancing and all traditional markets in the area stop operating, the Department of Industry and Trade coordinates with postal enterprises, including the Shell e-commerce platform and Postmart to support product consumption of many agricultural households. There have been more than 130 products sold with over 150 tons of goods and nearly 2,000 combos of typical products of the province such as dried snakehead fish, red flesh dragon fruit, melaleuca essential oil, etc. on the Postmart floor. In addition, the province's agricultural products are also connected and sold by businesses on Prefood.vn and Saigontel channels.
According to Deputy Director of the Department of Industry and Trade - Chau Thi Le, Prefood.vn, Saigontel connects with businesses in the province during the complicated development of the Covid-19 epidemic to support the consumption of agricultural products and supply to consumers. Particularly, e-commerce platforms such as Lazada, Shopee, Sendo, Tiki, so on have been connected with the Department of Industry and Trade and enterprises in the province for a long time.
In 2021, the Department of Industry and Trade will also launch a trade promotion program to support businesses participating in selling on Alibaba. Support content in many forms such as maintaining Alibaba.com Global Gold membership for 12 months; account management package for each participating unit for 3 months; build images, videos, digitize exhibiting products of participating units; design common identity booths of participating units.
The items participating in the Alibaba program are the strong agricultural products of the province such as rice, lemon, dragon fruit, banana, etc. The items on the Shopee, Lazada, Sendo, Tiki, Voso, and Postmart floors are items agricultural products, processed agricultural products, sausages, sauces of all kinds, etc.
Many opportunities for businesses
In 2021, the Vietnam E-commerce Association (Vecom) announced that the Long An Provincial E-commerce Index ranked 13th out of 56 provinces and cities, up 5 places compared to 2020. In which, the transaction index between businesses to consumers (B2C) ranked 12th out of 56 provinces and cities; The index of transactions of businesses to businesses (B2B) ranked 14th out of 56 provinces and cities.
According to Vecom's assessment, the provinces and cities with high rankings show that businesses are dynamic, adaptive and more interested in online business. The rapidly growing online consumer community fuels growth in many industries such as retail merchandise, food delivery, online payments, online marketing and training.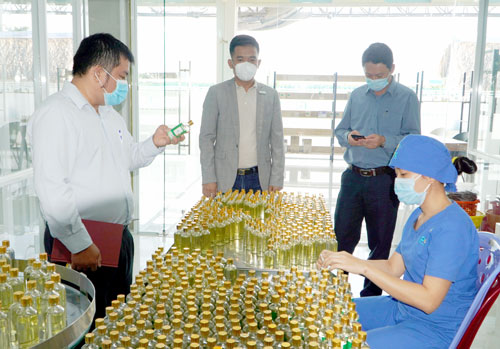 Pure Company's products are sold and promoted on many e-commerce platforms
Pure Manufacturing Company Limited (Tan Long Commune, Thu Thua District) specializing in the production of Melaleuca oil under the brand name of Con Yeu cajeput oil is one of many units taking advantage of e-commerce to market products. Company director - Nguyen Quoc Vu said, in addition to Con Yeu cajeput oil, the company also produces other essential oils such as lemongrass, lemon, orange, grapefruit, eucalyptus, and pure tea tree. This company is aiming to produce cosmetics from essential oils.
Currently, the company sells through many distribution channels, including e-commerce. Because, the biggest trend of businesses and retailers is omnichannel sales, promoting online sales in addition to optimizing traditional (offline) sales channels. When participating in the e-commerce floor, businesses can easily promote their products and reduce costs. Meanwhile, in the traditional channel, businesses have to spend money on the sales team, even having to "pamper" the retailer. These costs sometimes account for up to 50 percent of the product value.
During the complicated development of the Covid-19 epidemic in Long An and many other provinces and cities, many businesses choose to sell online or promote business on e-commerce sites. Prefood Trading Joint Stock Company cooperated with Long An Department of Industry and Trade in many fields, until August 2021, when the epidemic was complicated, the company quickly supported Huy Long An - My Binh Co., Ltd (Duc Hue district), farmer Le Van Chin in Tan Tru district and Thanh Phu Long Agricultural Cooperative (Chau Thanh district) consume green-skinned pomelo, dragon fruit and guava.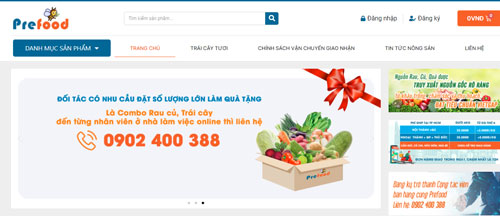 Queen guava grown in Long An is sold on Prefood.vn
Chairman of the Board of Directors of Prefood Trading Joint Stock Company - Pham Van Quan said that the company put many products, especially agricultural products, on the sales channel Prefood.vn. In the market, many agricultural products go through many stages from traders to wholesale markets, supermarkets, traditional markets, and new retail stores to consumers. But with the commercial model of Prefood.vn, agricultural products are directly connected from the farm to the consumer through the company's staff.
Products originating from Long An are being consumed strongly in Ho Chi Minh City, weekly output is about 1.2-2 tons (with peak time about 5-7 tons per week). The company is continuing to promote and promote the consumption of Long An's agricultural products to many other provinces and cities besides Ho Chi Minh City. This is also a great opportunity for farmers and businesses in Long An to consume better products.
Increasing trust in the products
According to Mr. Pham Van Quan, the purchasing criterion of Prefood.vn is through the introduction of the Department of Industry and Trade, the Department of Agriculture and Rural Development of Long An province. Thereby, it connects with production households and cooperatives meeting safety production standards, having VietGAP, GlobalGAP certificates, so on to ensure that quality products are delivered to consumers.
Prefood Company and 4TE Technology Joint Stock Company are cooperating, thereby, together with the Department of Industry and Trade, continue to connect supply - demand, apply technology, innovate production and consumption methods of agricultural products of the province. Through it, they will train and guide to provide production management, distribution and product traceability technologies for farmers and cooperatives. At the same time, it will introduce e-commerce channels in general and Prefood.vn in particular to help the province's products reach customers in better markets.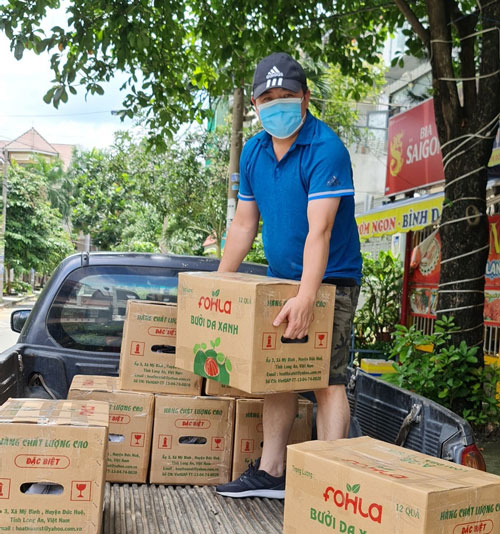 Prefood.vn directly buys pomelos from Huy Long An - My Binh Co., Ltd
The potential to develop e-commerce sales is real, but businesses that apply it face many obstacles. It is an unsustainable development, consumers are still skeptical about the product, the information is monotonous, lacks details, and lacks attractiveness. In addition, consumers are still not confident to buy e-commerce products but the goods are still of good quality and not ambiguous.
According to Mr. Pham Van Quan, Long An's agricultural products have many strengths such as richness, unique flavors, suitable for customers' needs, but the application of high technology in production and communication to customers is not good. In order for agricultural products to have better consumption opportunities, in addition to applying technology to production for management and traceability, businesses, cooperatives and farmers need to focus on packaging samples and communicate more to consumers.
Ms. Chau Thi Le said that in order to improve people's confidence in shopping on the floor, the Industry and Trade sector has submitted to the Government to issue a Decree on management of e-commerce. In particular, there are regulations on information about goods and services in e-commerce activities in the direction of stricter management of public goods information on the website, this information must comply with the provisions of the law on goods labels, suitable for the characteristics of each type.
In addition, it is recommended that e-commerce floors have solutions to screen stalls, fake and poor quality goods. The Department of Industry and Trade continues to coordinate with e-commerce floors to organize training for businesses, support the application of a traceability system, with labels for businesses to affirm and promote the quality of products; Enterprises and farmers participating in trade promotion programs through e-commerce floors must have product certificates according to regulations.
At the same time, in addition to the initiative of e-commerce floors and businesses, it is still necessary for users' hands to respond to fake, counterfeit and substandard products so that the management agency has a basis to handle it promptly./.
Implementing the Decision No. 645/QD-TTg dated May 15, 2020 of the Prime Minister approving the National E-commerce Development Master Plan for the period 2021 - 2025, the Provincial People's Committee develops the e-commerce development plan of Long An province. An period 2021 - 2025. Long An will support and promote the widespread application of e-commerce in businesses and the community; building a healthy, competitive and sustainable e-commerce market. Training, human resource development, electronic traceability, so on are promoted, with priority given to enterprises cultivating and producing agricultural products.
The Department of Industry and Trade is also promoting trade promotion programs by supporting businesses to join famous exchanges such as Alibaba, Lazada, Shopee, Sendo, Tiki, Voso, Postmart. Priority connection items are agricultural products, processed products, typical products and OCOP products of the province.
By Gia Han – Translated by Duc Tam
Source: https://baolongan.vn/thuong-mai-dien-tu-nhieu-co-hoi-cho-doanh-nghiep-tieu-thu-san-pham-a125314.html