Explore forest in Dong Thap Muoi at night
Dong Thap Muoi eco-tourism under the green cajuput canopy is quite familiar to tourists near and far. However, many tourists only know about the day experience and miss the exciting night forest exploration.
In the Melaleuca forests of Dong Thap Muoi, there is a typical ecosystem. Different from the peaceful, refeshing look of the day, the Melaleuca forest at night has an idyllic and somewhat fanciful beauty with the "starlight" of fireflies leisurely flying, the sound of fish snapping prey and the startled birds flapping their wings. With services provided by tourist resorts, visitors can experience the feeling of exploring the forest at night in a safe and enjoyable way.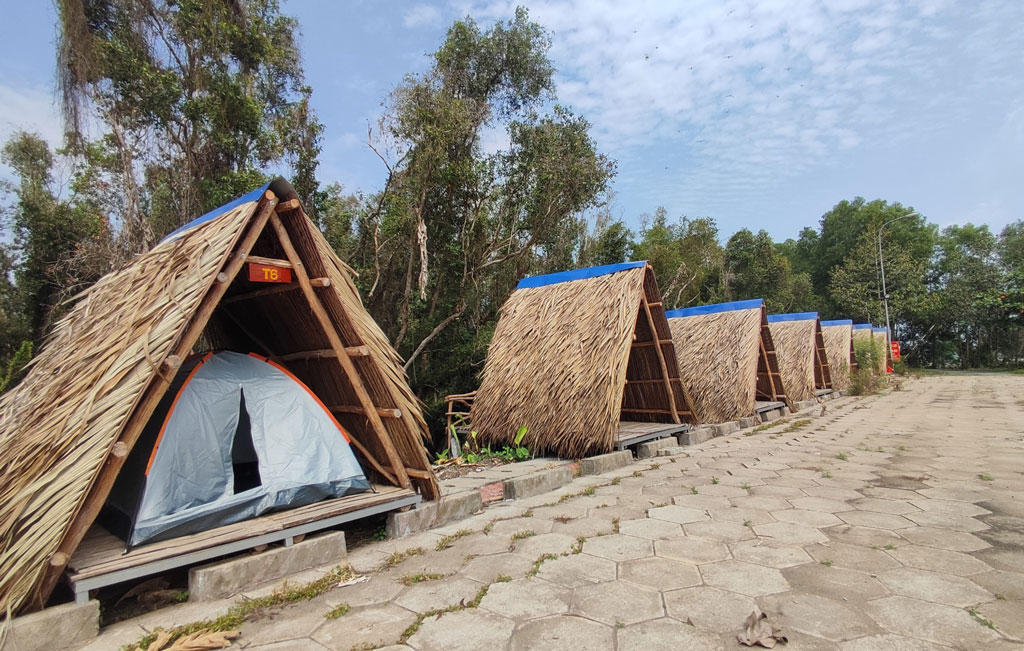 Tent areas prepared by Tan Lap Floating Village Tourist Area to welcome visitors who want to experience night camping
At Endless Fields Tourist Area, in addition to the 1-day service package, there is also a 2-day 1-night tour for visitors who want to experience the feeling of watching the birds return to their nests every afternoon, the forest flowers that only bloom at night. In particular, in the period from March of the solar calendar to the end of autumn, the night melaleuca forest flickers with fireflies. Dropping a boat along the canals, watching the beauty of the forest at night is definitely an unforgettable experience for visitors.
And if you love the feeling of camping in the middle of the forest to find yourself close and in harmony with nature, the summer camp at Tan Lap Floating Village is an attractive suggestion. Here, visitors can catch snails, fish and use that "trophy" for a cozy dinner by a warm, flickering campfire. When it is dusk, visitors can pack and boil banh it together in the quiet space of the Melaleuca forest. Spending the night in a small tent, listening to the chirping insects, separating yourself from the hustle and bustle of the city, work is something that young people should experience once.
Just about 2 hours away from Ho Chi Minh City, visitors can come to the peaceful, green space of the Melaleuca forest in Long An and start their own adventure./.
By Que Lam - Translated by Q.Thien
Source: https://baolongan.vn/kham-pha-rung-dem-tai-dong-thap-muoi-a156016.html