Long An tourism is becoming more fresh and attractive
As the gateway connecting the Southeast with the Mekong Delta region, adjacent to Ho Chi Minh City, Long An has favorable conditions for economic development, cultural exchange, and tourism connection. On the basis of interest in preserving, honoring and promoting cultural and historical values as well as focusing on exploiting potentials and strengths, building tours, routes, Long An tourism industry is expected to be more fresh and attractive, and become a thriving economic sector in the future.
A complete success
Director of the Provincial Center for Tourism Information and Promotion - Do Thi Kim Dung said that, right after the Covid-19 epidemic was controlled, the province's tourism industry quickly recovered. In order to promptly stimulate demand, restore tourism as well as attract and create favorable conditions for tourists to come to Long An, the province has many activities to support businesses in developing activity programs. At the same time, the industry restores destinations and promotes promotion, introduction and exploitation of tourism products identified as unique, attractive and impressive. It can be affirmed that, at the end of 2022 and the new year of 2023, Long An tourism industry has many outstanding highlights, which is considered a complete success.
Visitors visit the Endless Fields
In 2022, Long An welcomes about 650,000 visitors, an increase of 88% over the same period and 54% compared to the plan. In which, there were 8,500 international visitors, an increase of 4 times compared to the plan. Revenue was 325 billion VND, an increase of 77% over the same period and 44% compared to the plan.
One of the most attractive tourist destinations in Long An after the Covid-19 epidemic is Happyland. This is one of the entertainment complex projects built with a fairly large area in Thanh Duc commune, Ben Luc district. On average, Happyland attracts about 12,000 to 16,000 visitors every month through connecting with travel agencies in Ho Chi Minh City and many other provinces and cities. To attract visitors, Happyland invested in building a miniature Vietnam area in the heart of the project, recreating the characteristics of the three regions of North - Central - South. Happyland also has pictures of One Pillar Pagoda, Ben Thanh Market, Hoi An Ancient Town, etc. The advantage of Happyland is that it is close to Ho Chi Minh City, so visitors can go back and forth during the day. Many visitors come to feel that Happyland recreates the familiar and idyllic image of the three regions as a beautiful natural picture.
In order for tourists to come to Long An, the province's tourism industry strengthens the introduction of images, connects to service providers and coordinates with localities to design and build destinations that best serve tourists. Long An is naturally endowed with 2 poetic and charming rivers Vam Co Dong and Vam Co Tay, and once marked the feats of insurgent Truong Dinh, national hero Nguyen Trung Truc, etc. These two rivers are also introduced to tour operators to be tourist routes. At the end of 2022, the Provincial Center for Tourism Information and Promotion will open training courses on tourism, green tourism, rural and community tourism startups for individuals and organizations who want to start a tourism business in the local area.
Getting fresher
The year 2022 is over, but the impression of the land and people of Long An through the Long An Provincial Culture and Tourism Week in 2022 still has a beautiful resonance. According to Ms. Do Thi Kim Dung, through Long An Province Culture and Tourism Week in 2022, visitors can understand and feel the friendliness, hospitality and gratitude of the Long An people as well as the beauty of province's attractive destinations such as Tan Lap Floating Village, Happyland, My Quynh Zoo, Vam Nhut Tao relic site, King areca route - The happiness road, the ancient church of the Le family in Tan Tru, etc. Thereby, Long An can promote brands and products to domestic and foreign tourists in the best way.
In addition, the top 3 Miss Vam River 2022 will become the tourism ambassador of Long An. These 3 beauties will promote tourism, participate in meaningful activities to preserve traditional cultural values as well as learn about historical sites in Long An. The province coordinated with many travel companies to survey routes and tourist attractions, launched the Long An tourism brand and many products. It is a collection of beautiful photos of Long An tourism, local cultural geographies, historical and cultural relics of Long An for tour guides to inform visitors.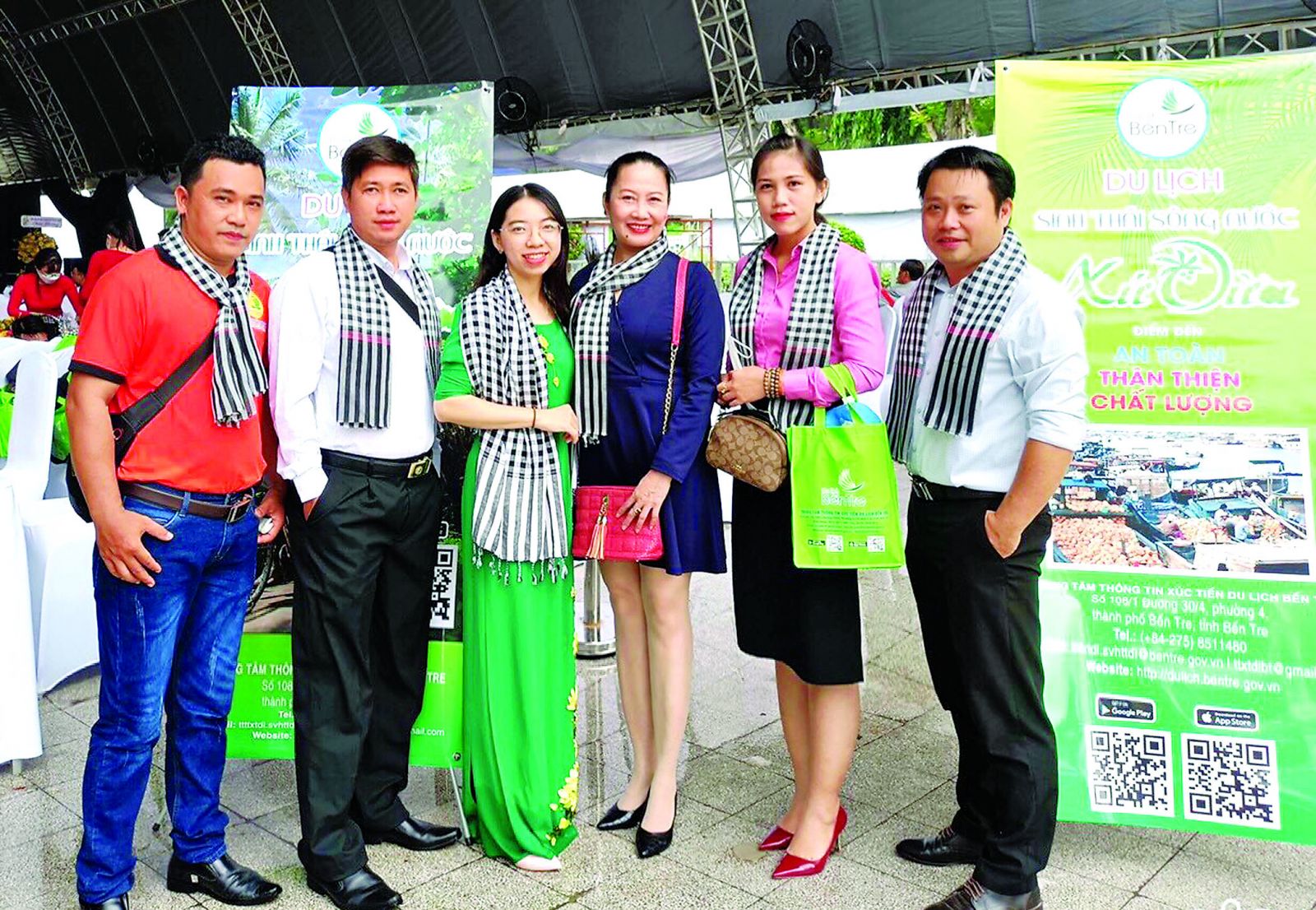 Long An Tourism Promotion and Information Center participates in a tourism festival in Ho Chi Minh City
According to Ms. Do Thi Kim Dung, during tourism survey trips in Long An, many tourism researchers assessed that Long An possesses potentials for tourism development thanks to the advantages of peaceful natural landscape with 2 rivers Vam Co Dong and Vam Co Tay. If exploited well, river tourism will be a completely new product. This is the result of the initiative and efforts of the provincial tourism industry. The tour will bring visitors new experiences and feelings about the heroic, peaceful and simple but unique Long An. This route will open a new direction for river travel between Long An and Ho Chi Minh City.
Accordingly, the tourism industry is considering to develop and have an appropriate direction. At the same time, the industry continues to invest synchronously and have close connection with other forms of tourism, research and develop unique products and services, combine art, cultural activities and organized festivals right on the river to attract tourists, thereby, contributing to improving the efficiency and quality in the formulation of strategies, policies and planning for Long An tourism to transform, develop and integrate.
In addition to river tourism, Long An continues to survey and develop products for rural tourism, health tourism, and full-day health care tourism. First of all, the tourism industry builds tours and pilot routes in the lower regions of Can Duoc, Ben Luc, Tan An, and Chau Thanh. In each tour, route, they build and manage tourism destinations that are environmentally and socially responsible, towards the goal of sustainable development. It can be affirmed that, in 2023, Long An will be an attractive and new destination, serving domestic and foreign tourist market segments./.
The Provincial People's Committee has approved the Master Plan for Tourism Development of Long An Province to 2020 and a vision to 2030 with the common goal that Long An will become the leading satellite tourism destination of Ho Chi Minh City in Mekong Delta tourist area. Besides, Long An also promulgated a program on developing tourism into a spearhead economic sector.
By Huong Mai - Translated by Q.Thien
Source:https://baolongan.vn/du-lich-long-an-ngay-cang-hap-dan-tuoi-moi-a148312.html