Force 389 of Long An province discovers, handles over 2,100 violation cases
Deputy Head of Steering Committee 389, Director of Market Management Department (MMD) of Long An province - Pham Duc Chinh said that the patrol and control work on the border line was carried out by the Border Guard and the relevant functional forces strengthen in the past 8 months. Besides, trade fraud, production and trading of counterfeit goods and poor quality goods still occurred and the forces promptly detected them.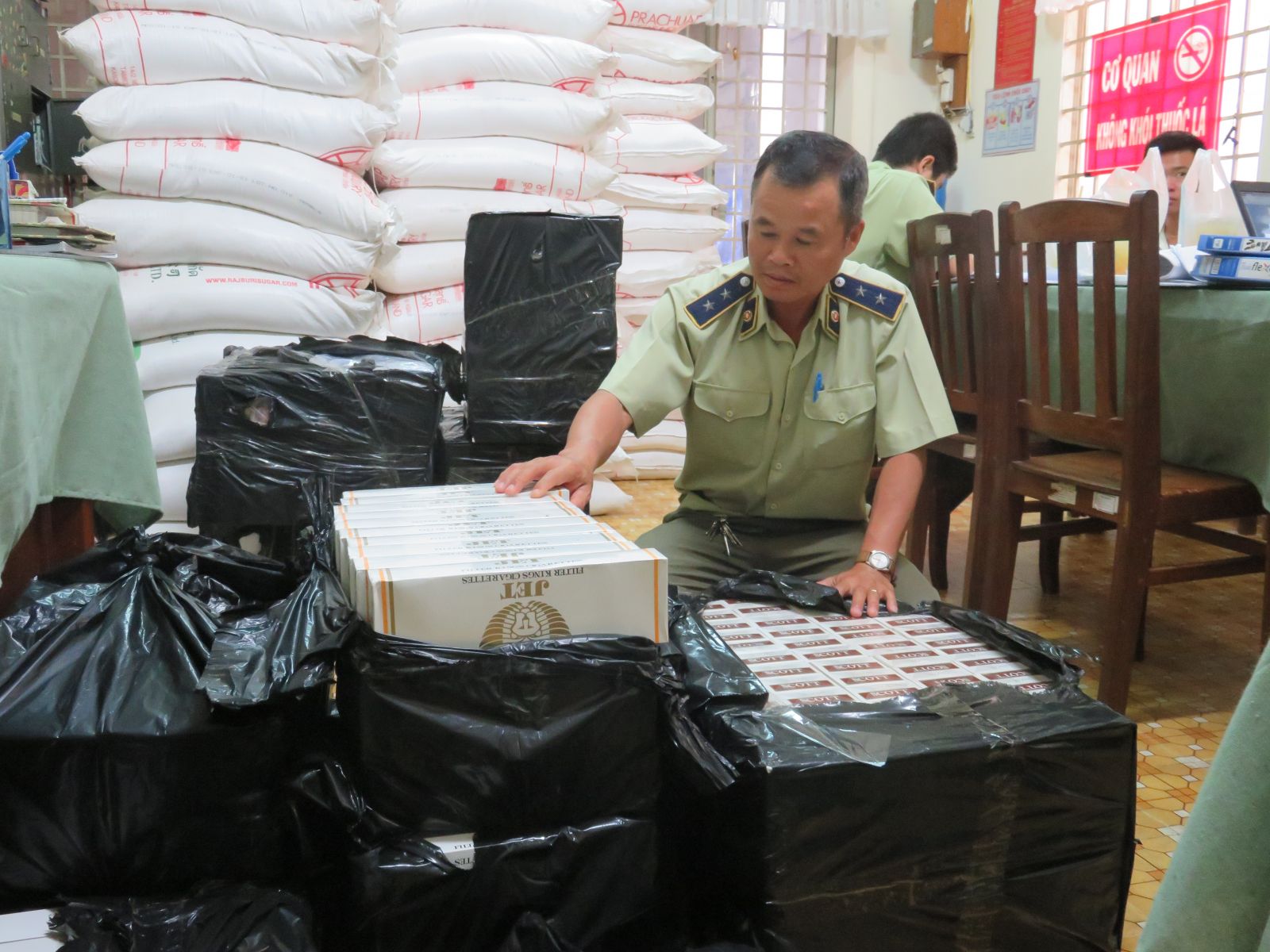 Force 389 detects and handles more than 2,100 violation cases
Accordingly, in the eight months of 2020, the forces inspected over 5,000 cases, discovered and handled 2,165 violation cases, including 933 cases of trading and transporting contraband; 14 cases of poor quality goods; 25 cases of intellectual property counterfeiting; 1,184 commercial fraud cases. The budget revenue is nearly 170 billion VND. The temporarily seized goods and means include 1.6 million packs of cigarettes; 5,500 kilos of wood; over 192,000 face masks; 37,700 kilo of sugar; 270 2-wheel motorcycles; 54 cars. The functional forces have investigated and prosecuted 39 cases with 47 criminals.
Over the past 8 months, the business and violation situation in the gasoline and oil business has tended to be complicated and sophisticated. The provincial MMD has just issued a decision to sanction administrative violations for 3 violating enterprises in petrol and oil trading activities. The revenue paid to the state budget is over 150 million VND.
Violations are selling in E5 RON92-II gasoline with a quality that does not comply with relevant technical regulations, selling RON95-III petrol at a price higher than the listed price, buying gasoline and oil from external parties and traders receive the right to retail petrol and oil and sign contracts to act as agents for petrol and oil distributors. The three above-mentioned petrol and oil businesses are located in Thu Thua, Ben Luc and Duc Hoa districts. In addition to the main sanction, the petrol and oil enterprises are also additionally fined for depriving the right to use the certificate of eligibility for petrol and oil retailing within 1 month; At the same time, it forced businesses to sell gasoline E5 RON92-II to reclaim the unsatisfactory E5 RON92-II gasoline quantity for recycling in accordance with the law.
Mr. Pham Duc Chinh added that the Provincial MMD resolutely handled, for violations in petrol and oil business; it also strengthens the management of the area, grasps the situation, promptly detects and handles violations in petrol and oil trading activities in the province./.
By Thanh Tung – Translated by Duc Tam
Source: http://baolongan.vn/luc-luong-389-tinh-long-an-phat-hien-xu-ly-tren-2-100-vu-viec-vi-pham-a101671.html