Goods for Tet - Vietnamese goods dominate
At this time, retail businesses and grocery stores have fully prepared essential goods, cakes and candies to serve the Tet market. This year, goods produced by domestic enterprises with eye-catching designs and quality not inferior to imported ones dominate the market.
Vietnamese goods dominate
The Lunar New Year is coming, many kinds of goods have been prepared and on shelves to serve consumers at the supermarkets, convenience stores and grocery stores. Like many years ago, this year, Vietnamese goods for Tet dominate the market, with a variety of types, designs, quality and reasonable prices. In addition to the abundance of goods, when the customers buy products, many businesses also carry out promotional programs and accompanying gifts to stimulate demand and attract people to shop.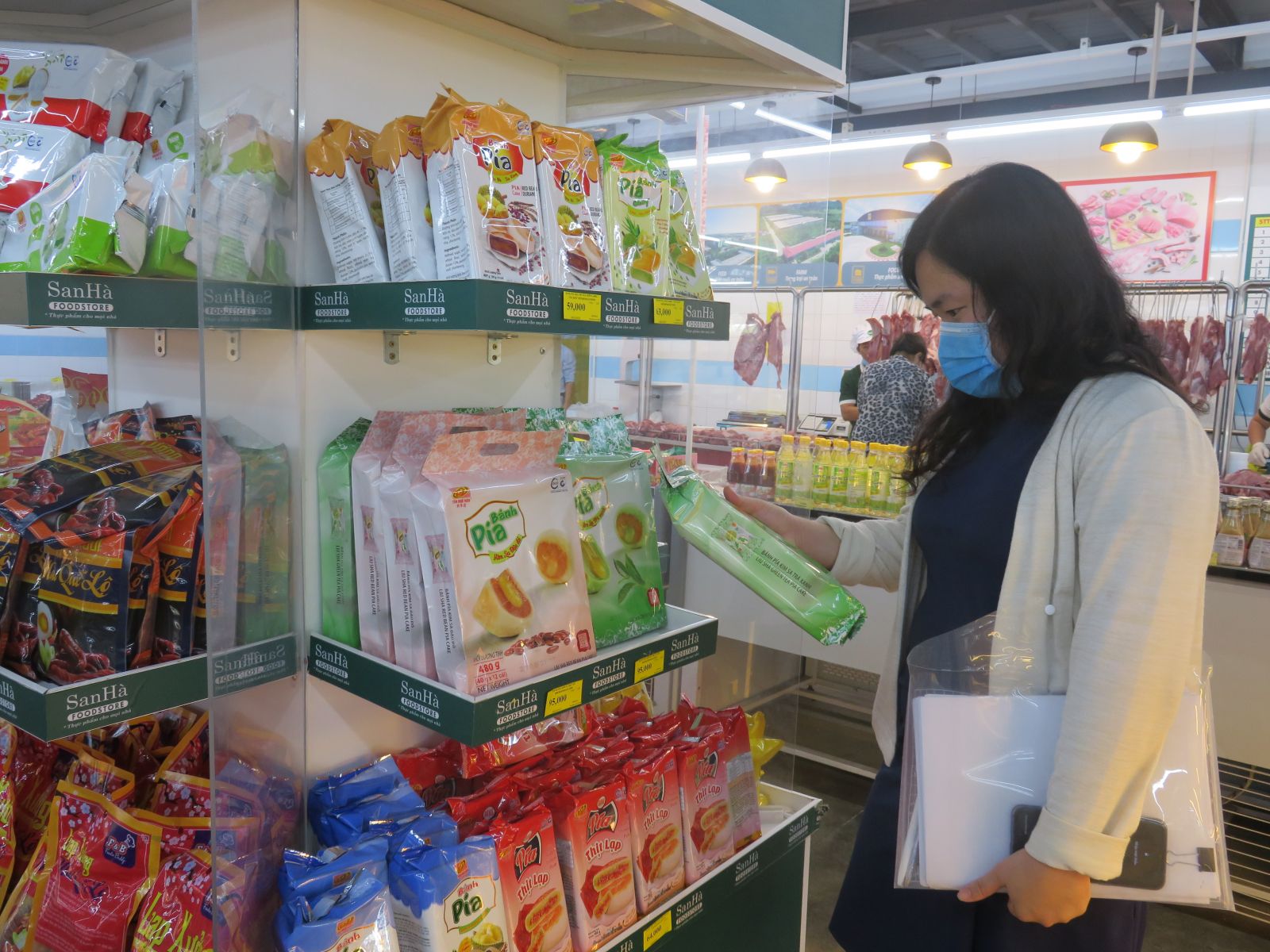 Goods for Tet and Vietnamese goods dominate at shops and supermarkets
Going to supermarkets and shops, we see that goods serving Tet are displayed in central position with eye-catching decoration and beautiful colors. Being present at Co.opMart Ben Luc, Ms. Nguyen Kim Dinh (An Thanh commune, Ben Luc district) took her family to shop for Tet. She commented that domestic goods with diversified designs and reasonable prices help people to have many choices this year. In particular, the products are also decorated beautiful apricot and peach branches on many product packages.
Business director of SanHa Foodstore chain - Duong Thi Be Vuc said that San Ha actively exploited sources of goods from the provinces and Ho Chi Minh City this year. In the goods reserved for the Lunar New Year of Buffalo 2021, including foods, cakes, jam, candy, and so on produced by Vietnamese enterprises are prioritized by the company, accounting for the proportion quite large, much higher than every year. Some domestic food brands have affirmed their prestige and quality are dominating the market such as confectionery, Bibica, Kinh Do, Vinamilk milk, Trung Nguyen coffee, processed foods from reputable companies in the market, etc. She explained sai that Vietnamese businesses had a breakthrough in improving product quality such as diversifying types and packaging.
Affordable goods
Ms. Duong Thi Be Vuc also shared that San Ha also launched F&B products produced by the company itself to serve the Tet market this year. This is a brand with processed product such as smoked chicken, chicken ball, fish ball, beef ball, chicken ball, cinnamon meat ball, chicken sausage, etc. All F&B foods are made from fresh ingredients, with separate recipes with the hope to bring delicious and convenient meals to everyone during this Tet holiday. In particular, these products are not expensive and affordable for consumers.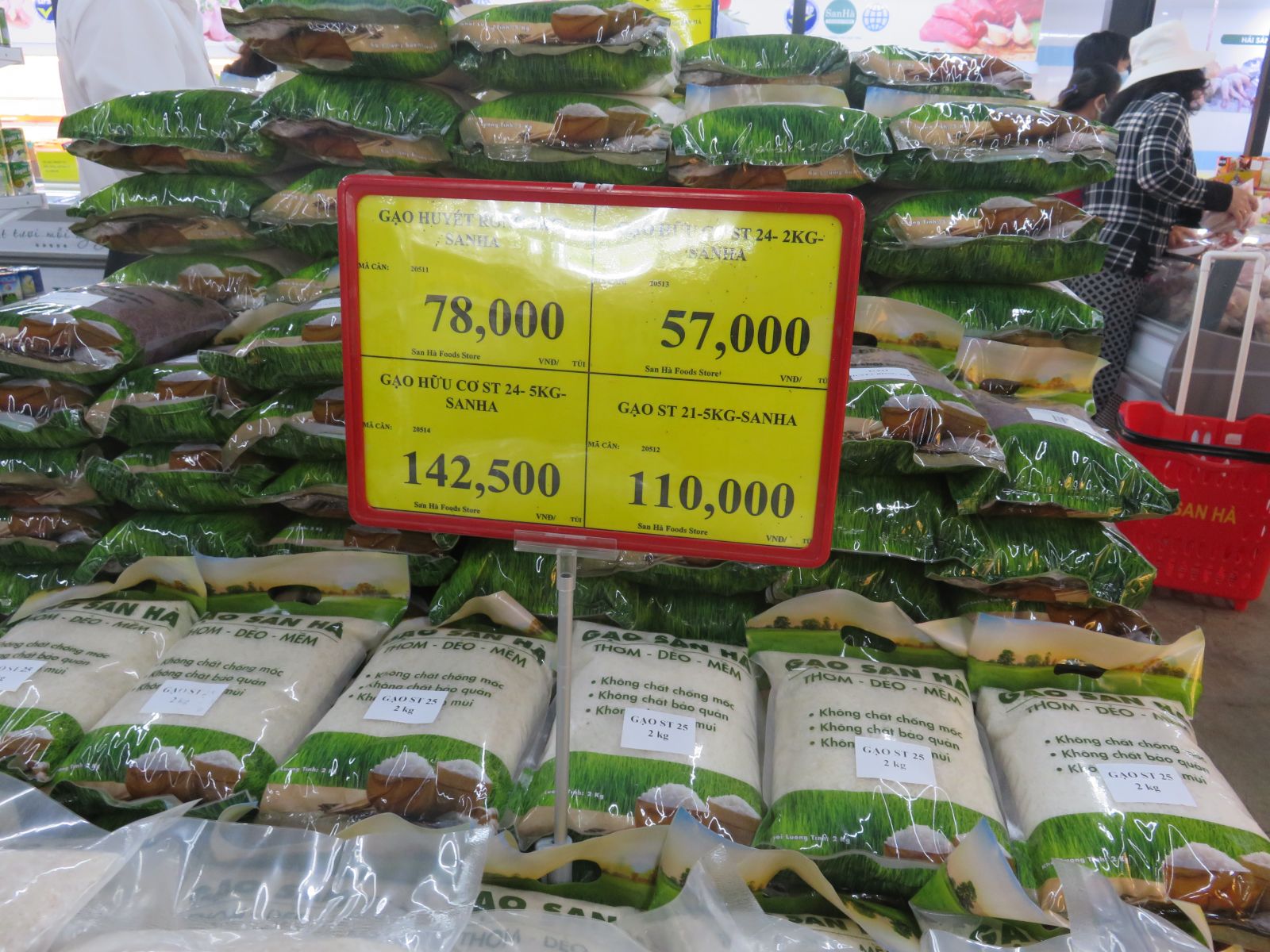 Mrs. Ho Bich Ngoc, living in Ward 3, Tan An City, shared that her family did business so she is very busy on Tet. Therefore, she actively spent her free time shopping for Tet for her family and donated to the parents of both paternal and maternal sides this year. Ms. Bich Ngoc commented, this year goods have many improvements; Goods of all kinds, including packaged cakes, candies, packaging with a smaller weight, about 200-300 grams, suitable to the needs of users. Besides, in the competitive period of prices, most cakes, candies and consumer goods have reasonable prices and guaranteed quality.
According to Ms. Duong Thi Be Vuc, San Ha has quite carefully prepared goods for Tet this year. The advantage of the company is that there is a factory near San Ha's stores, a large storage system, and specialized vehicles to transport goods. Besides, San Ha currently has more than 30 stores, of which there are 12 stores in Long An, covering many residential areas. In addition to the company's strong goods, chicken, duck, and pork, the company also has a large reserve of other goods including rice, spices, vegetables, fruits, etc. Thanks to early preparation for source of goods, this year Tet, the company commits not to increase unreasonable prices of goods, to make efforts to contribute to stabilizing the prices of essential goods during the Tet period, to prevent the phenomenon of rare and shortage goods.
On Tet occasion, many individuals selling products online and capturing the needs of consumers, they advertise many bakery products, jam for Tet. Most of the advertised products are traditional homemade crafts, free of preservatives and additives. Over the past time, many consumers have trusted and chosen in recent years. In fact, whether the quality of this product is really safe or not is difficult to confirm. Most of the personal pages, the products are recommended home-made, they have no business registration, no certificates to prove the quality and food origin. Food website owners only commit to verbal quality, then the buyers are difficult to exchange or give them back; Therefore, when consumers buy goods, they must know exactly the origin of the food, do not hear through advertising when they encounter poor quality goods, they will greatly affect their health./.
By Mai Huong – Translated by Duc Tam
Source: https://baolongan.vn/hang-hoa-tet-hang-viet-chiem-uu-the-a108325.html