Hi-tech application in agricultural production maintained in drought and saline season
Over the past time, promoting high-tech application in agricultural production helped many households in Long An province develop production and improve their incomes. Especially, the application of high technology also helps farmers maintain production, mitigate losses and create profits under the current drought and saline conditions.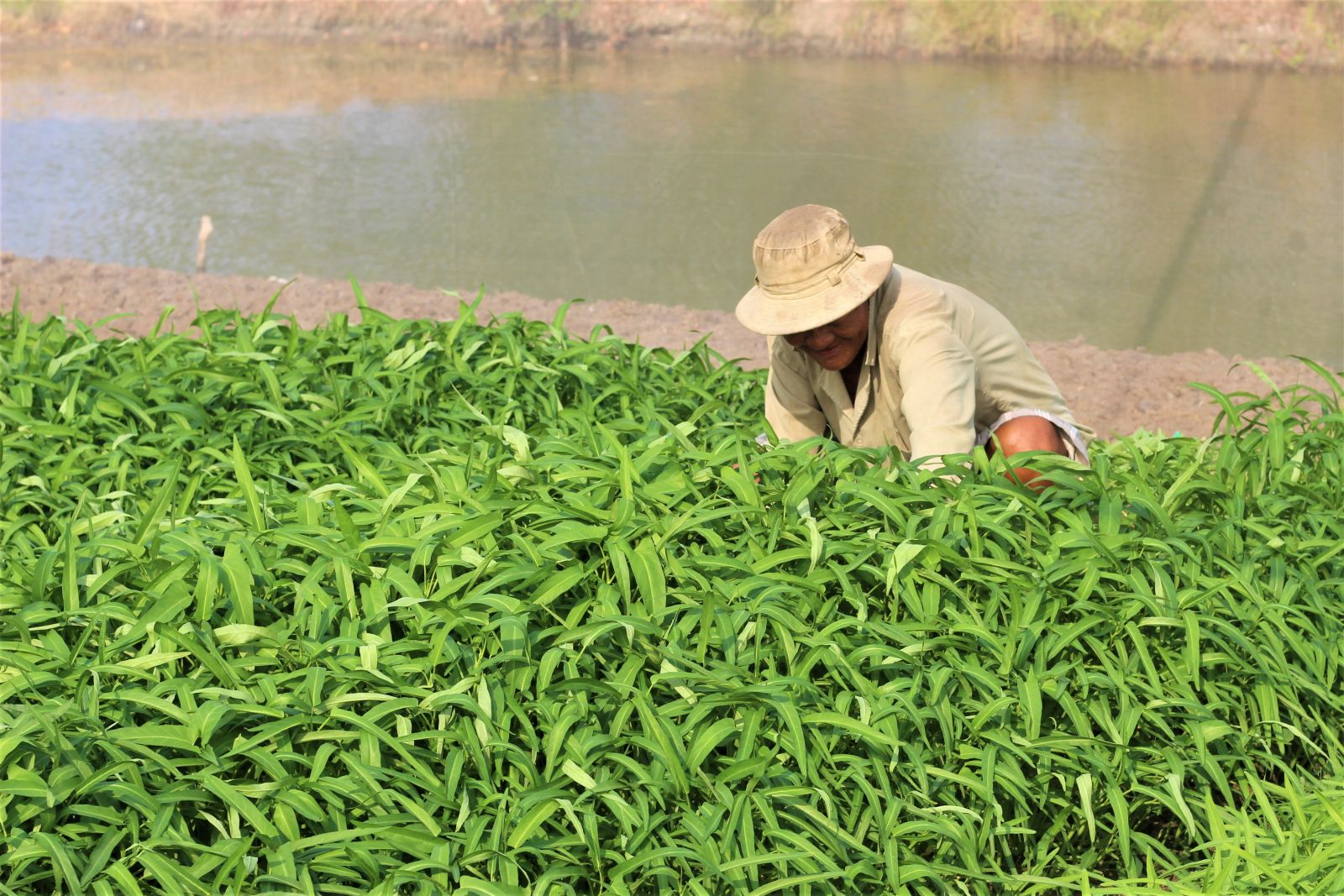 High-tech vegetable production brings stable income in drought and saline season
Creating income, reducing production costs
According to Head of Tan Tru Division of Agriculture and Rural Development - Doan Van Hoang, implementing Resolution No.08-NQ/TU of the Provincial Party Committee on developing hi-tech agriculture associated with restructuring agricultural sector, Tan Tru district Party Committee issued Resolution No.07 on developing hi-tech agriculture, in which, it chose 3 crops (rice, vegetables, dragon fruits) and 1 animal (cow). Up to now, the district has implemented 5 models of rice applying high technology with a total area of 250 hectares, 2 vegetable models of with an area about 1 hectare in Lac Tan commune and 20 hectares of dragon fruit grown under GAP standards, concentrated in the communes of Lac Tan and Que My Thanh, Binh Tinh, etc. Particularly for beef cattle, the implementation still faces many difficulties due to capital and breeding animals.
"Due to the severe saline intrusion this year, many areas of winter-spring rice lacked fresh water, leading to serious losses. Most of the damaged rice areas are located in low-land communes, where it is difficult to access fresh water and most sowing does not follow the agricultural sector's recommendations that the risk of drought and salinity comes soon. As for the rice areas applying high technology that has been harvested and achieved high yields, farmers have a profit of 25-30 million VND per hectare. The models of growing hi-tech vegetable and dragon fruit in the district are still maintained. Most models use well water and irrigation and drainage systems to maintain production" - Mr. Hoang added.
Director of the Khoi Nguyen Organic Fresh Vegetables Cooperative (in hamlet 5, Lac Tan commune) - Nguyen Viet Thinh said: "Since it was established, vegetables are grown entirely from organic fertilizers, so the quality of vegetables is always guaranteed and favored by consumers. Normally, the total area of vegetables and fruit of the cooperative is 5.4 hectares, providing tons of vegetables, tubers and fruits to the market every month. However, many members are unable to take initiative in the water source for production due to the current drought and salinity conditions, so the production area is reduced to about 1.5 hectares. Currently, all 1.5 hectares of these vegetables are grown in net houses and use treated well water to irrigate".
It is currently known that the cooperative mainly grows water spinach to supply the market. The water spinach price is also high, from 10,000 to 12,000 VND per kilo. With this price, growers have an income of 500,000-800,000 VND per day.
Drought and salinity have lasted for months, causing significant impacts on irrigation and the development of dragon fruits in Tan Tru district. However, some dragon fruit areas thanks to hi-tech applications in production should still maintain well. Mr. Le Thanh Nam, who lives in Binh Tinh commune, shared: "Last time, my family applied high technology to produce over 1.2 hectares of dragon fruits. In general, hi-tech production helps dragon fruit to grow well, less pests and diseases. At the same time, the economical watering system reduces the pressure on the irrigation water source in the current drought and salinity season, but it still ensures that the dragon fruit can grow and develop normally".
According to professional evaluation, saving irrigation model not only helps farmers save 80 percent of labor (watering, fertilizing), saving electricity, water usage, and so on, but it also improves high profit is about 2.5-5 million VND per hectare.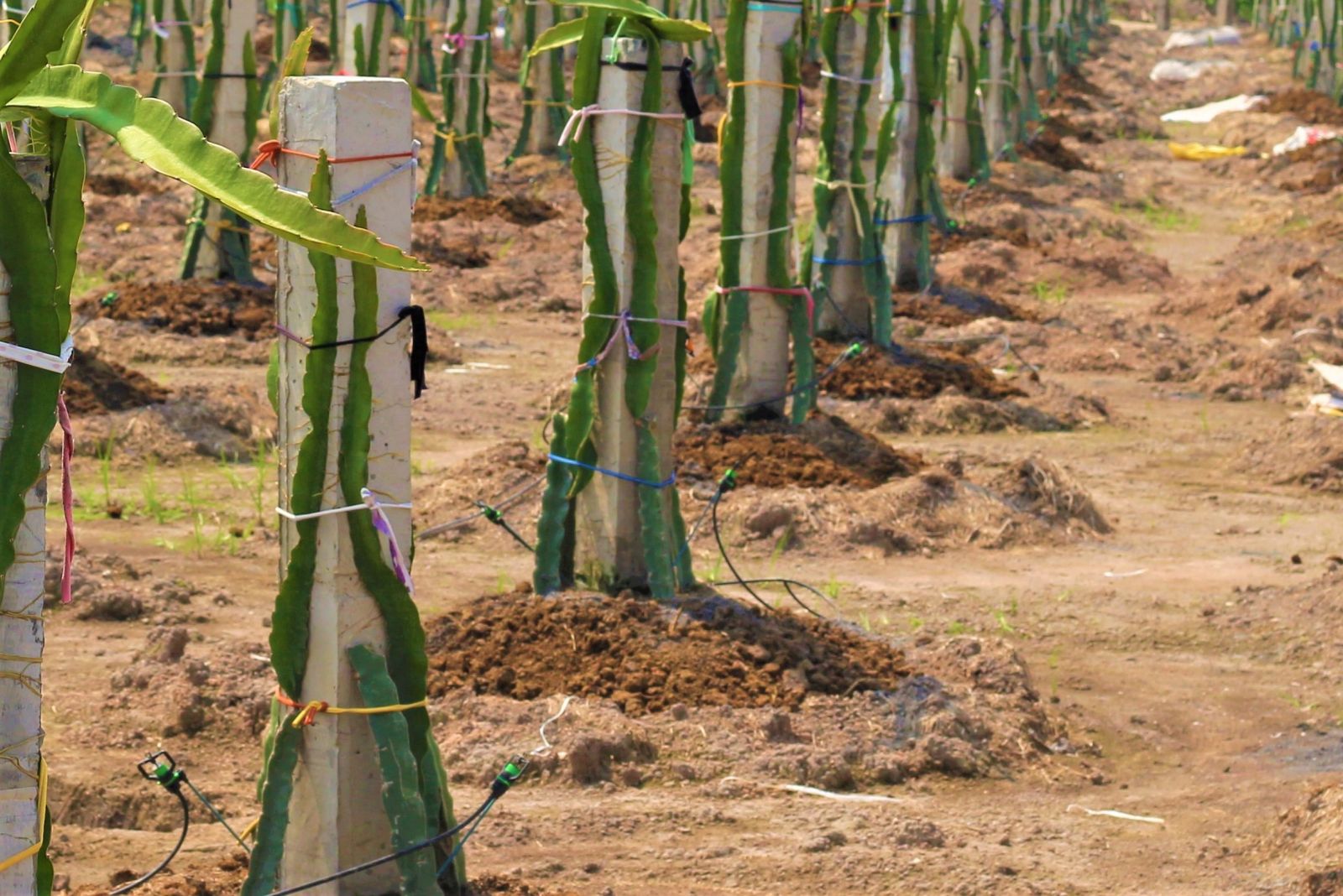 Water-saving irrigation systems help farmers reduce production costs
Maintaining production during the drought and saline season
In Thanh Hoa district, it has built a planning area of 2,000 hectares of rice applying high technology in 3 communes of Tan Tay, Thuy Dong and Thanh An to implement the Project on developing hi-tech agriculture of the province. In addition, the district also expanded 300 hectares of rice applying high technology in 3 communes of Tan Dong, Thuy Tay and Thanh Phuoc. Up to now, the district has implemented 2,041 out of 2,000 hectares of hi-tech rice, reaching 102 percent compared to the Resolution of the Provincial Party Committee. In addition, the district has 77 cooperative teams for agricultural production, 11 cooperatives, including 5 cooperatives and 4 cooperative teams in the area of hi-tech rice.
According to the Vice Chairman of Thanh An commune People's Committee - Mai Van Thao, the commune was planned to implement the Program of hi-tech agriculture on rice until 2020 with 1,200 hectares. Up to now, the total area of 1,233 hectares was implemented, reaching 102.8 percent of the Resolution of the District Party Committee. The whole commune has 1 cooperative and 5 collaborative teams to produce hi-tech rice. At present, farmers in the commune have sown Summer-Autumn crop for nearly 20 days with an area of over 1,600 hectares, of which about 300 hectares of hi-tech rice. To support the people, the commune People's Committee coordinated with the District Center for Agricultural Service to regularly measure the salinity of canals in the area every 2 days to timely capture the situation and provide information to the people.
The leader of cooperative team 9, in hamlet 3, Thanh An commune - Nguyen Thanh Xuan shared that all members of the cooperative team have sown the Summer-Autumn crop for about 20 days with the main rice variety of OM4625. People are presently very interested in the situation of drought and salinity. However, the land with the special feature that is less affected by drought and salinity, people still bravely sow and apply all steps towards organic production to ensure rice quality.
"Cooperative team has had 32 members with about 110 hectares of rice in the planning area of growing hi-tech rice since 2018. The cooperative team has been supported to flatten the field and use organic fertilizer, etc. Besides, it was also encouraged to implement the models such as reducing the number of sowing seeds, "1 must, 5 decreases", "1 must, 6 decreases" and eco-technology. Thereby, they help farmers increase profits in production and contribute to environmental protection " - Mr. Xuan added.
Head of Divison of Agriculture and Rural Development of Thanh Hoa district - Nguyen Kinh Kha said: "At present, a part of an area of about 10 hectares in 2 communes of Tan Dong and Tan Tay of the district is also affected by drought and salinity. Although the impact is not significant, this situation still continues in a long time, the risk of the district agricultural production is also greatly affected. The water source for producing hi-tech rice in Thanh An commune is mainly from Bac Dong canal (a branch of Tien river), so the salinity is still low, ranging from 0.3-0.5 grams per liter. In addition, the room also has a plan in case drought and salinity occur in the district. Accordingly, if the salinity level shows signs of increasing near the permitted level, the department will propose the Department of Agriculture and Rural Development to temporarily close Ca Tom channel (adjacent to Tan Thanh district) to store fresh water, ensuring for production, minimize damage to farmers"./.
By Bui Tung - Translated by Duc Tam
Source: http://baolongan.vn/duy-tri-ung-dung-cong-nghe-cao-vao-san-xuat-nong-nghiep-mua-han-man-a93100.html