Long An - Svay Rieng discuss cooperation issues
On March 29, Long An province received and worked with the delegation of Svay Rieng province on the implementation of bilateral cooperation issues.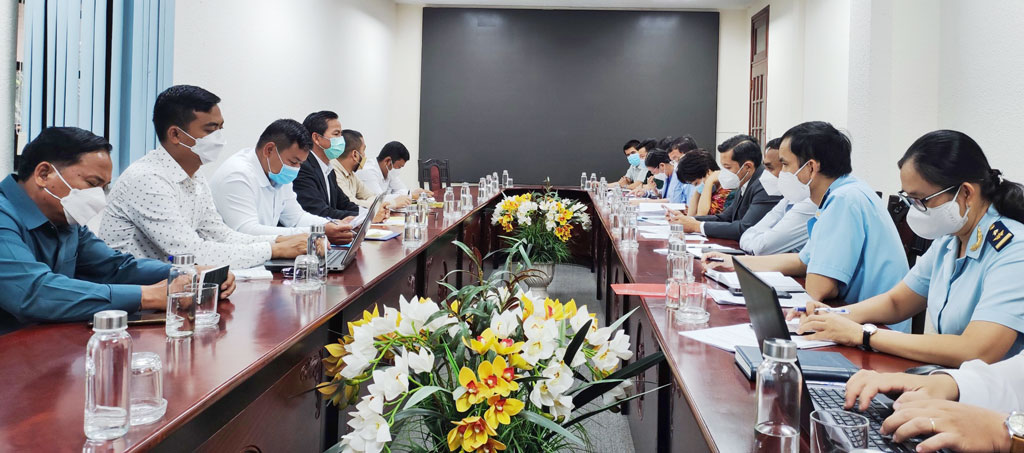 The Svay Rieng - Long An delegation discussed many bilateral cooperation issues
Recently, the Covid-19 pandemic has affected most of the traditional external activities of Long An province with Svay Rieng province. However, with the motto "good neighborliness, traditional friendship, comprehensive and long-term sustainable cooperation", thanks to the close guidance of the Provincial Party Committee, People's Council, Provincial People's Committee, all levels, branches, border localities have maintained their activities in permissible conditions and met the requirements of epidemic prevention and control. In particular, many activities have practical significance, closely following the contents, especially the trade of goods, visits, congratulatory messages on holidays, anniversaries, traditional New Year, etc.
Besides, despite being affected by the epidemic, the two provinces have cooperated closely in ensuring security and order on the border; prevented complicated problems on the border line; cooperated well in the prevention of crime and smuggling; prevented the Covid-19 epidemic in the border area.
Long An province received and worked with the delegation of Svay Rieng province
At the conference, representatives of the two sides discussed issues of cooperation between Long An - Svay Rieng in the period of 2019 - 2021; renovation and connection of roads in the area near border marker No. 211; transporting agricultural products across the border; solutions for passengers and tourists crossing the border and other cooperation issues.
In particular, with the proposals of the delegation of Svay Rieng province on creating favorable conditions for border people in trading and transporting goods as before, he relevant authorities of Long An province will note and advise the Provincial People's Committee to have a guiding document according to regulations.
At the same time, Long An also suggested the two sides make efforts to protect the achievements of the border marking; strengthen coordination, promote tourism potential; introduce and connect businesses to buy Long An dragon fruit;.../.
By Pham Ngan
Source: https://baolongan.vn/long-an-svay-rieng-lam-viec-ve-cac-noi-dung-hop-tac-giua-2-dia-phuong-a132851.html