Long An VnSAT project helps farmers increase profits and reduce production costs
Vietnam Sustainable Agriculture Transformation (VnSAT) Project in Vietnam opens a promising direction and brings positive results, it not only helps farmers to save production costs, increase profits and rice quality but also creates safe agricultural products and protect the environment.
Farmers in Hung Thanh commune, Tan Hung district visit rice fields growing well after being sown more than 10 days
Developing rice production with "3-to-decrease, 3-to-increase" and "1-must-do, 5-to-decrease"
Long An, one of eight provinces in the Mekong River Delta, has been selected to participate in the VnSAT project in period 2015-2020. The project is implemented in 23 communes of 4 districts including Tan Hung, Vinh Hung, Tan Thanh, Moc Hoa and Kien Tuong town, with a total investment of VND 289 billion and an area of about 49,500 hectares, with 25,000 households participating.
After more than 3 years of implementation, together with the investment in essential construction items, the project focuses on transferring rice production processes under "3-to-reduce, 3-to-increase" and "1-must-do, 5-to-decrease" through technical training sessions and constructing demonstration sites, linking in value chains from production to consumption, to increase farmers' income.
Up to now, the Project has organized 294 technical training courses on "3-to-decrease, 3-to-increase" and 170 classes on "1-must-do, 5-to-decrease"; implementing 13 rice demonstration sites on "3-to-decrease, 3-to-increase", 21 rice demonstration sites on "1-must-do, 5-to-decrease"; building many large fields associated with product consumption; complete farmers' organizations with 26 cooperatives. Most cooperatives are able to improve their operation capacity, increase production scale to over 500 hectares; some cooperatives associated with enterprises in production and consumption of agricultural products. At the same time, the project also focused on supporting investment in renovation and construction of essential infrastructure for production, especially rural transport works, on-farm works, irrigation canals and pumping stations. In addition, the project also supports cooperatives to invest to purchase equipment and machinery such as transplanting machines, rice drying ovens, building offices, cooperatives' agricultural warehouses, and so on.
Highlights of cooperatives participating in VNSAT project are that farmers significantly reduced the amount of seed sown, fertilizers, and pesticides, thereby they reduce production costs and increase profits. "Before participating in VnSAT project, farmers sow rice from 140-160 kilos per hectare, using fertilizers of about 400-500 kilos per hectare in common fields, spraying pesticides from 4 -6 times per crop. After attending training courses of "3-to-decrease, 3-to-increase", "1-must-do, 5-to-decrease", farmers actively produce certified rice seeds with an average seeding quantity of under 100 kilos per hectare; The amount of fertilizers of all kinds does not exceed 300 kilos per hectare. The number of sprays of pesticides also decreased to 2-3 times per crop"- said Pham Van Be Mot, Deputy Director of Hung Phu Agricultural Cooperative in Vinh Hung district.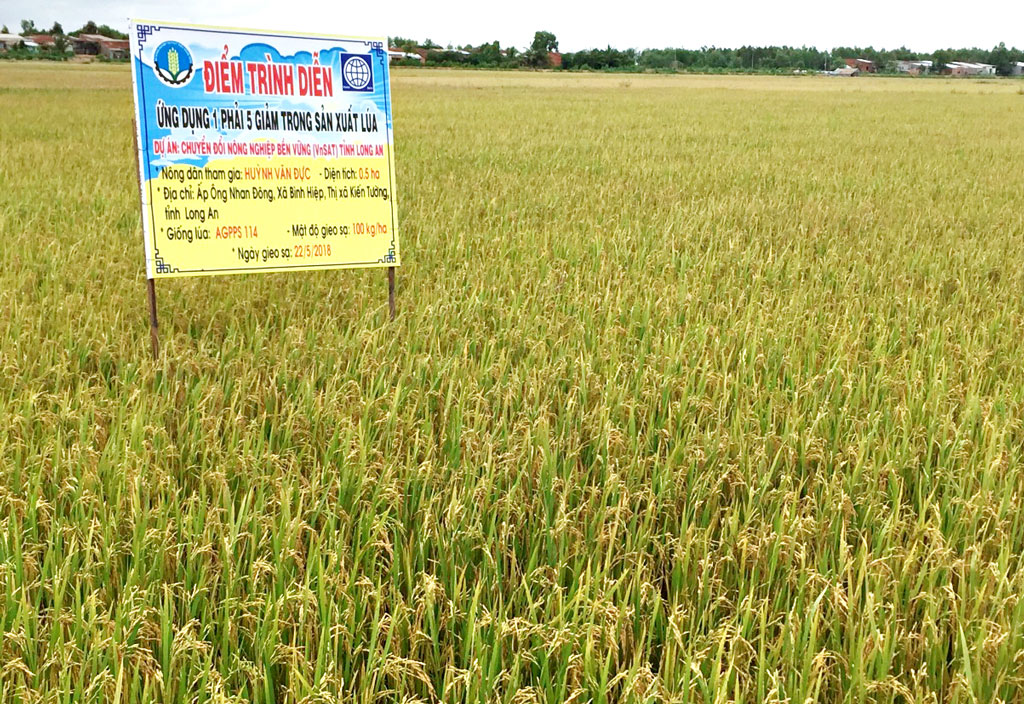 Promoting support for farmers
One of the important criteria in improving profits and reducing production costs is to successfully apply the rice production process according to "3-to-decrease, 3-to-increase", "1-must-do, 5-to-decrease", in which reducing seed sowing is the decisive factor, because thick sowing will waste seeds, fertilizers and pesticides so the production cost is high. When the seeding density is appropriate, input costs decrease and then profits increase.
The provincial agricultural sector advocates to increase production and technical support to well implement the rice production process following "3-to-decrease, 3-to-increase", "1-must-do, 5-to-decrease"; raising awareness of producing clean agricultural products for farmers; training to improve the capacity of agricultural technical staff of cooperatives, creating conditions for cooperatives and enterprises to access capital sources. Also, Long An continues to construct infrastructure investment projects for 5 cooperatives in the project area in phase 1 and 4 cooperatives in phase 2; focusing on supporting the construction of projects of key infrastructure projects, approved equipment for rice production in the project area.
Deputy Head of Division of Crop Production, Plant Protection and Quality Control, Deputy Director of the Project Management Unit of Long An VnSAT - Le Phuoc Sach shared: "In parallel with supporting the transfer of scientific-technical progress, infrastructure investment and equipment will enhance the reorganization of production towards the direction of "large-scale rice field", linking farmers from cooperative groups, consolidating and establishing new cooperatives to ensure the operational capacity of the cooperative management board to comply with the Law on Cooperatives. This allows strong mechanization in production, saving time and labor costs, reducing initial investment costs and improving market access. "
Thus, over 3 years of implementation, VnSAT project has brought about its effectiveness, especially economic efficiency. The farmers' life is improved due to rice-growing, thereby it contributes to changing the appearance of the provincial agricultural sector./.
By Dai Viet – Translated by Duc Tam